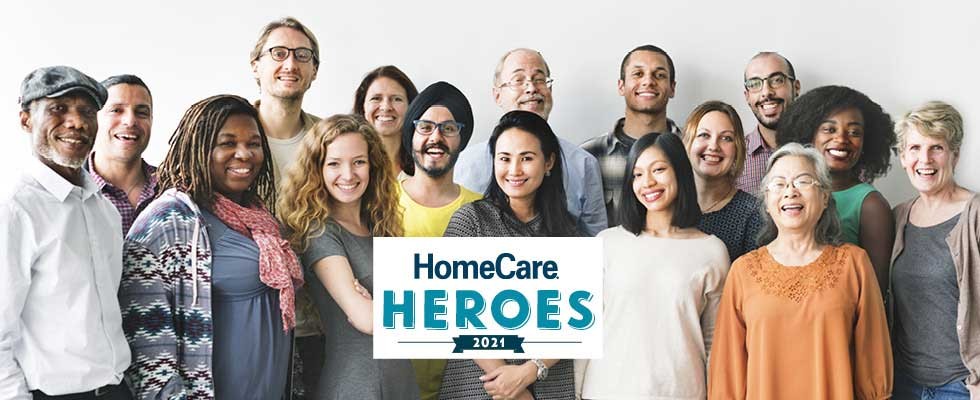 Meet the 11 people chosen to represent the best of the industry
Thursday, November 4, 2021
It's hard to sum up everything that those of you in homecare do. On the surface, you provide direct care in the home and the equipment needed for that care—all of which allows people to age in place, recover from health episodes and live their best quality of life. And that alone is enough.
But so many in this industry do much, much more. The intimate nature of home medical equipment and in-home care means you develop deep relationships and earn clients' trust, a trust that allows you to protect them from future harm. By entering their homes, you often see additional factors impacting their health that their doctors never know about. And you are there to support families during some of life's most painful transitions.
One of our finalists may have said it best when they pointed out that the health care system believes that care ends with discharge from the hospital—but in reality, care begins at that moment.
We've highlighted 10 people here who we feel represent that philosophy. Each is committed to providing the best outcomes for people where care really happens: in the home. Every one of our finalists goes well beyond their job description. They may sit with a patient in the hospital when their family couldn't be there, scour their community for donated home medical equipment to offer to clients who can't afford to buy it new, strive to ensure their rural neighbors have the health care access they need, or venture into the homes of patients with COVID-19 to give them lifesaving therapy.
What's notable is not how exceptional these finalists are; although their stories are special, they are truly typical of this industry in many ways. We are grateful for everyone who sent in a nomination and to our sponsors, who make this project possible. But the heartiest "thank you" goes not just to the HomeCare Heroes depicted in these profiles, but to all of you heroes out in the field doing this work every day. We appreciate all that you do.
The following profiles were written by Editor Hannah Wolfson, Managing Editor Kristin Easterling and freelance writer Gail Short.
Here are this year's finalists:
To read their story, click on the picture of the finalist.