The Leading Business Resource for HME & Home Health Professionals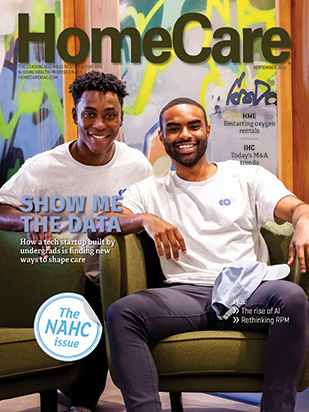 HomeCare® covers the HME/DME provider, home health agency and caregiver markets. We help business owners succeed in an increasingly challenging marketplace with stories about business management best practices, industry leading firms, new products, regulatory matters and industry news.
The HomeCare brand includes
HomeCare magazine, published monthly
HomeCare Now e-newsletter, published three times a week
HomeCare Product Watch e-newsletter
Homecaremag.com website
HomeCare webinars
HomeCare Podcast
A comprehensive presence on social media channels
We publish industry-specific information from experts in the field, and we allow readers free access to our content. However, producing great content is not without cost, so we are supported by quality companies who purchase advertising in our various publications designed to help you, the industry professional, do your job better. You get great content, and our advertisers get to put their brand messages in front of a high-quality audience with specific interests. We hope you will support those advertisers who support us in our efforts.
View our Privacy Policy here, and our GDPR Data Subject Access Request Form here.