What to watch & how you can get involved
WASHINGTON, D.C. (December 18, 2019)—Provisions permanently excluding manual complex rehab technology (CRT) wheelchairs from the competitive bidding program have been included in FY 2020 appropriations legislation. The legislation also exempts CRT manual accessories from bidding-derived pricing for an 18-month period, starting Jan. 1, 2020.
Havanue wins Medtrade award for buzz-worthy mobility bag
ATLANTA (October 22, 2019)—AAHomecare's Washington Update on Day Two of Medtrade started with a moving tribute, a robust account of AAHomecare's activities, and four women vying for VGM's Woman of the Year Award.
WASHINGTON, D.C. (June 25, 2019)—More than 40% of the members of the United States House of Representatives have joined a letter asking federal regulators to keep noninvasive ventilators out of the next round of the competitive bidding program for HME.
WASHINGTON, D.C. (May 17, 2019)—Wednesday, Reps. Cathy McMorris Rodgers (R-Wash.) and Dave Loebsack (D-Iowa) introduced the Protecting Home Oxygen & Medical Equipment (HOME) Access Act of 2019 (HR 2771), legislation that would build upon last year's interim final rule and ESRD/DMEPOS Final Rule. The new bill would:
Washington, D.C. (May 17, 2019)—A group of industry trade organizations is commending the Centers for Medicare & Medicaid Services (CMS) for releasing detailed guidance describing how bidders' estimated capacity will drive the final single payment amounts (SPAs) and for announcing a new bidding window for Medicare's Round 2021 of the Durable Medical Equipment, Prosthetics, Orthotics and Supplies (DMEPOS) competitive bidding program (CBP).
WASHINGTON, D.C. (May 2, 2019)—New legislation to establish a separate benefit for complex rehab technology (CRT) wheelchairs under Medicare has been introduced in the House. H.R. 2408, sponsored by Reps.
AAHomecare is tackling new challenges and looking forward in mid-2019
Recent gains won't slow down industry leaders
Reach a growing market willing to pay for the products they want and need
WASHINGTON, D.C. (August 20, 2018)—The American Association for Homecare (AAHomecare) submitted comments on the ESRD/DMEPOS Proposed Rule that CMS released in mid-July.
State Leaders Council Chair win award for impacting industry
WASHINGTON, D.C. (June 18, 2018)—The June 15 release of MedPAC's report to Congress on Medicare and the health care delivery system represents another missed opportunity by the Commission to address the serious problems with Medicare's competitive bidding program for durable medical equipment (DME) as well as the disastrous application of bidding-derived pricing to rural and other less-populous communities, stated the American Association for Homecare (AAHomecare).
CMS Provider Compliance Group provides insight during keynote speech.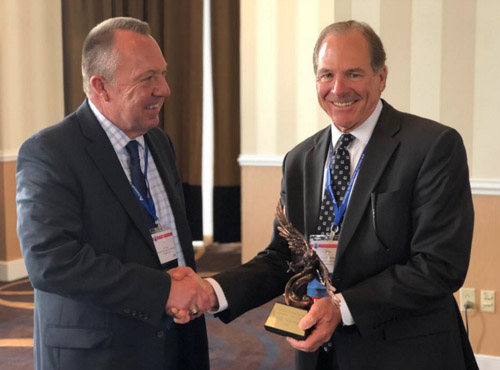 Tom Ryan (left) of AAHomecare presented Doug Coleman with the Mal Mixon Award
Fee increase and beneficiary cost sharing noted as points to watch.
By Kristin Easterling
(May 10, 2018)—After months of advocacy from AAHomecare and other industry stakeholders, the Office of Management and Budget (OMB) and CMS have cleared the Interim Final Rule related to HME (CMS-1687-IFC) to increase fee schedule rates for certain DME items and services through 2018. Language in the recent Omnibus bill also urged the Administration to release the rule and move on relief for rural providers.
WASHINGTON, D.C. (May 7, 2018)—The American Association for Homecare (AAHomecare) has retained Brown & Fortunato, P.C., a Texas-based law firm with a national health care practice, to provide a range of legal and advisory services. Longtime HME advocate Cara Bachenheimer, who is set to join Brown & Fortunato on June 1, will be taking a leading role in this engagement, providing General Counsel support on regulatory, legislative and Association governance fronts.
Interim Final Rule and bidding reform dominate talks.
Via AAHomecare, WASHINGTON, D.C. (April 11, 2018)—AAHomecare met with HHS Deputy Secretary Eric Hargan and other HHS/CMS officials to discuss the status of HME-related regulations and policy. AAHomecare's Tom Ryan and Jay Witter were joined in the meeting by Cara Bachenheimer of Invacare and Christian Springer of Foley Hoag. Principal subjects addressed included:
Congress asks CMS to implement IFR.
Via AAHomecare, WASHINGTON, D.C. (March 22, 2018)—Congressional leaders have concluded negotiations on omnibus legislation, and have just released bill text that Congress will vote on this week. While the legislative text does not include provisions from HR 4229, Capitol Hill sources have shared report language accompanying the bill that reaffirms Congressional interest in providing relief for rural suppliers, as noted on page 49 of the report section related to HHS:
WASHINGTON, D.C.(January 24, 2018)—The Senate confirmed the nomination of Alex Azar as head of the U.S. Department of Health and Human Services on Wednesday.
The Senate voted 55–43 in favor of Azar's appointment.
Azar is a veteran of HHS, having served for two years as the deputy secretary, and prior to that as general counsel of the department. From 2012–2017, Azar was head of the U.S. division of Eli Lilly and Company, a pharmaceuticals manufacturer.