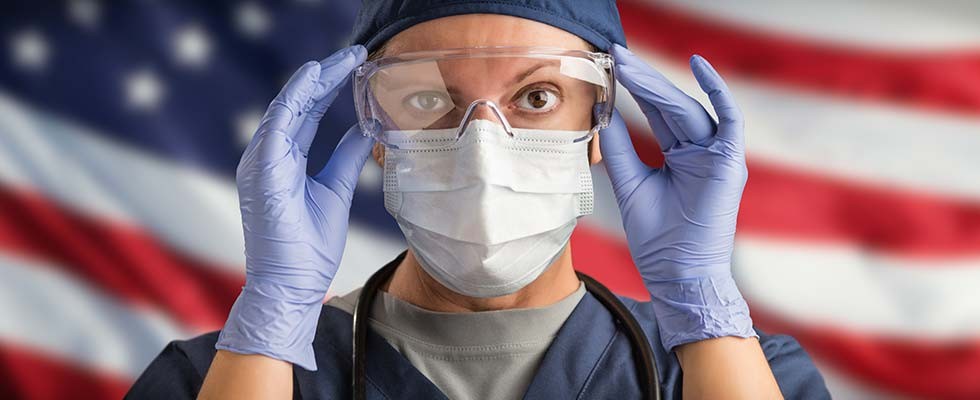 Change will be here for the long term
Wednesday, April 29, 2020
As leaders in the home medical equipment (HME) industry prepared to depart from Medtrade in Las Vegas on the first Thursday in March, the number of confirmed COVID-19 cases in the United States stood at 204, with three-quarters of those cases located in Washington state. Five weeks later, the number of positive tests nationwide stood at half a million, and more than 20,000 Americans had been struck down by the pandemic. By the time you read this, those numbers will have grown even larger.
This crisis hits close to home for me, given my background in respiratory care and my current work-from-home location in Farmingdale, New York—just 30 miles from downtown New York City and the current epicenter of the outbreak in the U.S.
This pandemic has strained hospitals and medical professionals in large cities and small towns to the breaking point and has stressed other segments of our health care infrastructure, including HME providers. I've heard from suppliers across the country who are facing this crisis head-on and providing exceptional care under the most challenging of circumstances, and I couldn't be more proud of our industry's collective response. By all reports, suppliers are adjusting operational and delivery practices to help limit exposure to the virus for both patients and HME personnel. This work is absolutely essential in helping alleviate burdens on hospitals by facilitating discharges and keeping vulnerable patients safe at home.  HME manufacturers and distributors are also rising to the occasion by revving up their capacity to meet swelling demands for critically needed respiratory products and personal protective equipment.
As the HME community has stepped up to play a major role in this crisis, we've received much-needed support from the Department of Health and Human Services (HHS), the Centers for Medicare & Medicaid Services (CMS) and Congress though policy changes and legislation that will allow us to make our strongest possible contribution during the outbreak. These actions are primarily designed to bolster suppliers and streamline regulations and requirements in the near term—but some may have positive impacts for HME providers even when the pandemic is behind us.
By the end of March, HHS and CMS approved Medicare coverage for the home-based treatment of acute respiratory conditions, including COVID-19 and pneumonia, which is critical to efforts to reduce hospital overflows. They have also allowed for accelerated payments to suppliers, paused prior-authorization requirements, suspended most audit programs, waived face-to-face requirements for most items and dropped the need for a patient signature as part of proof-of-delivery. In the second week of April, the regulators reversed course on plans to include non-invasive ventilators in Round 2021 of the competitive bidding program, to the great relief of both respiratory suppliers and patient groups.
The $2.2 trillion COVID-19 stimulus bill that passed in March included substantial Medicare relief, as well. It extended relief for rural suppliers and added some new assistance for non-rural suppliers outside of bidding areas for the duration of the public health emergency. All Medicare suppliers will see the across-the-board 2% Medicare sequestration cuts paused for eight months. And on April 10, HME suppliers started to see their portion of the $100 billion set aside to support health care providers appear in their bank accounts.
The AAHomecare team, in concert with the VGM Group, the Council for Quality Respiratory Care and other HME stakeholders, has been consistently engaged with CMS, HHS and Capitol Hill to help secure those gains for our industry—including working with HHS to ensure that HME suppliers were included in the definition of "eligible health care providers" to receive a share of relief. Every major suggested policy change that we shared with regulators and with our Congressional champions has been adopted, save for a one-year delay for the 2021 competitive bidding round.
While I'm proud of these efforts by AAHomecare and our industry partners, I believe the most important factor in obtaining this level of regulatory and financial relief for HME providers is the persistent and passionate advocacy work from leaders across our industry over the last few years. I'm confident that the industry's strong response in this crisis will bolster relationships with state and federal regulators and legislators, major third-party payers and managed care organizations.
When the COVID-19 pandemic is finally behind us, we'll return to making sure that relief for rural suppliers is extended for a longer term and obtaining relief for other suppliers in non-bid areas. The fact that Congress has provided this relief in the CARES Act sets a positive precedent for a more permanent fix. Likewise, getting non-invasive ventilators removed from the next bidding round gives the respiratory community time to advocate for permanent exclusion for this high-service product that is a poor fit for the bidding program.
In the nearer time frame, AAHomecare will continue to press HHS, CMS and Congress to delay implementation of the next bidding round for at least a year. Even as the COVID-19 caseload diminishes, this virus is unlikely to be extinguished until widespread vaccine deployment—probably sometime in 2021 at earliest.
When HME suppliers learn later this year whether they've been selected and the bid-price results, they will likely still be dealing with significant operational challenges and possible flare ups of COVID-19. Survivors who required intubation or other respiratory support to recover may need longer-term respiratory care. And the costs for a range of HME and other needs like personal protective equipment may be different from when suppliers submitted bids in October 2019.
We simply don't know the challenges homecare will be facing come Jan. 1, 2021. But what should be clear is that asking the HME community to effectively respond to this crisis while facing that uncertainty—and the inevitable disruption that implementing a new bidding round entails—is, at best, a risky idea.
HME suppliers are displaying courage and compassion in meeting the demands of the crisis. Serving vulnerable patient populations can be a daunting task and a heavy responsibility even in the best of times; the challenges are magnified several times over in an unprecedented health emergency
like this one. Even if you are not directly involved in respiratory support, your work in providing home-based equipment and
care is helping limit the spread of the coronavirus and keeping patients out of overburdened hospitals, skilled nursing facilities and independent- and assisted-living retirement settings.
HME is playing a major role in limiting the impacts of this virus, helping protect the health and well-being of millions of people and moving us closer to a time when schools and businesses are fully open and handshakes and hugs are warmly accepted. AAHomecare is proud to do our part to make it easier for you to serve your patients and communities under these extraordinary conditions, and we're committed to fight for this industry in the better days that lie ahead.