Emphasizing fashion and color, compression products now combine function with aesthetics
Compression products suffer from an image problem, which includes a lingering association with the idea of "grandma's support hose." Syndi E. Salat, medical products manager of Positive Care in Highland Park, Ill., sees it firsthand every day when she meets new customers.
"People come in here with a giant chip on their shoulder," she says. "They say 'I'm too young, the products are ugly and they're hot and hard to put on.'" Salat has heard the complaints so often that she isn't caught off guard and defuses the situation with humor. "Let's see how miserable we can make you," she tells new customers. Then she shows them the broad range of new and colorful compression products, including many that may look similar to the socks or stockings they're already wearing.
Compression products make up about 30 percent of Positive Care's business and is growing, and the store has a seating and display area that communicates to consumers they are serious about compression garments. "They can see the products are not as surgical-looking as they thought," Salat says.
Positive Care is the health care products business of Schwartz's Intimate Apparel, which has been a family-owned business for 100 years, starting out in the 1920s supplying women's foundations and undergarments. Evolving to serve women who had mastectomies enabled the business to migrate into health care products, and eventually into upper-extremity compression products.
Salat has watched the market evolve from surgical-looking garments to an array of patterns and colors, with the stigma of wearing compression products decreasing in the process. "It is a very large and growing market," she says. "It's one of the small groups that will experience growth in years to come." Fabrics used in compression products now offer such features as anti-fungal and bacterial treatment and silver fibers purported to have therapeutic properties. New compression products also include stockings that use Velcro or interlocking devices that can be donned without disturbing the wrappings of a wound.
Salat finds that patients are more compliant if they are involved in choosing the garment and if it fits their lifestyle and needs. "We do our best to combine what the physician or therapist wants for them with what they want aesthetically—business or casual," she says. A key to success is to be service- and client-oriented and to talk to the patient about lifestyle. Also, it's important to work with customers to teach them to don the items, with the help of rubber gloves or other donning devices. "Education is tantamount for compliance and repeat orders."
Because HME/DME providers are already service oriented, they are well positioned to succeed in the compression market, Salat says. But where to start? "I would suggest checking out the competition in the area. You have to be willing to have personnel trained, and there should be a private sitting area in the store so customers don't have to expose their arms and legs in a public area. A table for full-leg measures is also helpful, as is a display area for marketing materials. You have to be determined to be in the market. All age groups can use these products."
Educating the Customer
Although compression products serve people of all ages, blood flow problems are more common among older people, so the demographics of aging Baby Boomers bode well for future market growth according to Mike Murphy, national account manager for Alex Orthopedic. A broad product selection fosters customer confidence and can serve the needs of most people who come through the door.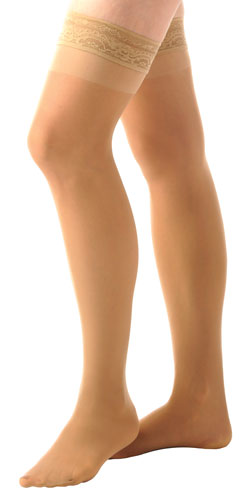 Venous disease progresses slowly, so patients may tend to ignore it and not wear compression hosiery, Murphy warns. Educating the customer on how to put hosiery on properly and how to wear it increases future sales because it makes customers more likely to wear the hosiery on a regular basis. Every customer should buy at least two pairs of compression hosiery to enable the extra pair to be washed every second day and put aside to "rest" and return to its original state. Compression will decrease over time, so patients should re-order every six months.
Alex Orthopedic offers a variety of hosiery planograms for any provider's desired level of involvement in the compression market. A provider could start out with as few as 12 SKUs (stock-keeping units) of lower-compression hosiery and add to it over time, building from one foot to 10 feet of hosiery displays in increments. "Small, incremental planograms enable stores to add products gradually as sales increase," Murphy explains. "We try to be flexible, to cater to whatever they need and to offer an alternative to the high end of the marketplace."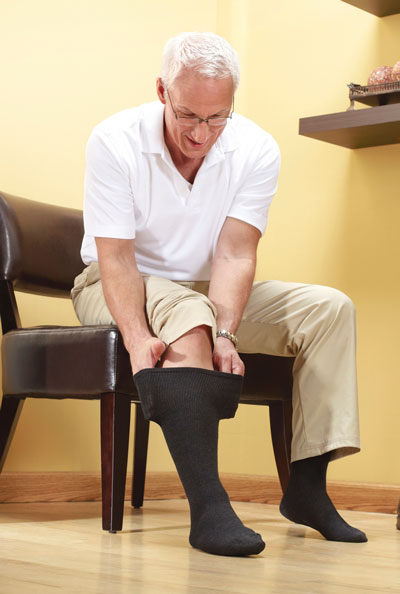 Alex Orthopedic helps HME providers serve the compression hosiery niche with a range of lower-cost products that can serve most patient needs. The company's top-selling product is the Alex for Her 20-30mmHg compression sheer product, which provides quality comparable to major brands at lower cost. The line's comfort ensures greater compliance.
Build Awareness to Build Volume
Tom Musone, Juzo USA's marketing director, sees a general lack of awareness in the overall consumer market related to venous disease and the role of compression products, although awareness has increased in the last five to 10 years with additional funding and research. Although there are news stories about deep-vein thrombosis (DVT), many Americans still have very little knowledge of venous disease. The fact is, more people die of DVT complications each year than from breast cancer and AIDS combined.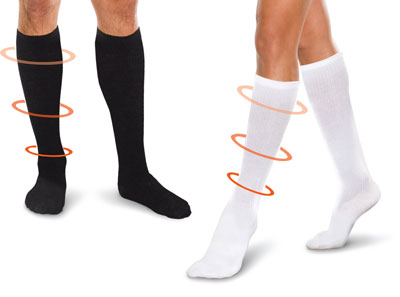 Juzo (Julius Zorn, Inc.) celebrates its 100th anniversary this year and provides compression products that excel in five variables: durability, appearance, comfort, ease of use and therapeutic value. The provider of a high-quality brand uses a FiberSoft process to micro-spin each compression fiber with soft, protective threads. The company began manufacturing in Cuyahoga Falls, Ohio, about 30 years ago—it also has manufacturing facilities in Germany—and is still family owned. Maximizing the appearance aspect of Juzo's products includes new colors and patterns, including tie-dye introduced this year and new colors that come out each spring and fall.
Musone says any DME/HME provider with strong referral sources and/or a good retail location can do well with compression business. A major factor in continuing referral business is a satisfied patient who can report back to a doctor that he or she is compliant, that the compression item is comfortable, that it came in a nice color, fits well and is durable. "When the medical professional hears that they're happy, that means more business."
To ensure expertise among dealers who sell Juzo products, the company provides academy courses and seminars throughout the country, some with continuing education unit credits, covering how to provide service to compression patients, including measuring. Even over-the-counter compression products offer a good cross-selling opportunity—and cash business—for providers that sell walkers or other mobility devices.
In addition to building referral business, providers should promote compression items in the store with point-of-purchase (POP) and educational materials, or plan a "Leg Health Day" in conjunction with an organization that focuses on a related disease state, says Musone. "It takes time and energy, and the start is to have product choices on the shelf and the right product mix." Juzo works individually with dealers to play to their strengths, such as a location near a hospital, cancer center or a vein clinic. Musone recommends contacting a compression manufacturer and working together to develop a plan. "Get educated before going out to talk to referral sources," he said. "Know how to serve and fit the patient, and then promote and push it and make sure you have enough product to satisfy customer needs."
Compression products are a great cash sale item that can help customers reduce leg fatigue and swelling and encourage circulatory wellness. Although prescriptions have evolved as a convention doctors use to communicate a patient's need to a provider, selling compression products does not require a prescription. "Providers can sell more products by looking beyond the people who have prescriptions and sell them as a comfort product to reduce tired and achy legs," says Greg Karian, director of marketing at Dr. Comfort.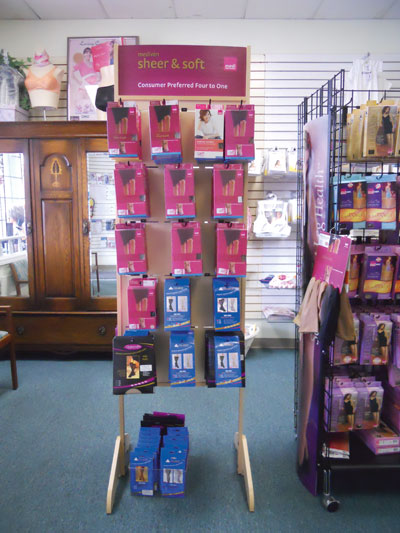 The Food and Drug Administration (FDA) strictly regulates and monitors the manufacture of compression wear primarily to ensure accurate labeling, but they do not require a prescription. The misconception that compression products require a prescription is widespread among both customers and even HME/DME providers, Karian says. He tells of a consumer who called Dr. Comfort and was provided with a list of four compression providers in her local zip code. "The patient said she called four of the providers and all four said she needed a prescription," he says. "They were turning business away."
Karian recommends that providers direct customers to choose among gentle, moderate or firm compression hosiery based on their condition(s), starting with lower compression levels and increasing compression as required. It can be a challenge for people using higher compression levels to get the hosiery on, he adds. Dr. Comfort encourages re-orders by stitching the size and compression level into the non-binding comfort band at the top of its knee-highs so it won't fade during repeated washings. Among Dr. Comfort's products is a diabetic support sock that provides low-level compression. The company also offers a full range of compression wear and an ulcer kit for wound care.
A Great Business to Be In
Melinda Smith—owner of Pretty Please, Inc., in Decatur, Ga.—is another retailer on the front lines of the compression market. Pretty Please's business is largely physician-driven, so marketing activities include providing in-service education to doctors' offices, sometimes involving manufacturers' reps, to let them know what products they carry.
"I think it's a great business to be in," says Smith. "There is a learning curve, but practice makes perfect, and you can't be afraid to make a mistake. We stayed with off-the-shelf products in the beginning. But when you start to get referrals for more challenging cases you find that the more you do, the easier it is. You reach a point where you can do the challenging cases with more ease, and you'll get more referrals for those cases. Don't be afraid to take risks." Pretty Please has been growing its compression business for the last eight years, adding item by item. Now compression is about 40 percent of the business, with about 90 percent of it prescription-based, Smith estimates.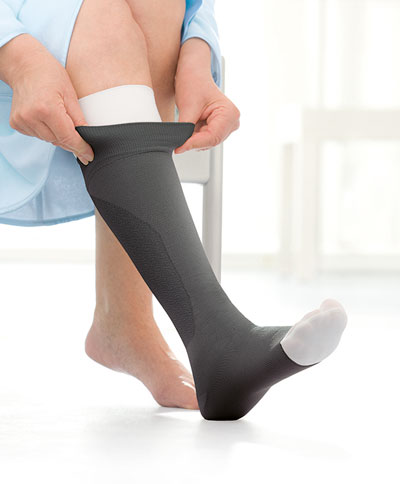 Pretty Please specializes in women's health care, especially serving women who have had breast cancer, need prosthetics and bras or use nursing pumps. The store began in the compression area selling sleeves to prevent truncal edema after breast surgery and later expanded into lower-extremity compression products for vascular conditions. The store offers a selection of cash-and-carry items, mostly vascular compression items for tired, achy legs. Although many of the store's products are women-oriented, in the compression area the mix of customers includes about 40 percent men, driven by the store's work developing referrals from the local veteran's administration (VA) hospital, which serves mostly men.
Smith sees a contrast between the buying patterns of male and female customers, beyond differing medical needs. "Men are OK with an economy line of products, but women prefer a greater variety of colors, lengths and soft, sheer fabric," she says. She notes that an economy line may not have a comfort-fit top band, a larger toe area, or wicking ability.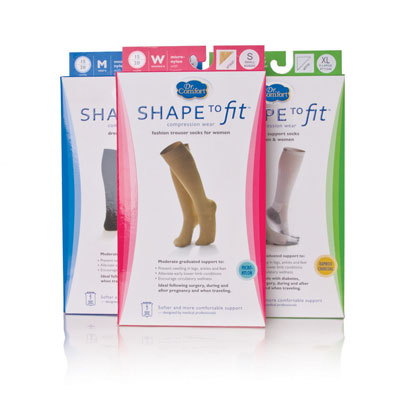 Especially in upper-extremity compression products, women get excited about patterns and colors, and manufacturers are adding bright, cheerful colors and patterns such as tie-dye. "They have to wear the sleeve on their arm, so they might as well have fun with it," Smith says. Lower-extremity compression products can now also make a fashion statement, including calf-high and thigh-high hosiery and socks in patterns with diamonds and stripes.
Smith recommends that providers who want to break into selling compression products begin with one manufacturer and focus on a single product category such as lower extremity or upper extremity only. However, she warns that it's just as much work to market a few products as a larger range, especially related to driving referrals. "You still have to market yourself, so you're already out speaking with the physicians, and you can get that many more referrals if you have more product offerings," she explains.
Both Pretty Please and Positive Care are members of Essentially Women, a buying group that helps members maximize revenue, lower costs and strengthen their market position by negotiating favorable and competitive pricing with major manufacturers. Member stores receive discounts and perks when they buy from preferred vendors who are also members of the buying group. Essentially Women also provides educational opportunities for the industry, such as a "Focus on the Future" event each spring with an associated trade show. Networking opportunities enable members with similar businesses to share tips of the trade.
Combining Comfort with Medical Benefits
Whether it's limited mobility or dexterity or complaints about general comfort, many individuals struggle with donning or wanting to wear their garments every day says Kam Howard, marketing director of Therafirm, a division of Knit-Rite. A leading manufacturer of compression hosiery and socks, Knit-Rite has been in business for 50 years and continues to develop products that are fashionable, comfortable and deliver needed health benefits. Therafirm's Core-Spun Support Socks are ultra-stretch and easy to put on. They also look and feel like a "soft, comfortable everyday sock," and their moisture-wicking yarns make them comfortably cool year-round, says Howard.
HME providers should not avoid all compression lines because they think they are too SKU-intensive, according to Howard, since the Core-Spun line fits a wider range of patients with fewer SKUs.
Another supplier is Bilt-Rite/Mastex, whose compression and hosiery line emphasizes the basics without overwhelming the HME provider with too many compressions and sizes, says Marvin R. Gross, national accounts manager. Bilt-Rite/Mastex compression stockings feel cool and comfortable, while providing a range of compression levels for men and women. A popular Bilt-Rite item is the Thigh-High Anti-Embolism Compression Stocking available in open- or closed-toe styles and providing warmth in cold seasons, in addition to compression.
Gross emphasizes that compression hosiery has medical benefits and should not be worn like regular hosiery. To succeed in the category, providers should create more patient awareness about compression hosiery and provide training for measuring proper sizes. Also, providers should avoid possible misdiagnoses.
For more than 60 years, JOBST has provided a physician-recommended brand of compression hosiery in all compression ranges (including custom orders) to serve the therapeutic, comfort and aesthetic needs of men and women. Styles include knee-high, thigh-high and pantyhose, offered in various colors and "indistinguishable" in appearance from fashion legwear found in department stores, according to Ginny Perez, marketing manager, U.S. marketing, BSN medical/JOBST. The JOBST UlcerCARE is a two-part compression system for a lower-extremity venous ulcer. An outer garment comes with or without a zipper for easy application and a silky liner promotes healthy skin, keeps the wound dressing in place and allows the outer garment to slip on easily. JOBST emphasizes products that are easy to put on, thus contributing to wearability and patient compliance. A 3D Knit structure with an inlay on every course optimizes yarn size and makes products easier to put on. Products also have moisture management properties and odor control.
JOBST suggests three techniques to sell more compression products. One is to advertise to overcome lack of awareness. Another is to provide a well-stocked showroom with product attractively displayed to encourage sales. The third component of increasing sales is a dedicated staff trained by manufacturers who are confident in their product knowledge and able to help customers select appropriate products, says Perez.
JOBST offers a variety of point-of-sale materials, including signage, acrylic leg forms, literature holders, consumer educational materials and ready-made ad slicks. JOBST also has recommended planograms filled with best-selling products to generate turns.
SIGVARIS has had some exciting product launches in the U.S. market this year according to Judith Brannan, medical affairs and education manager. "They include our new Diabetic Compression Sock that was backed by a medical study, the new SIGVARIS Skin & Foot Cream—very helpful for those with dry skin—and new additions to our Select Comfort Line that are perfect for petite and plus-size patients.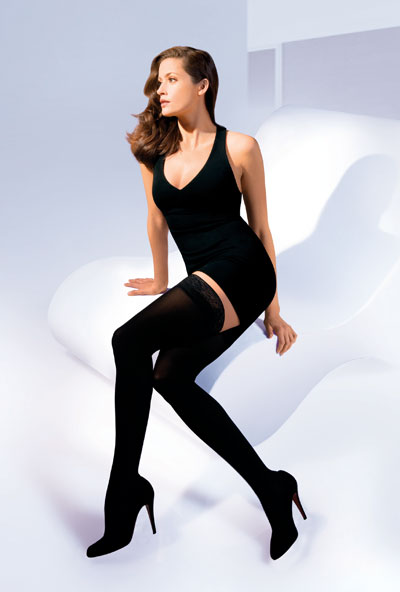 "This summer we also launched new open toe styles in our EverSheer and Soft Opaque fashion lines," she says. "EverSheer provides a sheer look from ankle to thigh, while Soft Opaque features microfiber softness and looks like designer fashion tights. We know the patients who wear our products are anticipating our newest product launches that will take place later this year."
Follow Up for Repeat Orders
Michael Cannon, product manager for phlebology and lymphology at Medi USA, says growth and awareness of the compression market is increasing every year, and DME/HME providers have an opportunity to succeed by emphasizing service that is not available from a "big box" retailer. "A product like ours won't be successful unless the business takes the time to understand what the patient needs," he says. "You don't get that from a mass merchandiser." Medi trains providers to become experts in fitting and also to become knowledgeable about various disease states, the need for compression products and important patient considerations.
"As a guy I just want something that looks like a casual sock or a dress sock, but women want something that is sheer and comfortable," he says. Products are also easy to pull on.
As a worldwide manufacturer and distributor of compression garments, Medi's goal is to provide accurate and precise compression for the best patient result. The company's premium product line includes the "sheer & soft," "comfort" and "for men" lines.
Cannon recommends following up with existing patients to remind them to reorder new products. Calling after five months and offering a 10-percent discount if they order within the next 30 days has proven to be effective for many providers. Another approach to boosting sales is to bring in an expert or health care professional to do a "Health Day," either specifically about compression or combined with other products. "People can ask questions and obtain information, and maybe you could offer a discount," he says, adding that Medi works to partner with providers to help them build their business and make it as profitable as possible.
While over-the-counter compression products provide growth, the prescription side of the business is the real key to success, says Cannon. Referral sources can provide a regular and predictable flow of business. Partnering with medical professionals builds understanding of the products they often prescribe, which enables providers to know what items to stock. "If you establish yourself in a very professional manner, and if you have physicians in the area referring patients to you, then you have a lot of credibility," he says.