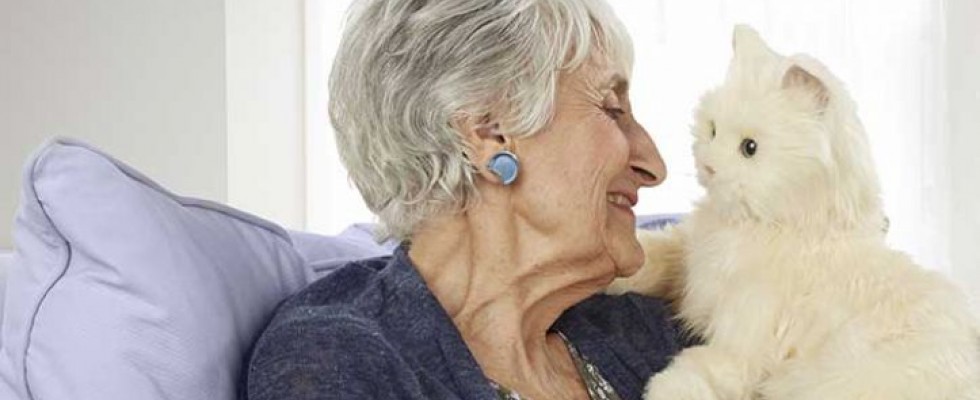 A few years ago, Hasbro looked at reviews of their early furReal products and noticed something interesting: Animatronic pets, designed for kids, were being used by seniors. So, said Ted Fischer, vice president of business development and leader of the Joy for All brand, Hasbro brought groups of seniors into the Fun Lab and let them play.
"We focused on the joy and happiness of aging," Fischer said. "We realized there was a need for interactive companionship in the senior population as social isolation and loneliness are growing problems. We don't think the joy of play has an age limit."
Hasbro's Joy for All Companion Pets were born. There are two pets: the Cat (available in three colors, launched in 2015) and the Pup (launched in 2016). Each pet is designed to mimic the real-life animal it resembles.
The Cat responds to touch and changes in light, with sensors throughout its body. Because cats are fickle, Fischer said, the play pattern is designed to be completely random. The Cat also has a technology called VibraPurr to mimic the purr of a real cat.
The Pup is a little more playful, Fischer said, responding to touch and sound. It has BarkBack technology, responding with a bark that is about the same length as your speech. The Pup also has a "heartbeat" that can be soothing for seniors; the longer you pet the Pup, the slower the heartbeat gets.
Both the Cat and the Pup run on C batteries and have a sleep mode to preserve battery life. Another crucial feature is the mute mode for those with audio sensitivities.
"So many seniors can't have pets for various reasons," Fischer said, "either due to inability to care for a real pet or their residential situation. We don't pretend the Joy for All Pets are real, but they are realistic—interactive companionship with lovable realism."
Caregivers purchase the Pets for their aging loved ones for various reasons, including combating loneliness and isolation, but several reviews of the Pets have pointed out other benefits.
"Caregivers have noted it is wonderful to be able to get things done around the home without having to worry about their senior family members who are happily interacting with their Pets," Fischer said. The pets often create a "common ground" to enhance intergenerational connectedness, bringing grandchildren closer to their grandparents through interactions with the Pet, again, combating senior isolation.
Hasbro recently teamed up with Brown University's Humanity-Centered Robotics Initiative (HCRI) for Project ARIES (Affordable Robotic Intelligence for Elderly Support), in an effort to make the Pets even more suited for senior use. Coupled with a $1 million grant from the National Science Foundation, the goal is to design enhanced companions that can help seniors with everyday tasks such as medication management or finding lost objects.
"This company that largely focused on bringing joy to kids, is now also bringing joy to seniors," Fischer said. "There is no 'fun aisle,' for seniors." But perhaps there should be.