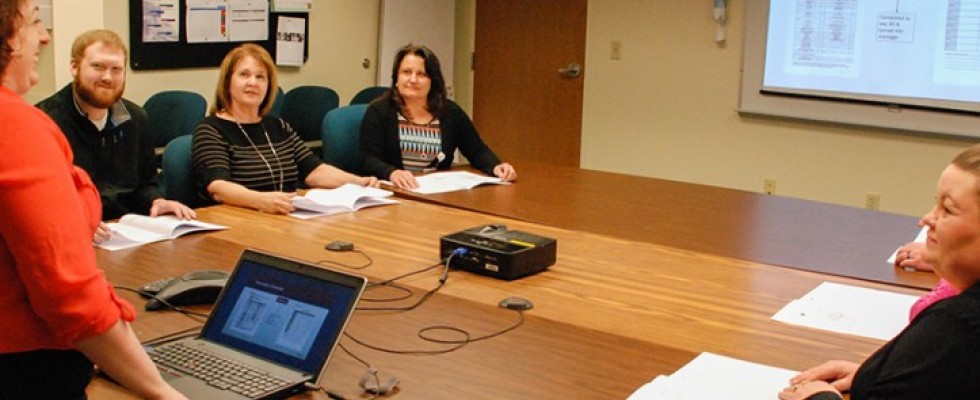 Employee accountability, ongoing review ensure education program's success
Hart Medical Equipment has created a dedicated education team and integrated required training, as well as fine-tuned an operational plan, into the company's employee management system.
Now past the HartBEAT (Hart Better Education and Training) program's development phase, the education team strategizes learning opportunities and regularly reviews the program's effectiveness. How to assess usefulness has been a learning experience, said chief compliance officer Deb Holman, who, with education coordinator Kristin Liss and CSR Jillian Miller, deploys training to cover more than 20 locations throughout Michigan.
"My team uses a weekly report that identifies claim denials," Holman said. "The data from this report is sorted by denial reason to provide valuable information about trends in denials, measures that are improving and specific employees and locations with high error rates. This information is shared with our leadership team to help us assess education needs."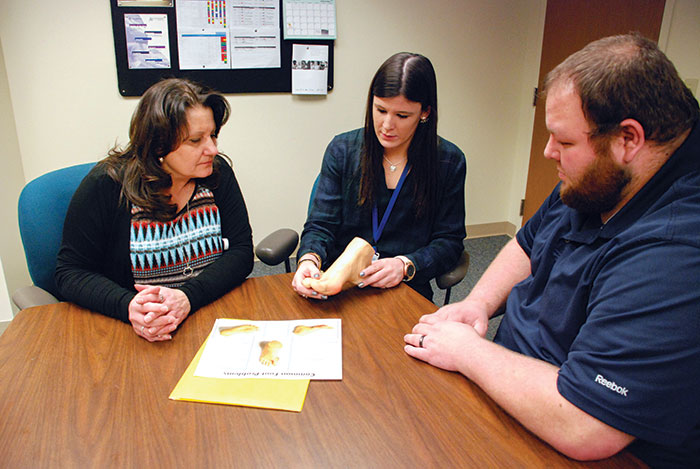 Corporate trainer Jillian Miller provides hands-on education to diabetic shoe and shoe insert fitters, using an anatomical foot model to help ensure a more accurate foot assessment.
Hold Employees Accountable
Hart Medical Equipment accomplishes much of its employee training via webinars, which are attended by staff from the 20-plus locations. The company developed incentives and consequences for completion. Testing helps keep people focused on the material, and attendees must score at a certain level or retake the training.
Holman said testing does not ensure the staff has hardwired the behavior, however.
To understand where processes were or were not improving, Hart Medical's education team tracked and analyzed data. They pulled information by manager and location to determine training effectiveness. They studied errors. They determined the need for one-on-one interventions or additional widespread education. They used denial data to reveal problematic areas such as modifiers, over quantity issues and diagnosis coding.
When the billing team showed frequent processing errors related to ABNs, DWOPDs, prior authorizations and insurance errors, the HartBEAT team developed three levels of training in response, explained Liss, who added, the team received executive approval prior to implementing the plan.
Three Levels of Training
1. Mandatory. Training must be completed by the due date. This includes annual trainings in HIPAA, OSHA and infection control, and job-specific courses such as creating CMNs, completing ABNs and DWOPD processes.
2. Recommended. This training benefits the employee in their line of work but is not a regular task. This may help an employee better understand the business or service. However, it is not imperative to their role in the company. For example, orthotics staff and respiratory therapists do not enter their own orders in the computer, but they should be able to explain the delivery ticket, copays, deductibles and an ABN.
3. Skill-building. The training is not specific to the employee's current role but helps groom existing staff for future roles. When an employee has the desire to move up in the organization, or choose a lateral transfer, having training in areas other than their current world can help them be mobile within the company. "We have had medical equipment technicians become customer service representatives and respiratory therapy assistants because of self-motivation to learn, complete skill-building training, and strengthen his or her understanding of operations outside their scope of performance," Holman said of skill-building training.
On mandatory training, she said, "We've had to take a very hard line. We've implemented somewhat of a stern requirement, which wecall furlough."
No Education Means No Work
If assigned mandatory training is not completed within the allotted time, employees get a one-week grace period with a warning to meet the requirement. After that week, they receive a furlough notice that they cannot be on the schedule—no education means no work—until training is completed.
Good news—since the plan was put into place two years ago, the team has not furloughed anyone. Managers monitor warned staff to avoid staffing issues caused by furloughs in their departments or locations.
Hands-on Review of Training
HartBEAT conducts much of its training virtually—online through programs such as Medicare University or VGMU Online Learning—or onsite by vendors. Several months after training, educators go into the field and test the training to find out if employees at each location are implementing programs and doing the work correctly.
As part of the review process, the team learned that webinars and virtual training were not the best delivery method for training warehouse staff, drivers and medical equipment technicians, who respond better to face-to-face, hands-on training, including role-playing. By observing how well staff understand what's being taught, methods of training can be evaluated, Liss said.
Onsite training also helps address differences in the previous corporate cultures at the various locations. The team reiterates in person the HartBEAT way to help overcome the obstacles of continued legacy practices or an employee who simply is not grasping new procedures.
Staff must demonstrate their skills one-on-one, and if procedures are not followed, the education team member can show and coach employees on how to make changes and improve. The education team works out of the office in Southfield, Michigan, but deploys to all Hart locations as needed.
Employees Have a Voice
The HartBEAT team wants to get people involved in training development. This process helps staff to feel they have a voice and can lead and help be "a part of the tomorrow for Hart," Liss said.
In November 2016, Hart Medical Equipment surveyed employees to find out if they valued education and whether or not education helped them better perform their jobs. A majority of those who completed the survey said yes.
The November 2016 survey of employees also revealed that 10 percent did not find any value in the education. Recent training focused on front-end education and achieving clean claims, rather than training for clinicians or the billing department.
"Eventually, the goal will be to have a hand in all the training, no matter what the department," Liss said. "HartBEAT is a new program and we're still growing."
Hart Medical Equipment's HartBEAT goals for 2017 include assessing education and training for clinicians and the billing department. The company has also included a process to groom existing staff into future Hart leaders. Skill-building education can help them to push beyond their current roles.
"We really believe in trying to grow managers and promote from within," Holman said.
This is the second of two articles focused on training and education. Read the first part of this article here.