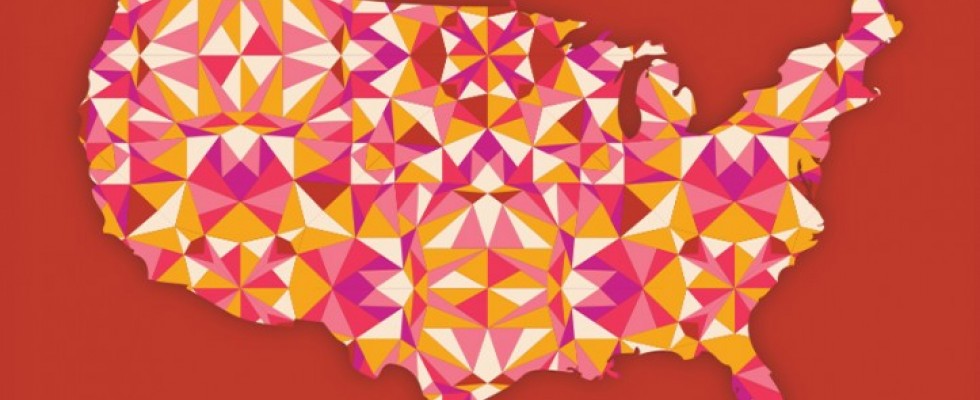 Kaleidoscope pieces in motion
Wednesday, January 3, 2018
"We're in the throes of transition, and the kaleidoscope pieces are in motion," says Laura Adams.
Adams specializes in using information technology in large-scale collaborative settings, for improving the quality, safety and value of health care. She leads the Rhode Island Quality Institute and adds to her kaleidoscope comparison: "History will look upon this era in health care as one of enormous challenge, but also one of stunning progress at exponential speed."
Asked about how different parts of the system play into new payment models, Adams says, "How can homecare lead? Health care is understanding more."
From the back office to the front of the house and face to face with patients—homecare is a tall order. The industry builds its agenda from the data: aging-in-place baby boomers and people managing disabilities from birth through life; post-acute care wellness, safety and prevention goals; regulation and compliance requirements; and the impact of a growing managed-care culture.
"As a part of this industry for the past 35 years, from billing at Medicare to billing in HME to HME branch and general management and finally to HME association management, I have seen us in the throes of change the entire time," says Rose Schafhauser, executive director of the Midwest Association for Medical Equipment Services & Supplies (MAMES). "Change is as inevitable as the sun rising and setting each day. I have seen many of our MAMES members thrive in these changes, as they have themselves transformed their businesses to take advantage of the changes in our industry. From going non-assigned to expanding retail to changing product mixes to finding ways to operate in a more efficient manner, our successful MAMES members continue to amaze me with their ability to fit the kaleidoscope pieces together in new and successful ways."
Regardless of near-term legislative, regulatory or executive actions, health care is rapidly moving toward an at-risk, value-based environment, and providers must take steps now to ensure they'll be able to compete, says Dr. David Gruber at global professional services firm Alvarez & Marsal.
"What we are seeing is a convergence," Gruber said. "You have all these folks working with their
siloed perspectives—it's all interrelated. Providers looking to compete in this new landscape have to prepare now for what will be a systemic paradigm shift."
The health care industry is reaching its "tipping point," where questioning the future of care delivery and payment models has become more the rule rather than the exception, and managing in the new-world homecare business climate (while at the same time, serving traditional fee-for-service models) ranks as a major challenge to strategic progress, Gruber says, adding that "all health care is local." Read how three companies keep homecare local here.
Payer Complexities (and Opportunities)
Payers present complexities—and opportunities—for which not all businesses are prepared. The Centers for Medicare & Medicaid Services (CMS) keeps changing the rules of business engagement for health care providers, including home health, hospice and HME providers.
"Homecare is reaching the level of awareness, respect and application in health care that it has long deserved," says Bill Dombi, president of the National Association for Home Care and Hospice (NAHC).
"With the demand for homecare growing with the demographic changes, the continuing inclusion of technologies as effective homecare tools, and proven dynamic value in overall health care efficiencies, the participants in providing homecare can be expected to expand both in numbers and in types of businesses that become engaged in the marketplace.
"Those participants range from the traditional type to those with disruptive-focused approaches that could revolutionize homecare. The transition to a world of health care directed towards the community and away from institutions is accelerating, and it will be a world with nearly endless opportunities and variation," Dombi said.
"Homecare is reaching the level of awareness, respect and application in health care that it has long deserved."
—Bill Dombi, president of NAHC
Hospice care is hindered, says Corina Tracy, executive vice president and chief operating officer for Compassus, a Tennessee-based hospice provider. In 2017, Tracy was recognized among top female health care leaders in the Nashville region.
"One of the biggest barriers to accessing hospice care is that it is not yet considered mainstream," Tracy says. "That is, not every person diagnosed with a terminal illness is given hospice as a default option. Hospice is still too often the last option for patients. In fact, more than 35 percent of patients die within seven days of entering hospice, even though research shows patients receiving care for a longer period of time are more likely to have high end-of-life satisfaction.
"Talking about the end of life with patients is difficult. It's a high-risk and emotional conversation to have, but it's necessary to ensure patients receive the right care at the right time. Arming clinicians with data, such as predictive analytics, would provide them with something objective to trigger that conversation with the patient," Tracy said. "Some sort of statistical judgment in prognostication would add a lot of value not only in terms of cost and utilization of the system but most importantly to patients and families by giving them time to understand and meet their life closure matters. After all, that's what hospice is all about—helping make every moment of life as meaningful as possible for patients and their loved ones."
Improved communication across the board will be a critical focus in homecare in 2018, as the demand for transparency among patients, MCOs and states continues to increase, according to Scott Schwartz of homecare management software provider HHAeXchange. "Agencies will need to show they are delivering the right personalized services to each patient, particularly as states and MCOs put a greater emphasis on quality versus quantity."
CareCentrix, based in Hartford, Connecticut, builds and oversees networks of homecare service and durable medical equipment providers on behalf of insurers, negotiating contracts, paying claims and handling customer service inquiries along the way. The company's Chief Growth Officer Steve Wogen relies on his personal experience with a loved one in end-of-life care and his past experience in benefits management, explaining, "We can and should do more to help patients heal or age where they want to be—at home. Post-acute care is fragmented—we need to connect care across the continuum, instead of working in silos."
Wogen emphasizes equal focus on helping the patient navigate to home with a tailored care plan while working as an extension of payer programs, using input from a multi-disciplinary team of professionals in the planning and decision-making process and looking at the patient holistically, including examination of social needs, such as nutrition, transportation and caregiver support. "This type of collaboration can alleviate wasteful spending and prevent readmissions, and improve patient care," Wogen added.
As the home health regulatory landscape changes, there are two common themes: decreased reimbursement and increased pressure to meet quality measures, says John Banks Powell, vice president of post-acute care for CipherHealth, a company founded in 2009 with a mission of helping health care organizations better utilize technology to improve care coordination and delivery. "In order to achieve better outcomes and better patient experiences, home health agencies have to be more attentive to patient needs and think creatively about how to engage patients in their own health, in the white space between home visits."
"We can and should do more to help patients heal or age where they want to be—at home. Post-acute care is fragmented—we need to connect care across the continuum, instead of working in silos."
—Steve Wogen, CareCentrix chief growth officer
Cipher partners with home health agencies to help lower readmissions, increase satisfaction and Consumer Assessment of Healthcare Providers and Systems (CAHPS), and improve overall patient outcomes.
Powell says the complexity of patients being referred to home health care continues to increase as skilled nursing facilities are significantly more expensive and not necessary in many cases. There are many ways to implement patient engagement strategies, including remote monitoring, patient portals, etc. However, the reality of health care today is that agencies must be proactive in reaching out to patients to see census-wide results.
A report released in November 2017 by Alvarez & Marsal points to patient care (delivery) transformation, population health management and patient engagement, among its core "survival strategies" for 2018.
"2018 is slated to be a year of enormous change for home health based on the announced updates from the Centers for Medicare & Medicaid Services (CMS)," says Marian Essay, director of clinical operations for naviHealth, a Cardinal Health Company. "There are significant changes planned that will impact the home health regulatory requirements, including quality assessment and performance improvement (QAPI), outcome and assessment information set (OASIS) data collection, and the CMS home health payment models."
In addition to changes in the home health payment models, the Medicare Payment Advisory Commission (MedPAC) has recommended to Congress that the CMS implement a unified post-acute prospective payment system (PPS). This recommendation would impact Medicare payments for the post-acute care (PAC) settings of home health, inpatient rehabilitation facilities, long-term-care hospitals and skilled nursing facilities, Essay said, and added that MedPAC recommended the new PAC prospective payment system be in place by 2021, with a three-year transition period. However, at MedPAC's November 2, 2017 public meeting, it was announced that the commission is considering recommending an interim "blended" payment model that would be implemented as early as 2019, followed by the full implementation of a unified PAC payment system in 2021.
Regulatory, Quality and Data Collection Changes Include:
Implementation of the new Medicare Home Health Conditions of Participation, effective January 13, 2018
 
Addition of five new quality measures mandated by the Improving Medicare Post-Acute Care Transformation (IMPACT) Act of 2014, to the home health agency confidential CASPER reports beginning January 13, 2018
 
Preparation for substantial changes to OASIS data collection with the removal of 33 OASIS items beginning January 1, 2019
"The CMS continues to lay the foundation for value-based payment systems by updating home health regulations, data collection items and quality measures, and by planning for innovations to home health payments," Essay said.
Two of the more innovative solutions are field automation of clinicals and cloud-based systems, says Bob Dean of Brightree's home health and hospice division. These technologies create opportunities to drive growth and improve patient care.
"The key is connectivity. Like any emerging technology, the capabilities will grow, but agencies will benefit only if they are actively engaged," Dean said.
Good News for Job Opportunities
Employment in the homecare industry grew 83 percent in the last decade, compared to 6 percent overall job growth, according to a recent "The Journey of Caregiving" report from Merrill Lynch, a study conducted in partnership with Age Wave.
In addition, the Bureau of Labor Statistics (BLS) projects employment in health care and social assistance to grow nearly 4 million jobs by 2026, about one-third of all new jobs.
The share of health care and social assistance employment is projected to increase from 12.2 percent in 2016 to 13.8 percent in 2026, becoming the largest major sector in 2026, the BLS says.
Health care support occupations (23.2 percent) and health care practitioners and technical occupations (15.2 percent) are projected to be among the fastest growing occupational groups during the 2016 to 2026 projections decade. These two occupational groups—which account for 14 of the 30 fastest growing occupations from 2016 to 2026—are projected to contribute about one-fifth of all new jobs by 2026, according to BLS.
NAHC, the national organization tuned in to the world of homecare and hospice, says growth in the private duty homecare industry has led to calls for more oversight and regulation, and more states are considering legislation to make accreditation mandatory for private duty homecare agencies.
Philip Adam of Acuity Professional Placement Solutions says he notices a common theme amongst hiring managers: "to onboard nurses who have zero home health experience." Adam says there is a shortage of qualified nurses to meet the demand of patients, and he says he sees more nurses leaving the field as a result of being overworked and feeling under-appreciated.
"A committed caregiver can individually raise and save tens of thousands of dollars per year, year over year, for their agency," says Katrina Kazda of The ICA Group, a nonprofit, business consulting firm that specializes in the home and child care industries. "Too few homecare companies have been willing to make deep investments in their workers, although a small but growing subset of "high road" employers, including notably caregiver-owned homecare cooperatives, are an exception to this rule."
Kazda points to Cooperative Home Care Associates (CHCA) in the Bronx, New York, which employs more than 2,000 caregivers and boasts a 20 percent turnover rate, "almost unheard of in the industry." As an employee-owned and caregiver-focused company, CHCA offers "best-in-class" training with a guarantee of employment and offers a guaranteed hours program, offering financial stability through full-time work. Additionally, they offer a generous benefits package, including health insurance, retirement plan and profit sharing, as well as financial literacy training, peer mentoring and coaching, and the opportunity to become a co-owner of the company. "These investments are paying off," Kazda said.
Care Funding Sources Evolving
In late 2017, an $18.25 million fund was created to benefit senior adults in Washtenaw County, the area around Ann Arbor, Michigan. Especially for those at risk and with low incomes, managed by the Ann Arbor Area Community Foundation (AAACF), this "impact investing" provides a new source of capital to expand programs.
"Enabling local seniors to age in place with dignity will certainly be among the goals of this new grant program," says Neel Hajra, president and CEO of the AAACF. "It's a complex issue that ties together health and nutrition, mobility and even social connectivity. I expect over time that we'll be considering a range of solutions, presented by nonprofits, that we may consider for funding. And as the demographics of Washtenaw County evolve, I expect that our funding of solutions will as well, so it will remain a dynamic area for sure." For information on capital and credit, click here.
Read our full January 2018 State of the Industry coverage here.