Legislative updates and products that wowed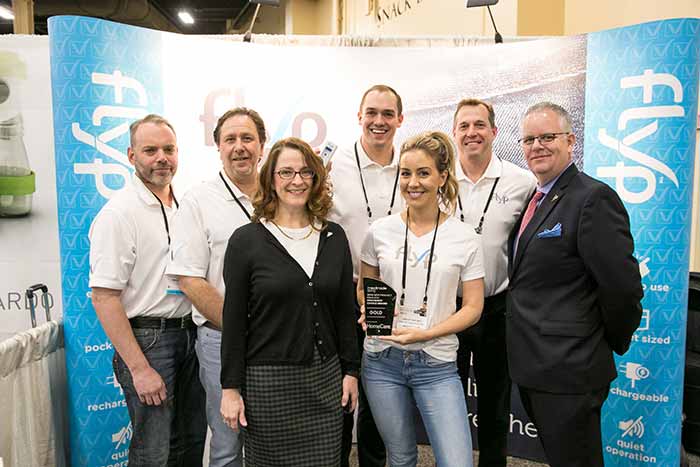 Providers' Choice Gold winner: Convexity Scientific Inc. for the FLYP Nebulizer, with HomeCare Editor Liz Carey and Medtrade group show runner Kevin Gaffney
The sights and sounds of Las Vegas, Nevada, drew the crowds to Medtrade Spring 2018 at Mandalay Bay Convention Center. As always, there was a mix of optimism and doubt at the three-day conference: The industry is thriving; the industry is failing; retail is king; we can't go on without relief.
AAHomecare, the national organization that specializes in legislative, regulatory and payer relations strategies for the home medical equipment industry, spoke to a crowded house at its Washington Update. Half of AAHomecare's $3.5 million budget comes from a revenue share agreement with Medtrade.
Tom Ryan, CEO and president of AAHomecare, said the organization has added 18 new member companies in the last five months and has added new corporate partners, "growing in the CRT sector," he said, with the addition of National Seating & Mobility.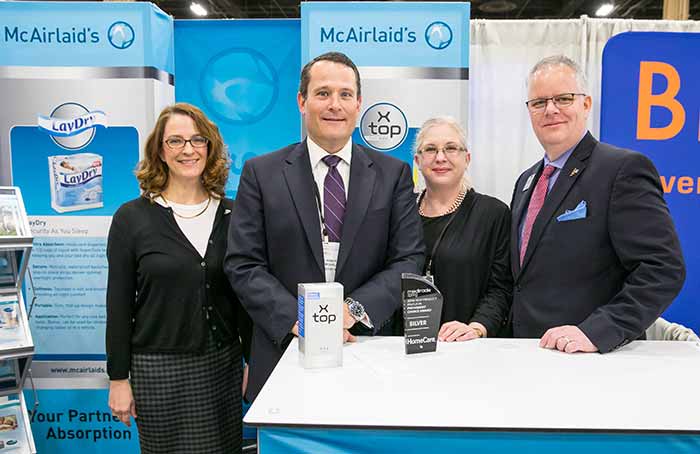 Providers' Choice Silver winner: McAirlaid's Inc. for the incontinence product, X-top for Men
"But we're losing some really good companies that can't keep their head above water," Ryan said.
New Products Wow
The Expo floor was filled with new products and services to help providers run their businesses better. Software-as-a-Service products such as SnapWorx were present, emphasizing the shift away from paper-based processes toward the cloud and automated systems. For providers looking for fresh solutions to old problems, Medtrade Spring provided an abundance.
As always, the New Product Pavilion (sponsored by HomeCare Magazine) held a collection of the latest innovations the industry has to offer. All products are retail friendly, but some are also coded for reimbursement. During the show, attendees vote on their favorite innovative product to win the Providers' Choice Award. The winners are: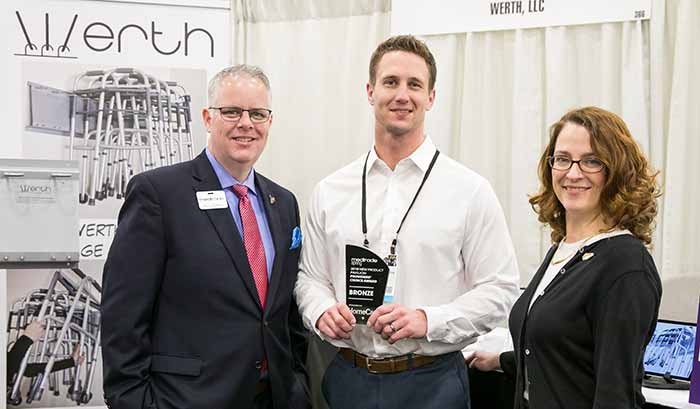 Providers' Choice Bronze Winner: Werth LLC, for the Werth Folding Walker Storage Rack
1. Providers' Choice Gold was awarded to the FLYP Nebulizer pe1200m (Convexity Scientific Inc.), with its "fill-click-breathe" pocket-portable approach.
2. Providers' Choice Silver was awarded to X-top for men (McAirlaid's Inc.), a discrete incontinence product designed especially for men.
3. Providers' Choice Bronze was awarded to Werth Folding Walker Storage Rack (Werth, LLC). This product is designed to save space and easily organize and adjust walkers.
The fall edition of Medtrade returns to the Georgia World Congress Center in Atlanta, October 15–17, 2018. Photos courtesy of Medtrade