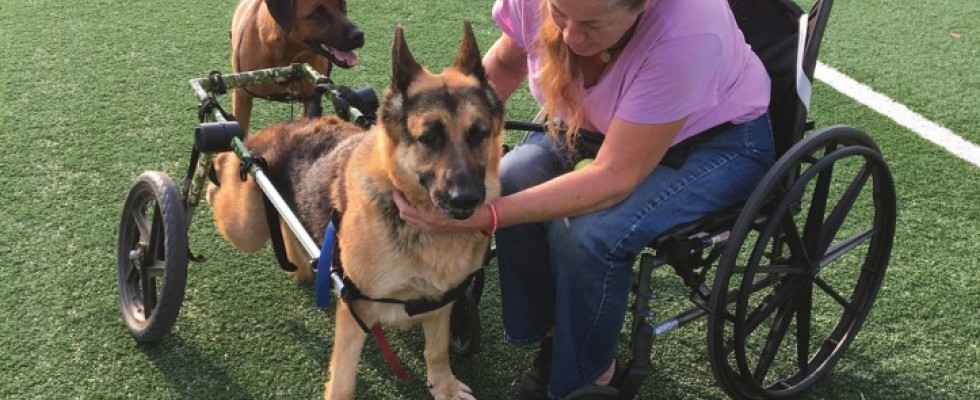 Overcoming adversity and roaming the country
Wednesday, February 15th, 2017
Tammy C. is, by any account, an incredible woman. In 2010, she suffered a brain injury and other trauma that left her wheelchair bound. Tammy has persevered in spite of the pain brought about by her injuries.
In 2014, Tammy adopted two dogs from a poor home environment (or as she says, they adopted her). Of the two dogs, Zeus was better off physically but carried emotional scars. Thor was unable to use his back legs and had an infection in his lower jaw that eventually healed with Tammy's care. At the time of their adoption, Tammy could not afford a K-9 wheelchair, because Thor's other medical needs came first, but that did not stop him from trying to keep up with Zeus and other dogs at the dog park. One day, a woman let Tammy know she had raised the funds to purchase Thor a wheelchair. There was no stopping him! And, with a wheelchair for Thor, there was no stopping Tammy from bringing the two dogs on adventures to various state and national parks to test which parks are accessible and which need work.
Thor passed away in late 2016, briefly halting Tammy's plans; however, she now works to bring awareness to travel and accommodations for people with disabilities, particularly those traveling with service dogs. Most recently, she has been traveling up and down the West Coast, camping at state parks and documenting her efforts to pitch a tent and build a campfire on her own, or navigate trails. She makes an effort to discover what a disabled person would need to realistically go camping at each state park, and what accommodations are available. A big frustration for her is finding that a park only has a parking spot and ramp to the visitors' center, and nothing else. "That is not accessibility," she says.
Two of Tammy's favorite places to visit are Pismo Beach and Morro Bay in California. Pismo Beach offers wheelchair users special beach wheelchairs for exploring the beach. The wheelchairs must be pushed by another person, so Tammy is unable to use them herself. "Zeus can't push me," she laughs. Morro Bay offers lifts on their pier and electric boats that are easily driven by people with disabilities.
The questions she asks of the parks and municipalities before visiting are, "What can you do? What's possible? Are pets and service animals welcome?" and then she tests the answers for herself, documenting the journey for others who may be contemplating a trip. She tries everything available when she visits. Tammy is also researching hotel options for those traveling not only with services animals, but also pets, as some hotels have weight restrictions or will not allow both a service animal and a companion animal.
Tammy served in the Air Force during peacetime, and in addition to adventuring around with Zeus, she holds the causes of veterans close to her heart. She especially wants to raise awareness for smaller, local veterans' organizations. Also, as part of her adventures, she wants to build awareness for the services available for both veterans and disabled veterans around the country, such as the passes for state and national parks at discounted rates. (Check with each state park and the National Park Service for the passes available.) Tammy wants to show others that independence is more than possible for people with disabilities, and that long trips are feasible with planning and persistence. Tammy advocates for the healing power of animals in people's lives, crediting Thor and Zeus for helping her get back out and enjoy life. "I will always be grateful to Thor and Zeus, and all they taught me," she says. She adds that to help an animal heal is to heal yourself.
If you want to follow Tammy and Zeus on their adventures, email her at tzadventures@yahoo.com or send a follow request on Twitter to @tzadventures1.