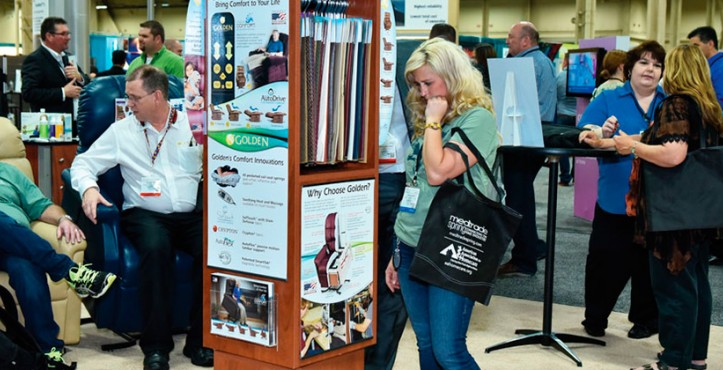 Program helps retailers make the most of HME and home health sales
Monday, February 15, 2016
When industry experts added "care" to "retail" last year, the new "caretail" term emerged as a way to fully describe the best way to look after patients, while also bringing in much-needed revenue. Long before caretailing had a name, provider Jim Greatorex effectively used caretailing principles at his Black Bear Medical locations in the New England area.
Greatorex reasoned that retail without the caring missed the point, and ultimately failed to capitalize on a well of trust from customers who previously benefitted from traditional products routinely covered by Medicare and other third-party payers.
"In most cases, customers have already built up a lot of trust," says Greatorex. "Providers have helped customers in big ways through tough times. When you're doing caretailing, it's an opportunity to find life-changing products for patients that will make a difference."
Now working in business development for the Iowa-based VGM Group, Greatorex is able to reflect on his years as a business owner when a full third of his revenue came from cash-based sales. (He is scheduled to speak at three educational sessions at Medtrade Spring; see a list of all retail-focused educational sessions on page 32.)
Greatorex's colleagues Paul DiMarco, vice president of marketing, and Maria Markusen, director of operations and development, came up with the "caretailing" term, and the definition is: The act of providing customer service and expertise to consumers willing to pay cash for health-related products that improve their lives and are beyond the usual scope of Medicare and other third-party payers.
According to DiMarco, caretailing captures the essence of health care retailing because it is ultimately about the needs of health care consumers—and the clinicians and providers who care for them while running a retail business. "When you combine all of those elements, everyone wins," said DiMarco. "It is not just about selling traditional HME products for cash. It combines current retail interaction practices with the total health care and wellness needs of the consumer. Caretailing creates a separate business model focused on health care commerce and customer service."
Providers such as Texas-based Don Dobbins are increasingly choosing to rely less on Medicare. As the president/co-founder of Heritage HME, with two locations in The Lone Star State, the 56-year-old Dobbins continues to inch toward cash-based products when possible. "The rural rollout does not keep me up at night, because I have worked to get us more retail-oriented, and that seems to be the future of our business," he says. "It's harder and harder for us to get people qualified [Medicare] and get the equipment to patients and get paid. As a result, we are gearing ourselves more toward that retail side. We will continue to do insurance."
Both of Dobbins' shops are about 5,000 square feet, with approximately 1,800 square feet given to retail space. In a town with three Walmart Supercenters, the philosophy at Heritage has stayed simple, but effective.
"Our philosophy is to find items that people are looking for and are not finding elsewhere," explains Dobbins. "People stay with us because of the customer service. For example, customers go into a Walmart and they see a bathroom chair, but they don't know if that's the one they want. They call us, our pricing is competitive and I have three different options."
While Greatorex backs industry efforts to make competitive bidding more fair, in rural areas and beyond, he believes, "We are going to be dealing with this system in some way shape or form in the foreseeable future."
Greatorex encourages Medtrade Spring attendees to maximize their conference experiences and find solutions in a tough HME world. "Where else can you find new and alternative product offerings to off-set lost revenue?" he asks. "Or hear experts speak about important subjects, plus network with colleagues from all over the country? We need solutions right now, and Medtrade Spring is where to find them."
 
---
Retail Educational Sessions
Caretailing will be one of many themes explored in educational sessions at Medtrade Spring (February 29–March 2 at the Mandalay Bay Convention Center in Las Vegas). The following educational sessions deal with caretailing/cash-based sales.
Mon, Feb. 29—1:30 to 2:30 p.m.
Caretailing Marketing
Speaker: Jim Greatorex, Business Development, VGM Retail Services
Type: Introductory
Track: Retail
Location: Islander A
Mon, Feb. 29—2:45 to 4:15 p.m.
Capture the Boomers
Speaker: Jim Greatorex, Business Development, VGM Retail Services
Type: Introductory
Track: Retail
Location: Islander A
Mon, Feb. 29—4:30 to 5:30 p.m.
The Innovative HME Retail Product Awards, Sponsored by HomeCare Magazine
Speaker: Jim Greatorex, Business Development, VGM Retail Services
Type: TBD
Track: Retail
Location: Islander A
Tue, March 1—1 to 2:30 p.m.
Online Strategy 101: How to Make the Google Work for You
Speaker: Christina Throndson, Web Marketing Manager, VGM Forbin
Type: TBD
Track: Retail
Location: Islander G
Tue, March 1—2:45 to 3:45 p.m.
Utilizing Orthotic Footwear to Drive Retail Sales
Speaker: Brandon Noble, Director of Sales/ Orthotist, Vionic Group
Type: Introductory
Track: Retail
Location: Islander B