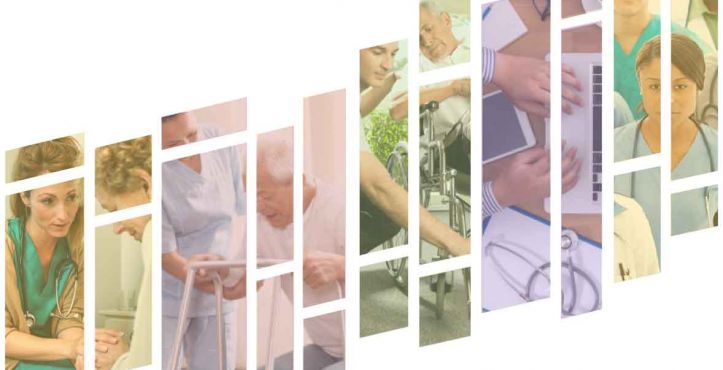 See the latest trends in HME salaries & hiring
HomeCare's Salary & Benefits survey steps into the business processes and minds of business owners to study trends in salary, hiring and human resource practices. For those on the frontlines of care, it's important to keep up with the competition. Conducted annually, the survey asks industry leaders for feedback on their practices. We hope the results provide readers with information that will benefit their businesses and better inform decisions moving forward. Let this survey serve as your guide.
You can see the data for the home health space here.
Revenue Reported
The majority of home medical equipment (HME) respondents reported earning $2 million in annual gross revenue. This is in line with 2018 data, when the majority reported earnings in the $1 million to $3.5 million range. In 2019, providers reporting earnings in the $2 million to $5 million range increased to 29 percent.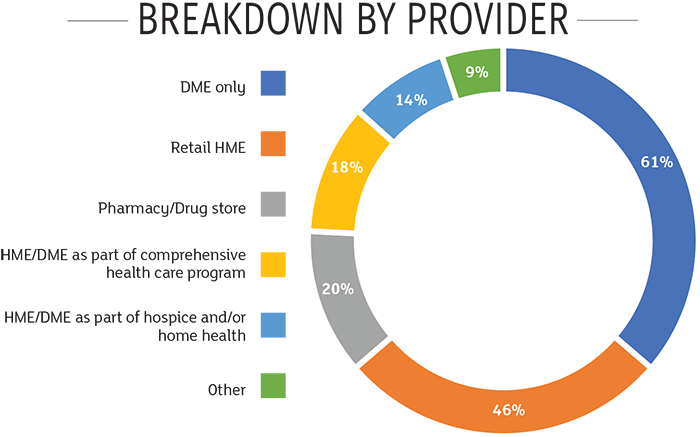 In 2019, 61 percent of respondents are HME/DME providers, almost matching last year's numbers. The notable shift to retail HME is not surprising. Though, with the approaching 2021 competitive bidding round and the "any willing provider" interim period prior to it, the industry will get a better vision of who's staying—and who's joining—the retail game.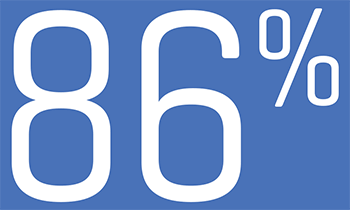 Focus Defined
Eighty-six percent of survey respondents said they will not be getting back into a service or specialty they have been out of. With only 33 percent of respondents reporting the intention to break in to additional offerings, providers are holding steady with their current business focus.
A whopping 70 percent of providers are not paying sales incentives for specialized services, while respiratory supplies (ventilators and oxygen) top the list of commissioned items at a combined 30 percent.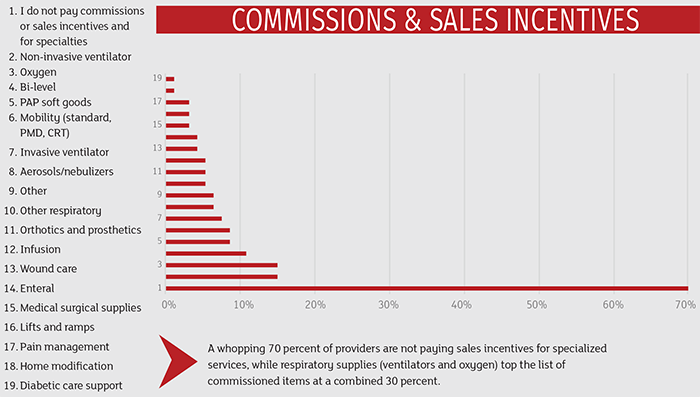 Benefits Offered
Medical benefits top the chart of benefits offered, with 401k and 403b plans following closely. On track with 2018 findings, 94 percent of companies are keeping and improving benefits programs. More adventurous employers offer benefits like association memberships, company vehicles, tuition reimbursement and even wellness programs.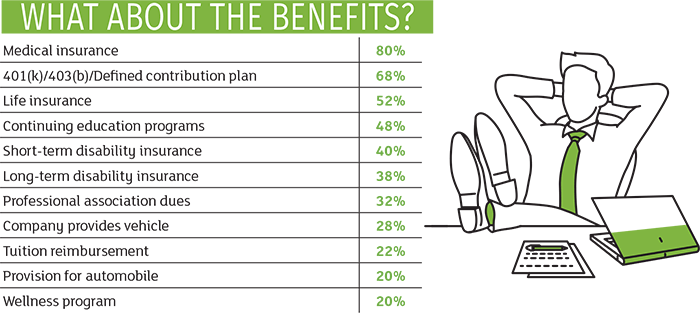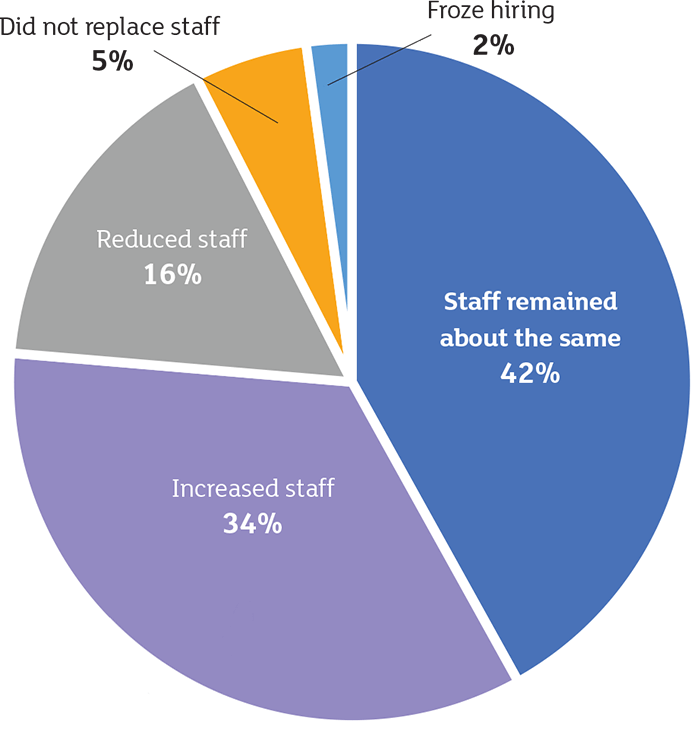 2018 Staff Changes
Hiring trends are consistent year-over-year, with the notable exception that staff reductions decreased in 2019. It's important to make the right moves for your company. But, while the majority of respondents report staffing levels are holding steady, a small percentage reported an increase.
2019 Staff Changes
While 42 percent of companies are not adding new staff, there are others looking to grow staff, and make new hires in customer service and billing. With the growth of retail HME, customer service staff is essential, and billing, coding and collections managers ensure smooth sailing through the waters of reimbursement.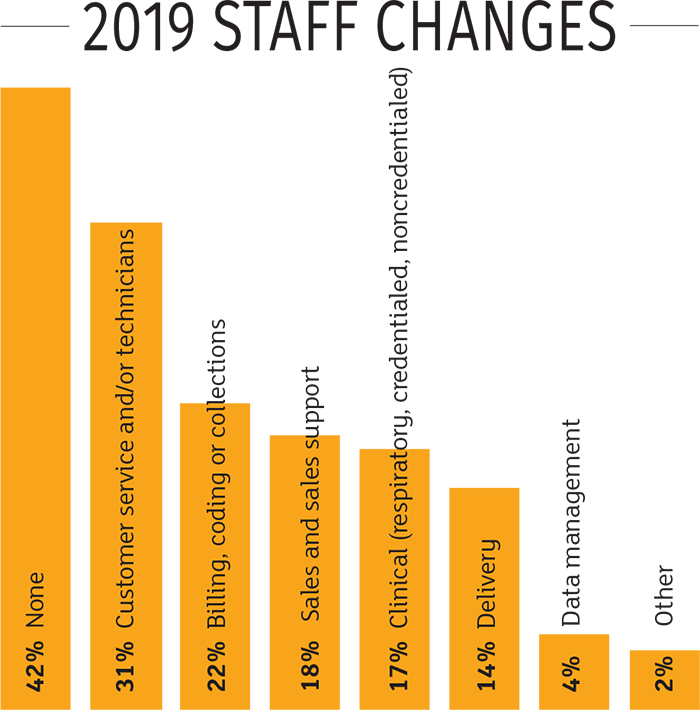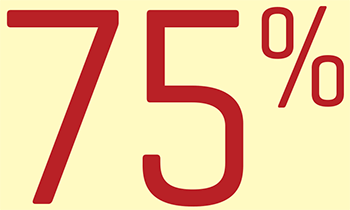 Salaried Vs. Hourly
Seventy-five percent of HME respondents are salaried. Thirty-one percent of salaried respondents are the CEO, CFO or owner of the business and 14 percent are HME managers.
Thirty-five percent of HME respondents are in hourly positions, and 10 percent of hourly respondents are in management positions at their locations. Sixty-two percent of all survey respondents have been in their role for more than 10 years, while only 2 percent have been in their role for less than a year.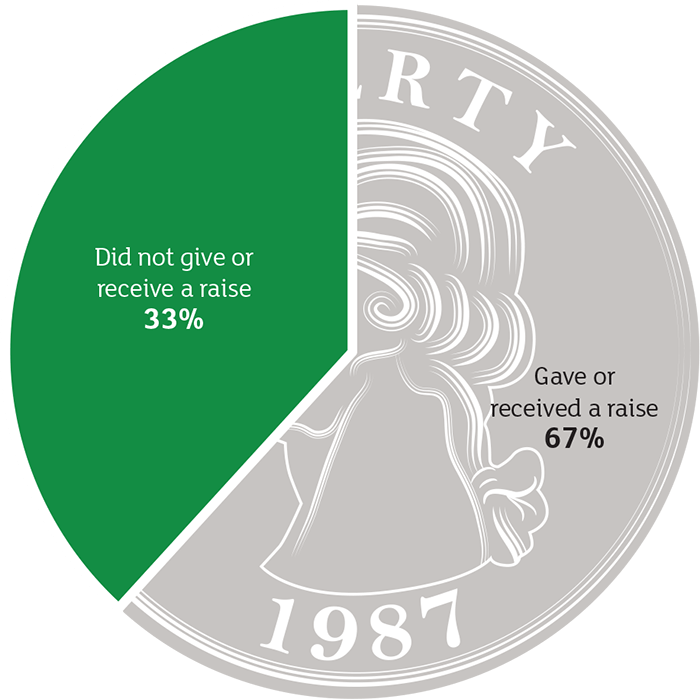 Money Talks
Companies in the HME industry gave or received raises in 2018, recognizing employees who go above and beyond. Forty-one percent of those saying they gave or received raises in 2018 said it was due to an employee's performance throughout the year, taking cost of living and length of service into account, as well.