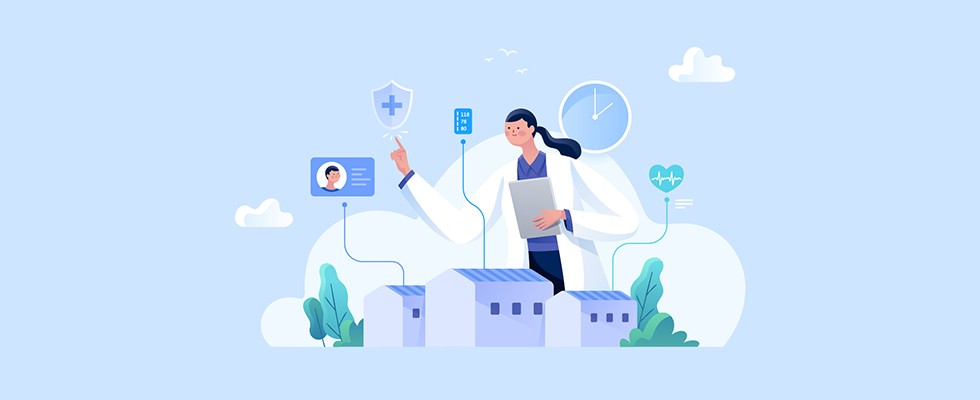 What to Know if You Are Still Choosing a Software Option
Monday, February 20, 2023
There are many difficulties that home health care companies must overcome, such as allegations of fraud and the coordination of patient care. Although they have to deal with difficult scheduling and field management issues, their profit margins are extremely narrow.
Fortunately, there has been a direct and positive impact on an organization's ability to deliver high-quality treatment while increasing profits thanks to the use of electronic visit verification (EVV).
When it comes to improving the speed and effectiveness of care given in the comfort of one's own home, EVV has been shown to be an invaluable tool for both patients and medical facilities. It can improve the patient experience by lowering handling time and the quality of care delivered by clinical teams, while also replacing paper visits and eliminating the need for in-home visits, and providing immediate communication with family members.
EVV aids in the prevention of false claims for medical services, informs businesses of their staff members' in-home activities, and enables organizations of varying sizes to provide quality services to their clients.
By automating more of these field operations, most EVV software vendors help businesses not only overcome the difficult logistical obstacles of managing careers but also increase profits and ensure they are in full compliance with all relevant regulations.
Increased patient demand for health care delivered at home makes EVV an urgent necessity. It is not always easy to incorporate new methods and tools. Even EVV fits that description. In this article, we'll address some of the most common issues brought up during the switch to EVVs and provide some advice on how to move forward with confidence.
First the Basics
Starting at the beginning of this year, states must now require home health care service providers to make house calls to use EVV. Information that is mandatory for all systems to gather and verify electronically is outlined in the law.
For home health care providers, electronic visit verification is a tool that can help keep tabs on where visits have been made, how much work has been done, how many hours have been logged and any other relevant data on the patient and caregiver relationship.
In essence, electronic verification is required whenever a patient receives care in the home. This makes it possible to confirm the nature of the service rendered, the time and place it was rendered, who performed the service, and who received it.
How EVV Systems Function
Service providers must use an EVV solution that has been approved by the state they operate in order to be EVV compliant. In general, this kind of program requires a system that can electronically verify data like the service delivered, the person who received the service, and other similar details.
This is typically done using a telephone or a web-based device. EVV for home health is predicated on cutting-edge technology, including GPS-based tracking software and computer software. The technology underlying EVV in home health care enables organizations to monitor the whereabouts of mobile teams, calculate remuneration, improve service quality and streamline operations.
GPS is used by the majority of EVV solutions to confirm the physical address where the service is being delivered. For instance, one approach logs the provider's physical position at the beginning and end of each visit. Typically, caretakers will be required to use an app on their phone or a dedicated gadget in the client's house to keep track of their visits.
Why It's Necessary
The use of new technology and innovations in health care is growing enormously. Homecare business owners need to understand how they can use modern technology to improve their client interactions and capitalize on this development.
The provision of high-quality care to customers is hard to document in home health care enterprises since it is frequently left to the discretion of individual caregivers and goes unreported. An EVV system offers an automated, paperless way to record the kind of care and services delivered to the client, in addition to providing digital verification of the visits as specified in the care plan.
The EVV system's automation may also assist in scheduling visits in accordance with the caregiver's schedule and location, which can help solve field operating problems. Through dynamic workflows, EVV software also assures the safety of caregivers along with that of patients.
Difficulties With Technology & Administration
Employees and patients alike are put under unnecessary strain when there are problems with data capture and login, inaccurate time records, broken devices, insufficient Wi-Fi and other technical issues. The consumer's permitted hourly amount could be exceeded if the system breaks down and records the time inconsistently, leading to overbilling.
What can you do about it? Make tech support a top priority and ensure consumers can get in touch with you via many methods, such as email and live chat. Make sure all problems are addressed and that caregivers have options. Make it easy for users to repair their mistakes by giving them quick access to a reliable tool.
Despite the fact that EVV systems must meet HIPAA privacy and security standards, there are still some worries. While GPS is not mandated by any jurisdiction, its use is increasingly popular—but it can make caregivers uneasy to feel like their every move is being monitored. Employees and patients alike are concerned about the security of their personal information being compromised when they are required to enter identification information such as social security numbers.
Insufficient education is the root of many privacy difficulties. The best solution is to try to respond to any and all concerns your staff may have regarding data usage by outlining its necessity and highlighting the lack of viable alternatives. If you can, be creative within your chosen system in terms of how you go about verifying visits.
Benefits of EVV Automation for Service Providers
When it comes to new technology and developments, homecare is a sector that is constantly on the move. You, as a home health care business owner, may be asking how you can take advantage of this expansion by using cutting-edge tools to better serve your customers.
Delivering high-quality treatment to patients at home is generally left to the discretion of caregivers and unmonitored, making it one of the industry's most frequently missed steps.
An EVV system automates the time and attendance of caregivers and provides a paperless, digital way of recording the type of care and services provided to the client, all in accordance with the care plan. In addition to protecting health care providers, EVV software safeguards patients.