Homecare industry still pressing Washington, watch for Medicare developments
Tuesday, March 27th, 2018
HR 4229 was an uphill battle.
The 2018 omnibus package may have left out the home medical equipment industry relief that so many people lobbied legislators and worked for, but keep in mind, it's just for the current fiscal year.
"We need to keep marching and not get discouraged," said Cara Bachenheimer, who has spent 14 years with Invacare, but come June 2018 will be leading the new lobbying arm of Texas-based Brown & Fortunato, P.C., in the firm's Washington office. "Overall, I'm optimistic. We have a great story to tell and we can't give up."
AAHomecare, the national organization dedicated to ensuring medical equipment and services as part of the larger goal of patient-centered health care at home, is encouraged by a post-omnibus report related to HHS (said to be from reliable sources) that "encourages CMS to promulgate" the pending interim final rule (IFR) addressing the DME fee schedule and resuming the transitional 50/50 blended rates to provide relief in noncompetitive bidding areas (also known as rural relief).
"Very few extraneous items were included with this bill, and it was a huge uphill battle to begin with," Bachenheimer said of the big budget that President Donald Trump signed March 23, 2018, with some protest. Moving forward, "more is better" when it comes to developing rally efforts for homecare and its many parts, Bachenheimer said. "There are so many important components; the key is being in sync, continuing to engage policy makers, and amplifying our voices as much as possible."
Lobbying seeks to influence legislation or regulation. Lobbyists or lobbying firms are hired by clients of all types, including major companies, professional organizations, foreign countries and various interest groups. The term derives from the way in which these agents formerly confronted legislators in the lobby or hallways directly outside a legislative chamber.
"If you have a good case you can win them over. But you have to be able to talk to them." —interest group representative
In April 2017, The Washington Post reported that some $1 billion was spent on lobbying in the first quarter alone of that year. By comparison, the Public Records Office of the U.S. Senate estimated that an estimated $2.8 billion was spent for the entire year of 2007. Times have changed.
The same Washington Post article also shared that "lobbyist" was an unfavorable title in President Trump's eyes. However, for home-based care, without organizations such as the American Association for Homecare (AAHomecare), the National Association for Home Care & Hospice (NAHC), National Hospice and Palliative Care Organization (NHPCO), state organizations, coalitions and others stepping up—raising awareness for the value, triumphs and challenges of homecare—some very critical components would be missing.
Voices Carry in Homecare
Perhaps the biggest voice that could and should be heard is the consumer, Bachenheimer said. "If policy makers (or staff) have had a personal experience...that's when they truly understand and take action."
Many people need the products and services that HME/DME companies offer, but relatively few consumers and end users know where to find these products and how they help. Often, the point at which they learn is clouded by the emotional reaction of a medical crisis, such as a fall or an acute health event.
Daughters, sons, other family members and friends can be part of the care circle covering a client with special needs, but for many, it is the HME/DME specialist who has the most regular professional service-oriented interaction with the end-user, and the industry says its services are a vital part of keeping people out of the hospital and out of the nursing home. HME/DME (run right) can save the health care system.
The home medical equipment industry, also called the durable medical equipment (DME) industry, represents only a tiny fraction of the lobbying efforts in Washington, where the big dogs such as the American Hospital Association, pharmaceutical companies and many others from health care and other industries exercise their power and pull, and have a lot of money flowing in for their efforts, some so much more than others. The dance beckons the attention of time-constrained politicians.
Companies that serve those with and without health conditions, who are aging in place, tend to offer medically-necessary products (those prescribed by a doctor and paid for by an insurer, Medicare or Medicaid), as well as nonmedical products (some possibly covered, some not). And the quality and effectiveness of all products may vary. HME/DME companies spend a lot of time consulting with consumers on ways they can modify their home to suit their individual needs, and they often specialize in aids for daily living (ADLs).
How Washington Can Help
Medical equipment providers have been looking for regulatory and legislative relief on a few fronts, for a couple of years now. Some progress could be made without congressional approval, such as resolving years-old Medicare appeals claims. Laura Williard, vice president of payer relations for AAHomecare, said recently that appeals had slowed but most remained unresolved.
Industry champions say the harsh, downward federal pressure reduces access to care for patients, particularly in rural areas. Urban and rural medical equipment providers are struggling to stay in business under drastic reimbursement cuts and a botched competitive bidding program. Some products, such as complex rehabilitation technology, ventilators and orthotics, are currently excluded from competitive bidding, and industry leaders say this is a good thing. Don't expand competitive bidding. Fix it.
HR 4229 (the Protecting HOME Access Act of 2017), which included the IFR, seeks to roll back bidding-derived Medicare reimbursement cuts in rural/non-bid areas and address the "double dip" cuts for oxygen for HME providers serving Medicare beneficiaries.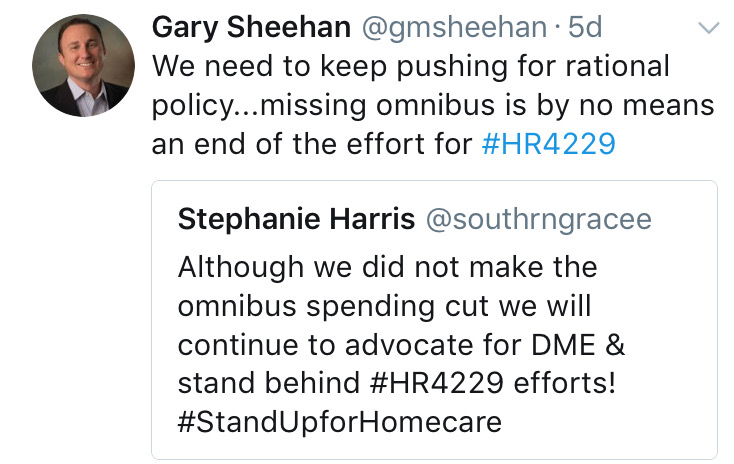 For a majority of aging people with lung and heart conditions, and those with sleep-breathing disorders, home oxygen equipment sustains life. The products generally consist of oxygen-filled portable tanks delivered, stationary oxygen concentrators, and CPAP machines and supplies (but scores of other products help manage a range of health conditions and make up the medical equipment/device industry on the whole).
Brown & Fortunato where Bachenheimer will soon work, operates a national health care practice, representing pharmacies, hospitals, manufacturers, labs and other health care providers, including DME and home health, where revised and new payment models, and reimbursement cuts, have dealt another share of financial blows, particularly to small businesses.
"We are concerned that leaders in the House and Senate have missed this opportunity to provide much-needed relief for home medical equipment providers and patients, especially for those in rural America, by failing to include provisions from HR 4229," said Tom Ryan, president and CEO of AAHomecare, of the March 23, 2018 bill.
Medicare Payment Reform Expected
NAHC, the national organization watching over home health and hospice, has been focusing its efforts on Medicare payment reform and, in particular, the prospective payment system (PPS)—included on the organization's wish list is adjusting the revised PPS implementation date to no sooner than 2020 to permit the flexibility to implement the best payment model possible.
The Bipartisan Budget Act (BBA) of 2018 (Public Law 115-123) from February 2018 contained significant reforms to the Medicare home health benefit and payment structure, one of the most unpopular being the call for a shift to the "30-day unit of service" from the 60-day.
"With any large-scale reform, there is always the threat of unintended consequences," according to NAHC. "This situation is no different. In changes of this magnitude, a demonstration program would be useful to prevent confusion among CMS, MACs (Medicare audit contractors), and providers, as well as disruption to the delivery of high-quality care.
"NAHC is also concerned with the current provision that permits CMS to adjust payment rates based on assumptions that HHA utilization behavior will change before any such changes actually occur."
In addition to retreating from the new prospective payment system rule as we know it today, NAHC seeks for legislation to allow non-physician practitioners, such as nurse practitioners (NPs) and physicians' assistants (PAs), to authorize and certify eligibility for Medicare-covered services.
The spending bill that was signed into law March 23, 2018 excluded Medicare.
"The absence of Medicare provisions in the spending bill is a good indication that there will be a Medicare legislation vehicle later this year," said Tom Threlkeld, a spokesperson for NAHC.