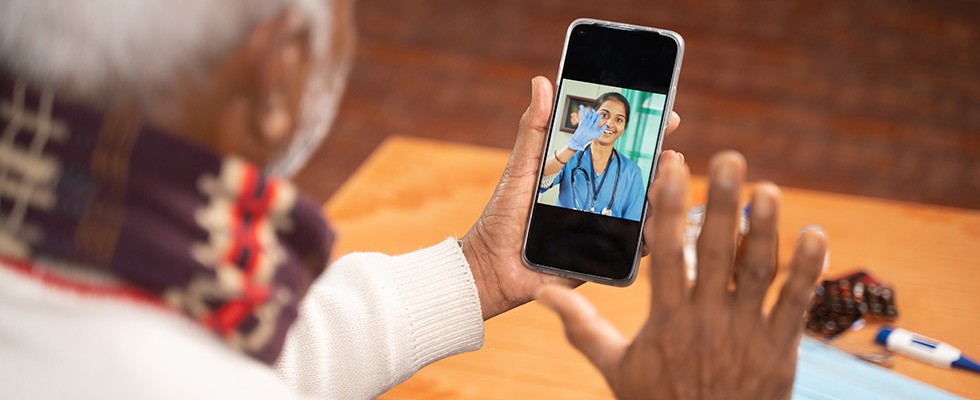 Removing barriers to care in the home
Telehealth and its innovation have become essential to positive growth in the health care industry as a whole, and to homecare in particular. As digital transformation continues to drive the industry forward and providers strive to reach all demographics, they must understand the benefits of using technology and integrating the latest developments into their coverage plans. New growth in the industry has improved communication between patients and providers, yet certain barriers remain prevalent—especially for minority groups.
A recent study found that even when there are health plans to address disparities, historically oppressed and disadvantaged populations are still faced with more challenges. And with 80% of providers in the United States planning to invest in technologies to continue innovating digital health in 2022, now is the time for homecare providers to understand how to best use telehealth to reach patients in all locations.
Telehealth allows access to those in need of guidance from a provider, leading to the flourishing of in-home care, which results in caregivers providing professional treatment directly in the patient's home. With technology, the opportunities for ease, comfort, cost effectiveness and numerous other benefits skyrocket. Home health options are also easier to learn about when communicating with providers via telehealth platforms.
Best Practices
Homecare providers must know how to use telecommunications to their advantage. This requires understanding patient needs and ensuring they are comfortable using the platform. Since the patient is in a remote location, you must be sure to build a trusted relationship so they feel comfortable using virtual platforms to communicate. Home-bound patients will be more engaged if you follow these basic practices before, during and after interactions.
Test your equipment beforehand and have a private location for the appointment. Even if all is going well with your primary technology, have a backup plan with your patient such as a phone number or email address.
Send a reminder to your patient before the appointment explaining how to appropriately prepare for the virtual visit, which may include a how-to-guide for signing on, an emergency number to call in case of difficulty and more.
Center the patient. It's common to feel like you need to fill moments of silence, but this can cause patients to feel lectured to. Ensure effective communication by providing ample time for patients to respond.
Ensure patient comfort by asking them how they prefer to receive information and how they would like the interaction to go. Do they want a summary of the visit sent post-appointment? Are they comfortable taking their own notes? Camera on or off?
Practice active listening to let them know you are understanding their needs during the appointment. Repeat what they say and ask them if you are understanding their feelings accurately, then suggest a treatment plan.
Patients receiving care from their home can be aided significantly by telehealth. The use of communication through technology allows the patient to remain independent, comfortable, limits daily disruptions and so much more.
Understand Shifting Demands
Since the start of the COVID-19 pandemic, a consistent theme among patients has been convenience. A 2021 survey found more than half of consumers surveyed prefer telehealth visits and other virtual care, as it requires less time, energy and cost than in-person care. As this trend continues in 2022, providers and agents must not only ensure that their virtual abilities are updated, but also that all demographics they serve have access to this technology and understand how to properly utilize it to access their care.
Efficiency and effectiveness are also at the core of success in telehealth. If the patient feels they are not receiving accurate and professional care, they will not feel comfortable speaking about their medical history, symptoms, etc. with the provider or health insurance agent virtually. Additionally, be prepared for the meeting by understanding the reason for their appointment and having their files on hand in case you need to reference them. Patients will not appreciate you "wasting" their time by trying to sift through files or asking them questions they think you should already know the answers to. Be thorough during the meeting, yet be sure you are not spending unnecessary time on conversations you could have better prepared for.
Improve Digital Literacy
Telemedicine, virtual visits, virtual reality, artificial intelligence and machine learning have taken the helm of the health care industry. Providers hoping to stay on top of consumer demand and reach all demographics will need to ensure they are integrating the latest advancements and properly understand how to execute the technology. After understanding new telehealth advancements, providers should then strive to work with their communities to educate consumers on how to best operate new systems and practices, especially providers catering to older communities and populations where access to technology (i.e. smartphones, computers, etc.) is limited.
By understanding why there are technology gaps and how to avoid them, providers can improve their performance when interacting with patients virtually. Patient demands such as comfort, convenience, efficiency and effectiveness are essential to address so technological advancements can continue to flourish within the homecare industry.