Providers speak up during Washington Legislative Conference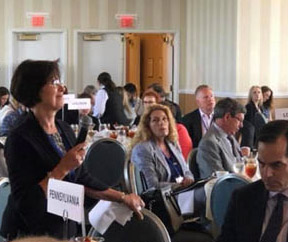 Providers shared their thoughts during AAHomecare's Wednesday luncheon.
By Liz Carey
(May 25, 2018)—Documentation errors have long created costly issues for medical equipment providers and home health agencies, and many agree that much needs to be improved. But when Melanie Combs-Dyer presented a strategy to improve the system, medical equipment providers met the measures cautiously and cooly.
Combs-Dyer represents the Center for Program Integrity (CPI), which seeks to make sure Medicare pays the right providers the right amount for covered services. Her experience runs deep in medical records and review and payment errors. Combs-Dyer was keynote speaker at AAHomecare's Washington Legislative Conference held May 23–24.
Focus is turning to Fast Healthcare Interoperability Resources (FHIR, pronounced "fire") standards as part of a larger vision to revamp the records communication system that intertwines health care relationships from payers to businesses to consumers.
FHIR is a framework standard that defines a common way to solve health care problems and provides a set of resources that can be used in many different ways, for example, allowing patients access to their own medical record; document sharing; decision support and direct requests for decisions. FHIR is seen as a tool for making value-based care a reality. 
Combs-Dyer laid out five goals during her presentation to AAHomecare membership:
simplify the document process
make document requirements easier to find
improve the audit process
make EHRs interoperable 
improve communication
Combs-Dyer described a new electronic template project that will result in better documentation, for example, starting at the physician level where prescriptions for equipment and services originate.
The new initiative is described as a rules library and lookup service and will include a self-audit feature and checklists. Oxygen and CPAP equipment will likely be the first order of business for inclusion, with home health or skilled nursing likely to follow.
Some of the concerns raised by AAHomecare members included historically slow progress for significant change and improvements, and the non-standardized, disconnected terminology used by physician and providers.
E-prescribing software has been top of mind for medical equipment providers looking to plug in to the larger landscape of payer and referral activity. E-prescribing software applications are web based; some have interfaces to DMEPOS software, and some have links to physician and hospital EHRs. It could be a game changer if suppliers choose to embrace it, but with the considerable amount of time and upfront costs required to transition to new technology, providers want to get it right the first time.
Combs-Dyer said her agency would not endorse any particular e-prescribe or electronic health record (EHR) platform but will encourage the general adoption of FHIR standards. However, John Skoro, of Texas-based XMed Oxygen and Medical Equipment, emphasized that there is a disconnect between FHIR and the very specific documents that are required, and providers speak "different languages." Skoro pressed for an interim solution to help work through the inconsistent language saying, "a solution needs to be in the middle."
Some health information technology experts suspect the Centers for Medicare & Medicaid Services (CMS) may force hospitals and participating providers, such as home health agencies and others, to participate in health information exchange activities. Released in late April 2018, a nearly 2,000-page proposed rule (CMS-1694-P) covers promoting interoperability, and language within notes the emphasis on moving information electronically across the care continuum.
Section XII of CMS-1694-P addresses a request for information on promoting interoperability and electronic health care information exchange (HIE) through possible revisions to the CMS patient health and safety requirements for hospitals and other Medicare- and Medicaid-participating providers and suppliers. The comment period for CMS-1694-P is open until June 25, 2018.
During the Wednesday luncheon, members were also briefed on TPE, the Targeted Probe and Educate appeal relief program, which intends to increase accuracy in specific areas which have been flagged by high claim error rates and unusual billing practices. TPE, which several said holds promise, helps providers and suppliers reduce claim denials through one-on-one help. Medicare administrative contractors (MACs) work with a provider directly to identify errors and help get errors corrected.
Ken Reel of Prism Medical Products, a nationwide surgical dressing and wound care distributor, has been working through TPE since last fall and referred to the situation as "building a plane while flying it."
Medical equipment providers told Combs-Dyer that MACs present mixed messages from jurisdiction to jurisdiction as well as messages that contradict the Medicare Program Integrity Manual. While the vision of TPE is helpful, it comes with risks. Providers may eventually be referred to the recovery audit contractor program, a major strike against a business they say, and they are looking for assurance this won't happen while they help CMS sort out TEP.
No business has reached RAC, according to CMS, but Reel says not enough time has passed so no one will know until the process plays out, which can take at least eight months. He added that providers are largely educating the MACs, rather than the other way around.
Combs-Dyer further briefed the group on the new comprehensive provider documentation manual that is underway. The first section covers home oxygen therapy. A special Open Door Forum was held May 10, 2018.