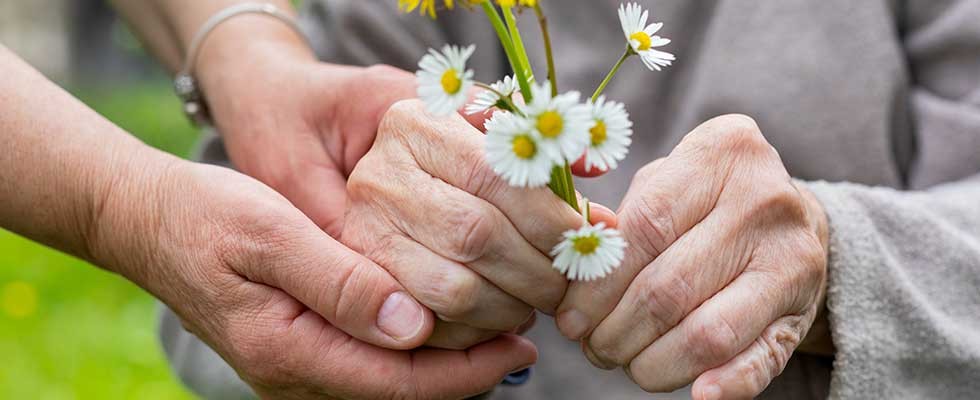 Playing to the strengths of people living With dementia
Within my work as a dementia care practitioner during the past two decades, I have seen a major shift in how people living with dementia receive care. When I first started in the field, the thinking and treatment of a person with dementia was something along the lines of the following—just make the patient comfortable, as they have little to no value, have no idea what's happening around them, and will be dead soon enough. It was frustrating and heartbreaking to see the person, the caregiver and the family suffer due to this antiquated and harmful treatment. Fortunately, much has changed and those who live with, love or care for a person with dementia are now "care partners," because care is truly a partnership between all parties—and because people living with dementia are recognized as still having abilities and contributions to make to their friends, family and community.
Seniors, no matter their physical or cognitive decline, all want some semblance of an independent lifestyle. That could include going to the grocery store, traveling on vacation, having a private conversation on the phone, or even being able to do things that many of us take for granted, like dressing and bathing oneself in privacy. One approach to care that is helping seniors with dementia maintain some independence is the Montessori method.
Eager to Learn
If you are unfamiliar with the Montessori method, it is a form of education developed in 1897 for special needs children. This method of learning views children as naturally eager to learn and capable of doing so. Children learn how to dress themselves, how communicate their needs, how to interact and how to work cooperatively. The Montessori method, often used in child care and elementary schools, provides a template for independence and learning while emphasizing a child's natural strengths and maintaining a strong sense of self.
Within the world of dementia care, the Montessori method:
respects a person's dignity, personhood and lived experience;
allows freedom within provided structure (essentially allowing a senior to be an improvisational artist of sorts);
changes the environment to suit the individual and not the other way around; and
takes into account that an individual benefits by serving their community.
Why would this kind of care and treatment be useful for a person with dementia? Because just like every other person on the planet, they want to contribute, to be useful, and to experience fulfillment and independence. And when a person feels useful, fulfilled and independent, they will be less likely to experience apathy, depression, loneliness, boredom or even suicidal ideation due to extreme and prolonged feelings of hopelessness.
The Effectiveness of Practice
In theory, the Montessori method seems like a win for people living with dementia. But how effective is it in practice? A 2006 study done by Home Care Partners and the Washington, D.C. Office on Aging explored that very question. Interestingly enough, the six-month study showed that people who participated in non-Montessori activities (e.g., activities that were non-purposeful or not thought out, like bingo) withdrew and disengaged over time. Their difficulty with prescribed tasks and activities increased.
Not surprisingly, the difficulty they experienced was not caused by their conditions worsening, because their measured impairment remained stable throughout the study. Conversely, people in the study who engaged in Montessori-based activities were much more engaged and did not find that tasks became more difficult like the non-Montessori control group did.
Another study published in 2016 in the Journal of the American Medical Directors Association showed strong evidence that Montessori-based activities were beneficial for eating behaviors in people with dementia. However, this same study found no evidence that Montessori-based activities affected cognition and concluded that further research was needed to examine the long-term benefits of Montessori-based activities. At the moment, all signs point toward Montessori methodology being more beneficial than not for a person living with dementia, at least in the short term.
Implementing in the Home
How can you implement Montessori activities into your care partnership with a person with dementia? Whether you are involved in homecare or care at a dedicated facility, there are actions and activities that can and should be purposeful, intentional, and designed to be beneficial to both you and your client.
Think about the person's lived experience. In their past, did they enjoy gardening? Maybe they can't bend over and weed a flower garden, but perhaps they can plant seeds in a planter that sits on a table at chest level so they don't have to bend down.
Activities involving movement can be a great way to get the blood flowing while also allowing a person to play to their strengths. Movement can involve sitting or standing, depending on a person's abilities. Incorporating slow, deep breaths while engaging in movement helps you and the person with dementia become more grounded and present, and it does not hurt that it helps get more oxygen to the blood and brain as well.
Service-based activities are also a great idea. Everyone wants to feel useful and like they matter and people living with dementia are no different. Again, it is a good idea to incorporate their past experiences and take their current abilities into account. Acts of service can be as simple as a hug, a smile, or a kind word or as complex as packing bags for a school lunch program.
Some form of creativity or involvement in the creative arts is also a great idea. No matter how old or young and whatever their ability or skill level, everyone has creative ability flowing through their veins. People living with dementia are creative as well. They often enjoy coloring or singing or writing—or even contributing to some kind of group project if they live in a memory care facility.
Whatever method of treatment and care provided, Montessori or otherwise, it is important that it be a partnership between the caregiver and the person living with dementia. It is imperative that the care and treatment provided honors a person's personhood and dignity, provides some form of hope, and is the best treatment and care it can possibly be. We need to constantly strive to do better with the treatment and care of people living with dementia, and I am hopeful that we are and will continue to do so.