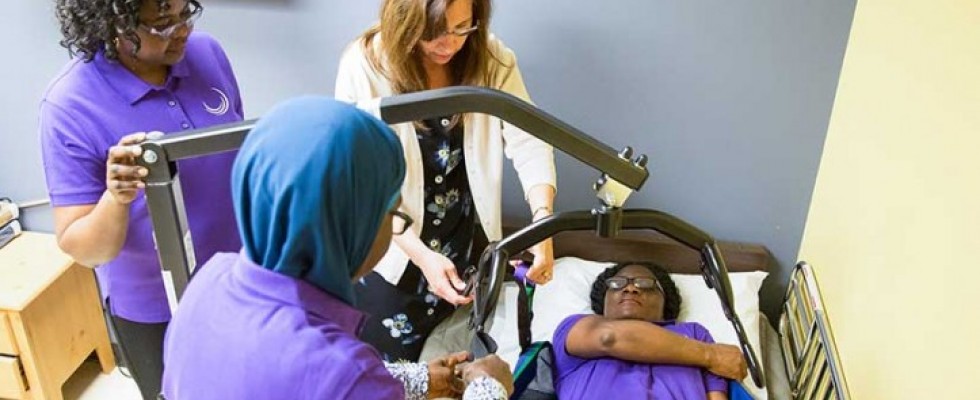 Programs help companies stay ahead of the complexities of care
Pennsylvania-based Griswold Home Care cites its 2016 switch to a full employment model as a main factor behind the franchisor's recently penned partnership with the online course learning Institute for Professional Care Education (IPCed).
"Direct educational efforts for our caregivers in the past were non-existent due to the nature of our business model, working with independent contractors through the end of 2015," said Griswold's COO, Mike Magid. "Contract caregivers who worked with us in the past would have participated in training programs delivered by durable medical equipment companies, health and disease organizations, hospice organizations, skilled nursing companies, etc."
In the homecare space, training and education are seen as useful recruiting and retention tools for many companies. In particular, they help prepare caregivers for the challenges that can arise as they work in the home.
"Many locally owned businesses are small operations, and do not have dollars to spend on expensive trainings, so they are truly looking for the best value for their dollar," said Andrea Devoti, RN, MSN, MBA, of the National Association for Homecare and Hospice (NAHC).
Companies are using remote learning systems where their providers can use a computer or smart phone to complete the education and pre- and post- tests to certify their education. Many learning systems also provide certificates of completion, which are important for documenting a caregiver's ongoing education. Several cost effective companies provide these services.
Basic training for nonmedical homecare employees involves initial certification as a homecare, hospice or personal care aide.
"Companies are looking for special certifications for Alzheimer's and dementia care and other disease specific courses," Devoti said. "Encouraging your aides to become certified in additional specialties is a marketing tool in a very competitive market." Homecare consumers, Devoti said, are looking for someone to care for their loved one, who has additional training and expertise to care for these individuals.
At the recent Home Care 100 Leadership Conference hosted by Lincoln Healthcare Leadership, the Pre-Acute Care Strategies for Home Health session brought together aspiring homecare organizations envisioning a future where care will be delivered not just after an acute episode, but well-designed and coordinated before that point. Featuring Darby Anderson of Addus HomeCare and Patty Upham of FirstHealth of the Carolinas, this presentation offered the importance of training staff around general health awareness so that caregivers better understand what patients are dealing with in their diagnosis—and training toward "keener observations" of patients' conditions, as well as the development of critical thinking skills.
"In an industry where the demand continues to grow at a record pace, companies need to stay ahead of the care needs and complexities of care within a home environment," said Griswold's Magid.
The IPCed partnership allows Griswold to tailor training programs to the company's needs, with ongoing support and an easy-to-use delivery platform. The new education initiative includes tracks designed specifically for franchise locations to aid in the following areas:
Improve growth and development
 
Increase retention
 
Offer incentivized training
 
Meet state compliance
 
Provide continuing education credits or CEUs
 
"By implementing specific training programs or educational opportunities unique to our caregiver pool and to meet our desired outcomes, we are ensuring that our workers are focused on what is most important: better client outcomes and overall experience," Magid said. "The tracking system allows us to monitor the progress of our caregivers and their education. In turn, this gives us the opportunity to match more experienced and better-trained caregivers with clients of greater need. The outcome of that process is an enhanced client experience and ultimately an enhanced caregiver experience."
IPCed provides training and compliance solutions for assisted living communities, homecare providers and home health agencies. IPCed's library of hundreds of nationally accredited caregiver courses includes online learning, live training, webinars and DVDs. Its OnCourse Learning program delivers licensure, regulatory and compliance education solutions throughout the nation's leading industries, including financial services, health care and real estate.
"Caregiving professionals recognize that training excellence is essential in providing the level of care that clients deserve," said Sharon Brothers, president and founder of IPCed. "They become more engaged, which translates to more engaged clients and, ultimately, better outcomes for care."
In Silver Spring, Maryland, independently owned Family & Nursing Care kicked off its 50th anniversary year in 2018.
The company provides a combination of independent contractors described as "rigorously screened and highly-qualified" caregivers and, in the last decade, developed a clinical care "Select" model where caregivers are employees of the company, rather than independent contractors.
Select's human resources manager and director of nursing work together to create a robust training program for the employees of Family & Nursing Care, and the company conducts annual "skills labs" in a specific training area of the office. The training area is equipped with a bed, wheelchair, Hoyer lift and other caregiving essentials. Skills lab training topics include oxygen, catheter, blood sugar, transfer and much more.
"Providing high-touch training opportunities benefits our clients, our caregivers and our company," said Neal Kursban, CEO of Family & Nursing Care. "Referring the best trained and educated caregivers is critical in today's crowded private duty homecare market space." In 2016, Family & Nursing Care partnered with Relias online training.
With a variety of online courses, Relias allows Family & Nursing Care Select to choose a specific curriculum each quarter. Relias provides the content, but Family & Nursing Care Select can customize the content to integrate topics such as teamwork, grief and customer service, in addition to traditional training modules such as HIPAA, home safety and bloodborne pathogens.
Family & Nursing Care Select pays for a caregiver to become a certified medical technician (CMT), which allows the caregiver to administer medications under the delegating nurse.