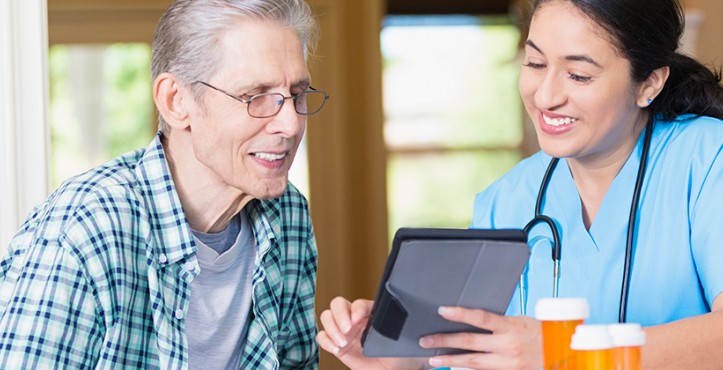 Accessibility and health care go hand-in-hand
People faced with disabilities and impairments, along with the government, have shed a long overdue light on a vast number of inaccessible websites across all industry sectors.
As the Americans with Disabilities Act (ADA) celebrates its 27th anniversary this year, it has become a given that all physical locations be accessible to all people, especially those with disabilities. The digital world should be no different but unfortunately, an alarming number of websites have proven to be vastly inaccessible. In fact, it's astounding just how many don't think about what digital accessibility really means: giving every person access to the information they want and need from your website.
One in 5 American adults has a documented disability (53 million from the U.S. census), and this doesn't even address the thousands more that are undocumented. Many people with disabilities use tools and technology, such as screen readers and screen magnifier software, to access and read information online. If the code behind the website isn't compatible with the assistive technology or worse, if the code isn't even there, navigating a website becomes nearly impossible.
The rise in website accessibility litigation that has impacted the retail, hospitality, fast-food, education and banking sectors has expanded into the health care industry, including hospitals, clinics, health insurance, and even related providers such as drug stores and optical stores. In 2016, the National Federation of the Blind initiated a lawsuit against the Centers for Medicare & Medicaid Services (CMS), claiming that the lack of accessible information violated Section 504 of the Rehabilitation Act.
Accessibility Goes Hand-in-Hand With Health Care
Since the nature of the health care industry is to help those affected by disease, disabilities and impairments, it comes as no surprise that the government has turned its attention to health care websites. Health care organizations should be assessing their digital properties from the perspectives of their patients with disabilities and impairments, and then applying that knowledge to their websites.
According to the World Health Organization, 285 million people have vision impairments, and this number will only continue to grow as the population ages. Additionally, according to the National Institute on Deafness and Other Communication Disorders, 37.5 million adults report some level of trouble hearing, from temporary to permanent, also impacting the online user experience. Ironically enough, the health care industry is uniquely positioned to serve a population that requires web accessibility the most.
Imagine the frustration of being unable to order a prescription online because the form entry fields are too small or comprehend a video about post-op instructions because it lacks closed captioning. It's easy for those without disabilities to forget the vast and complex nature of the internet. While a website can have thousands and thousands of pages of valuable resources, if navigating the environment is difficult, users will abandon that site for one that provides the information they need. 
Assistive Technology Device Disconnect
With increased digital access, some people enjoy a simpler interaction with health care records, but the same technology has failed to be accessible to a sizeable portion of the population. Simply put, as we become a more tech-savvy world, barriers also increase. For example, in the last 10 years, many health care organizations have made the decision to switch from physical paperwork to digital health records. Simple tasks, such as looking up your own medical records or learning about the qualifications of the new doctor to whom you were referred, become nearly impossible when using assistive technology devices. Agencies must ensure that all published electronic information is compatible with assistive technology devices commonly used by people with disabilities, for information and communication.
About the Section 508 Refresh
Until recently, two of the most looming questions regarding digital accessibility in the United States remained unanswered: What is the deadline for becoming digitally accessible? What type of content must be accessible?
Earlier this year, the United States Access Board announced updates to national accessibility requirements beneath Section 508 of the Rehabilitation Act, which will prove to have long-lasting effects across all industries. Until now, U.S. accessibility laws were not aligned with the worldwide Web Content Accessibility Guidelines (WCAG 2.0). These guidelines, already recognized in most developed countries, address many disabilities pertaining to vision, color perception, cognition, manual dexterity and more. Now, American organizations have until January 2018 to become digitally accessible.
In addition, the Section 508 Refresh deemed that all website content must be easily accessible to those with disabilities by incorporating header tags, alt attributes and other elements. This includes text, images, videos, forms, animations and more.
A Long Way to Go
Despite the progress made during the last year, there is still so much to be done. More health care organizations are increasing their amount of digital services, while letting the accessibility of their websites fall behind. As we continue to make remarkable strides in medical technology advancement, we must also be sure we make those same strides in the realm of digital accessibility.