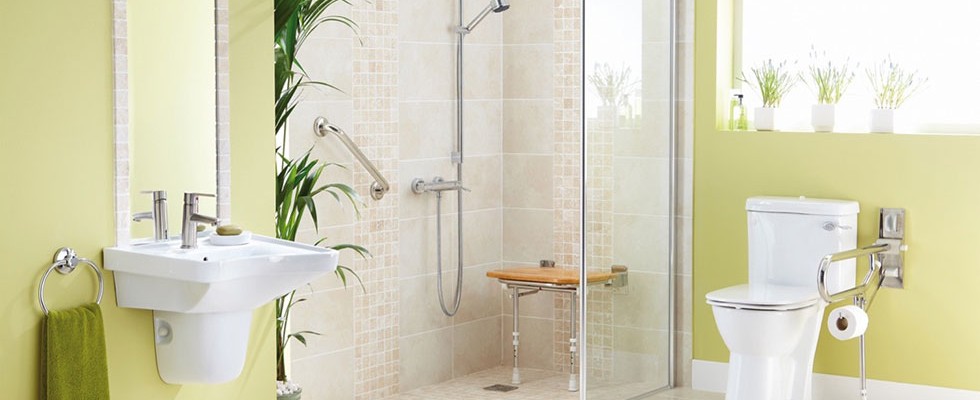 Splish splash more safely
The COVID-19 pandemic has created a paradigm shift that is altering lifestyles and industries around the globe, often in a permanent way. One fundamental change involves how and where people want to care for their aging parents and themselves. COVID-19 radically accelerated the desire to age in place rather than in a nursing home if possible.
The problem is that many people don't know what steps to take to get their homes ready for aging in place. Many people believe updating the bathroom with grab bars in the shower will be enough. This is where home medical equipment (HME) business owners can step in and offer their expertise on which products to purchase and how to best install those products. Some HME providers may want to pursue the Certified Aging in Place Specialist (CAPS) certification to bolster their authority on the subject. Here are some products that can help make the bathroom—and the home in general—safer.
Grab Bars
Grab bars are a simple, cost-effective solution for falls. But in most bathrooms, the grab bars are only placed in the tub or shower and not at the point of entry or next to the sink and toilet. Just placing a grab bar in the shower or tub does not mitigate all fall risks. Seniors with chronic progressive diseases or simply advanced aging tend to lose their balance, stability and depth perception. Therefore, every wall or location where a senior might stand or sit should have a device they can grab onto for added stability and support.
Many grab bars today now offer dual functions and many have a more modern style, providing a high-end look to the home. Grab bars can serve as toilet paper holders and heaters for towels. For most areas, grab bars should be both vertical and horizontal—especially in the shower.
Bathing Solutions
If the bathroom has a tub, the ideal solution is to remove the tub and install a barrier-free shower. This eliminates trip hazards entering and exiting the tub and, if mobility continues to deteriorate, the senior can be wheeled into the tub or use a walker. The shower should have a stool or preferably a wall-mounted shower seat for comfort and security. A shower chair that reclines is another option. Barrier-free showers are typically installed for $11,500 and up. They can be simple or look like a luxury bathroom. An existing shower with a significant threshold can be converted into a barrier-free shower for less cost.
Where the removal of the tub is not feasible for financial or other reasons, a tub cutout can be installed for under $1,000. Again, grab bars should be used. Walk-in safety tubs and transition tubs should be considered, but they cost more and have some downsides, including that the senior needs to sit unclothed in the tub while it is filled and again while it is drained, as the door needs to be closed during this process.
With both tubs and showers, a shower wand that can be reached and used while the senior is sitting is also a very helpful addition. Stating the obvious, all this may be useless if the bathroom floor has wet spots or wrinkled mats that can cause slips.
Toileting Solutions
The toilet poses the greatest area of danger, as most falls occur when someone is getting on and off the toilet. Installing taller toilet seats, either by raising the base or purchasing a new toilet, may be the simplest solution, depending on a senior's level of mobility. Grab bars definitely should be placed around the toilet as well. The best types attach to the wall, fold down and extend beyond the toilet bowl with appropriate weight capacities. There are also numerous options that mount on the toilet, but the key is very stable and long bars. Where mobility and lower body strength is compromised, powered products that lift the senior off the toilet can be very effective, but they can also prevent others from using the toilet. Learn what your customer's needs and desires are before making a recommendation.
Form & Function
Where wheelchairs or shower chairs are used, door widening and reversing the swing of the door are great options for safety and functionality. Door widths should be minimum of 36 inches wide to accommodate a wheelchair or rollator. Where space in the bathroom is tight, changing the door direction to swing into the hallway or bedroom creates greater accessibility for daily activities or for caregiver assistance. Barn-style sliding doors are also an option to provide more space, as well as for functionality and aesthetics. All doors can be coupled with automatic door openers. The sink may need to be replaced with a lower wheelchair-accessible sink.
Improving bathroom lighting and adding a bold color scheme are other great ways to prevent falls. Most seniors lose depth perception, so incorporating brightly colored walls helps create a strong contrast against white fixtures. Similarly, ensuring that the bathroom is well lit, particularly at night, is important. Lighting options include motion-activated switches, LED lighting, back-lit mirrors and floor lighting under cabinets.
To Wrap Up
Other bathrooms in the house should also be reviewed and updated with appropriate fixtures. Attention should be paid to dangers in getting to the bathroom, particularly at night. These can be minimized through lighting, wall rails, slip-proof flooring, slip-proof socks, bed alarms and lowered beds.
COVID-19 has shown that most of us want to be in our homes for as long as possible; however, for many, this will require making changes. As an HME provider, when a customer asks how to make their home safer, have them consider moving the bathroom to the top of the list.