Answers from industry experts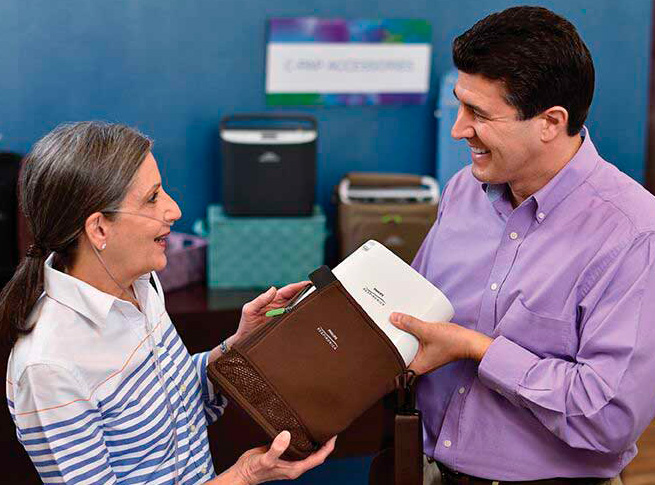 SimplyGo Mini
Philips Respironics
Jim Doty, Senior Director of Field Marketing for North America
How does your company stand out in the oxygen market?
DOTY: Philips Respironics provides innovative products and services for the global sleep and respiratory markets. We stand out in the industry for our decades of leadership including our recent developments in cloud-based data sharing, currently driven by Encore AnyWhere.
What trends do you anticipate in the coming year?
DOTY: The patient becoming an active participant in their own health care—we see this being driven by patients' increased access to their own health data through smartphone applications. Providers may need to answer more patient questions or put a greater emphasis on educating and engaging patients throughout their care process.
How do you plan to stay competitive in 2017?
DOTY: We see our focus on designing technologies that are patient-centric, and our goals of improving comfort and treatment as our differentiators. Our SimplyGo Mini POC, for example, solves this problem. It is the smallest and lightest portable oxygen concentrator in our portfolio. It is designed with the patient in mind, offering a portable solution for convenient travel. SimplyGo Mini also conforms to all applicable FAA requirements for in-flight use.
What steps can providers take to remain competitive?
DOTY: Providers need to be constantly self-evaluating. It's imperative to identify key metrics for your business and to regularly test and retest these metrics.
Taking this one step further, you must also be flexible to change depending on the results of this evaluation.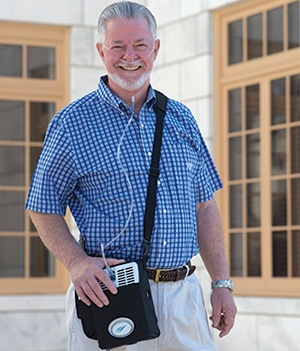 AirSep FreeStyle POC
CAIRE
George Coppola, Director of Marketing
What products do you offer?
COPPOLA: Chart Industries' CAIRE Inc. manufactures medical oxygen concentrators and other oxygen delivery equipment for individuals with respiratory conditions. Our portfolio of products includes AirSep portable concentrators, SeQual transportable concentrators, AirSep and CAIRE stationary concentrators and CAIRE liquid oxygen systems.
Are there any trends you anticipate?
COPPOLA: We will see improvement in the overall management of COPD patients through the application of telemedicine/monitoring and selecting the best oxygen delivery technology to match the patient's needs at rest and during exercise. Companies will work together with pulmonary rehab centers and physicians to create effective programs that reduce readmissions of COPD patients and improve their quality of life. We will strive to identify patients earlier in their disease progression that could benefit from using oxygen nocturnally, which would reduce hypoxic events during sleep.
Tell us one way your company will stay competitive in 2017.
COPPOLA: We are designing more user friendly, longer lasting and easily serviceable products. The newly redesigned AirSep Freestyle and Freestyle 5 POCs do just that. With a user-replaceable battery with longer life and a more robust pin connection, the products are easier to use and service. Providers save valuable service time and money, and patients receive a better product.
What challenges are providers facing, and how do your products help them meet those needs?
COPPOLA: Cash flow is impacted by the competitive bidding rates, and it is imperative that providers have access to the same quality products at prices/rates that keep them competitive. The CAIRE Cash Flow Management Program is a great option that providers should take advantage of. They can get a complete oxygen setup at an affordable price.
What is the single most important thing providers can do to stay relevant?
COPPOLA: Partner with financially stable and reliable manufacturers that will survive for the long term. Providers must ensure that they purchase equipment from manufacturers who will be around to honor product warranties and service their products after two or three years.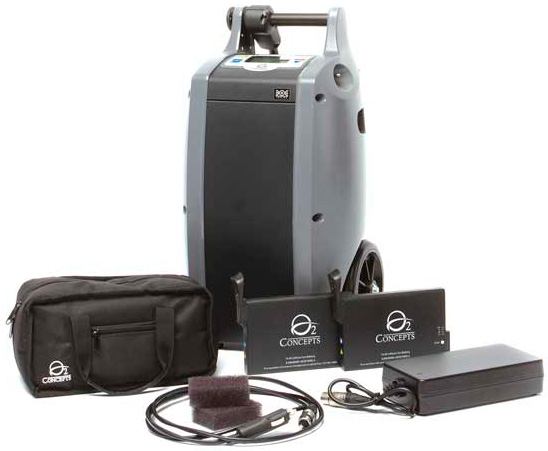 Oxygen concentrator system
O2 Concepts
Rob Kent, CEO
How are new technologies impacting the oxygen industry?
KENT: 24/7 portable devices with proven reliability allow you to set up four times as many patients as other modalities, and can be done anywhere (office, hospital, etc.). Using connected fleet data from our DNA platform, customers can better manage staff and differentiate themselves for significant growth. When referral sources see providers using data to help ensure proper use and prevent COPD readmits, it offers a game-changing solution to offsetting risk of penalties.
What advice would you give to HME and other health care providers?
KENT: One thing we are trying to help providers realize is the risk of investing in obsolete equipment. We launched the first connected oxygen solutions in 2015, and the market will see a number of competitors following in 2017. 24/7 connected solutions are going to transform the way people conduct care and manage operations.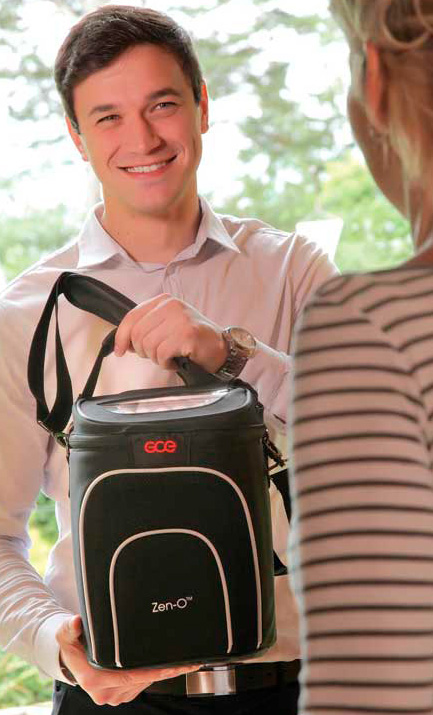 Zen-O POC
GCE
Jim Clement, General Manager, GCE Healthcare
Tell us about your company's products for the oxygen market.
CLEMENT: GCE (also known as Gas Control Equipment) produces high quality gas control products such as valves and regulators. The GCE Zen-O Portable Oxygen Concentrator is our latest product. The unit is a 10-pound POC that delivers either continuous flow or pulse flow oxygen. A key feature of the Zen-O is that homecare providers can carry out most maintenance and repair tasks on-site without the need to return the unit to the factory for service.
Do you see any trends in the oxygen industry on the horizon for the upcoming year?
CLEMENT: Clearly, the drastic reduction in reimbursement makes the adoption of new technologies critical for survival. Homecare providers must reduce their operational costs in this new reimbursement environment. Nondelivery systems are quickly becoming the norm, and patients are becoming more demanding in their desire for smaller and lighter systems. Portable concentrators are the only practical way forward.