Unpacking the paperwork baggage for proper reimbursement of power adjustable seat height
Wednesday, March 2nd, 2016
iLevel technology launched to the public on the Quantum Q6 Edge 2.0 power chair in late June 2015. Prior to its launch, consumers, clinicians and providers recognized its life-changing capabilities. Some were confident that third-party payers would view it the same way and fund accordingly, while others were more pessimistic, seeing the value but presuming no one would pay for it.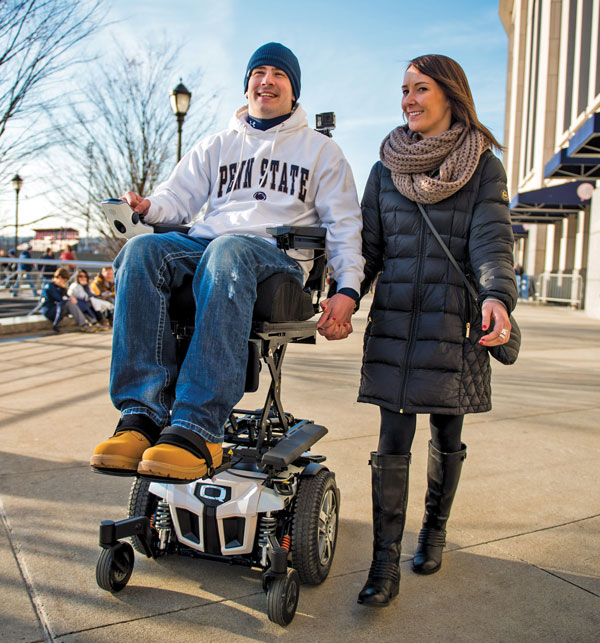 Quantum Rehab is pleased to share that the customer follow-ups we have had show that 65 percent of iLevel units received prior authorization and were covered by third-party payers. This includes state Medicaid programs, Medicaid and Medicare (part C) Advantage plans, commercial payers, Vocational Rehab Services, Workman's Compensation and VA. As a result, I am continually asked, "What is the secret?" My response: documentation!
Traditional Medicare (part B) does not consider power seat elevation (E2300) reasonable and necessary.
Medicare has stated that it is not medical in nature, and has further indicated that it is for the comfort and convenience of a wheelchair user. This logic does not make sense clinically, as they cover seat lift mechanisms when the beneficiary is "incapable of standing up from a regular armchair," because lift mechanisms replace the loss of this function.
It is my opinion that iLevel should be considered during any evaluation where a power chair is recommended. Why? Because the powered mobility device provides the wheelchair user with 360 degrees of movement in a two dimensional plane, but we live in a three-dimensional world. Why would anyone prescribe a power wheelchair that allows the beneficiary to move independently throughout their home and community, only to deny or restrict access to the rest of the environment once they arrive at their destination? Further, why would we recommend a device that provides independent mobility and postural support for an individual with a permanent disability or complex medical needs and not recommend a feature that reduces the potential for the development of secondary medical complications, especially when other power seat features are being considered?
As these questions are being asked, many third-party payers are beginning to understand the value of this technology as a medical need. In addition, most of these same payers are approving power adjustable seat height (PASH) as a covered, reimbursable item when the documentation supports the need. To demonstrate this need in a quantitative manner, the following questions may help clinicians and providers capture the details of why a consumer must adjust their seat height along the available range of elevation.
Does consumer have difficulty or need assistance to transfer to/from the PWC to a surface (bed, toilet, etc.) that is higher than PWC seat?
Transfers are the No. 1 reason a third-party payer will consider coverage and reimbursement for PASH. At a minimum, every wheelchair user must transfer at least twice a day (once into their wheelchair and once out of it). If there is a difference in the fixed seat height of the wheelchair (21 inches) and the height of the surface they are transferring to/from (a commercial bed at 24 inches), such that the transfer requires assistance by a caregiver, the user is dependent in their transfer. The PASH feature allows the height of the seat to be adjusted to the level of the surface they are transferring to/from, or slightly higher or lower to allow for gravity to assist with the transfer so it can be performed independently, or with a greater level of participation by the consumer. This is a much safer transfer for the user. If caregiver assistance is still required, not only is it safer for the caregiver, it also helps facilitate a long-term goal of independent transfers with training.
The advantage of iLevel over other power seat elevation systems in this scenario is due to its patented stability system. As the seat elevates to the appropriate height for the transfer, the footplate comes up with the system to maintain the postural stability of the user. The user can then perform a sit-pivot transfer or sliding board transfer with his or her feet on the footplate without the front of the chair rocking forward during the maneuver.
Does consumer have difficulty or require assistance to reach high enough to safely access areas of their home/work/community to perform/participate in their Mobility Related Activities of Daily Living (MRADLs) or other required tasks?
Most third-party payers will cover and pay for a power wheelchair if the beneficiary has a mobility limitation that significantly impairs his/her ability to participate in one or more MRADLs in the home. It is a given that food and hydration are medically necessary to sustain life. If we look at the activity of eating for proper nutrition, it is one thing for the beneficiary to get to the table and partake in a meal that has been prepared for them; however, it is something entirely different when he or she can participate in the tasks necessary to prepare a meal, but is denied access to the areas of the kitchen to do so. For example, can the beneficiary safely reach food items on the top shelf of the refrigerator or in the freezer at 55 inches from the floor in a chair with a low, static seat height of 21 inches? Does their vertical reach from this same low seat height allow them to reach the faucet, dishes, pots/pans/cooking utensils and the necessary ingredients to make a meal? Can they safely access the microwave and other appliances, especially once food is cooked and hot? If they could, but access is restricted, it is important to document how many times a day they would be required to reach overhead (repetitive strain injury) and what the issues are when attempting to do so (pain, weakness in the position, lack of range of motion or height limitations.).
The advantage of iLevel is that the seat can be elevated and descend in up to a 10-inch range while the user is driving the chair, allowing the individual to move through the kitchen safely and in a timely manner rather than relying on someone else. The same holds true whether the person is getting dressed, doing laundry, accessing a medicine cabinet or performing any other independent living tasks.
Does consumer experience pain (difficulty breathing, swallowing, maintaining posture, communicating care needs) when looking up from a low, fixed seat height?
Third-party payers cover power seating functions and postural support components when the beneficiary demonstrates postural asymmetries, is unable to perform a functional weight shift and/or when it is necessary to manage increased tone or spasticity. For many with a permanent disability and complex medical needs, the fit and function of these components is critical to their ability to drive the power chair, operate the power seat functions, maintain appropriate contact with the postural support components and allow for respiration, digestion, bowel and bladder function and communication to be optimized. If the individual exhibits undesirable reflex activity, experiences pain, has visual disturbances or displays difficulty with respiration when looking up from a low seat height, it is important to document this as an adverse occurrence in a chair with a fixed seat height. In addition, if they have a non-reducible postural deformity such that they lose appropriate contact with their cushion, back and/or postural support components when attempting to look up and communicate their care needs to another, but do not display this when the seat is elevated, it is essential to document this information to establish the need for a PASH system.
Does consumer have difficulty seeing where they are going when moving through crowds or crossing streets from a low, fixed seat height?
Line of sight when operating a power chair is essential to execute good motor planning, judgment and coordination for the safe operation of the chair. It is important for the clinician and provider to determine whether any adverse observations are accurate or if they are occurring due to a poor line of sight caused by a low seat height.
With iLevel, the consumer can operate the chair on level ground at up to 3.5 mph (slightly faster than average walking speed) in the fully elevated position. This allows them to see and be seen as well as move at the same pace as those around them. It also provides an elevated line of sight so that a clear driving path can been observed and obstacles, hazards and other barriers to safe operation can be avoided.
The notion that third-party payers will not consider PASH system coverage is simply untrue. What they need in order to consider it is information with regard to what the beneficiary cannot do, or requires assistance to do in a low, static seat height as compared to what they can do, or will require less assistance to do at an adjusted seat height. After all, mobility is about medical necessity and quality of life.