Educate yourself and staff so you can help customers sleep soundly with high-end products
Thursday, March 12th, 2015
The relationship between bed and support surfaces manufacturers and HME providers has changed in recent years, and continues to do so every day. As Medicare reimbursements keep dropping, providers are moving away from the reimbursement model and into the more lucrative cash sale/retail environment. Alongside these changes is a largely aging population of baby boomers who desire to remain independent as long as they can. A support surface or bed—particularly in the form of an adjustable mattress that can aid mobility as well as relieve many common chronic conditions, such as acid reflux, heartburn or sleep apnea—can have a significant impact on this ability.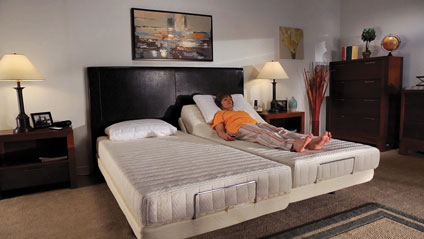 An adjustable bed from Transfer Master
The demand for more customized sleep experiences creates an opportunity for HME providers to partner with manufacturers in giving customers long-term solutions to their needs while still maintaining healthy profit margins.
Customization Is a Modern Expectation
Custom ordering has always been a top priority in the bed and support surfaces market, and in recent years, more products that already incorporate the much-desired components of a customized bed experience are being introduced into the market. SleepSafe Beds LLC, which manufactures both SleepSafe Safety Beds and Assured Comfort Custom Adjustable Beds, offers safe solutions to problems with entrapment and falls, according to Edward Hettig, marketing director at SleepSafe Beds. "These beds are primarily used by special needs children with physical and cognitive challenges. SleepSafe Beds meet or exceed FDA guidelines on the seven zones of entrapment," says Hettig. On the other hand, the company's Assured Comfort line features made-to-order adjustable beds with an array of custom options, including side rails and an assortment of headboard and footboard selections. The company recently added an option that allows for variable transfer heights, including an adjustable floor-to-mattress height range from 19 to 29 inches. "Assured Comfort Beds can offer many of the features of a hospital bed, but without looking like one," says Hettig. "The Hi-Lo option can be coupled with our patented Comfort Transfer mattress design that allows firmer mattress edges for easier transfers from the bed."
Focus on the Customer and the Cutting Edge
In addition to customized details, customers are now also coming to HME providers with requests for smarter technology—not only to help them maneuver in and out of bed, but also to help them sleep better and longer. "We see market changes coming in a couple of areas," says Ben Groce, chief financial officer of Flex-A-Bed, a provider of custom-built adjustable beds. "First, new lifting mechanics will provide additional elements of comfort and mobility. Second, technology will make the beds easier to use and more in tune with other lifestyle components. USB ports, wireless remote access and friendlier user interfaces will all contribute positively in this area." In addition, smartphone applications to control or program bed functionality will also be a growing component in the market, which may include general bed operation. One example of creative innovation is a new memory foam mattress from Flex-A-Bed. "Our gel-infused memory foam mattress product addresses the need for better sleep quality," says Groce. "Scientists now tell us that lowering sleep-surface temperature by one or two degrees means a big improvement in how well you sleep. Our 100 percent gel-infused foam—which has no chunks, no scraps, no fillers—wicks away heat from your body to keep you cooler for a refreshing, rejuvenating sleep." While technological advancement is hugely important in the bed and support surfaces market, it's also important to keep in mind the level of technology that your customer base desires. Aaron Goldsmith, president of Transfer Master, advises the sale of intuitive technology that is designed with the customer in mind, rather than just keeping up with what manufacturers think their modern customers might want. Transfer Master designs and manufactures high-end electric beds, ideal for the home or a hospital. Customized at the factory to individual specifications, Transfer Master's adjustable, bariatric and high-low beds are comfortable and aesthetically pleasing. The company's new wireless hand control functions from anywhere in the room and comes with a touch-activated sensor that lights up without having to push a single button. "We spent a lot of time on our hand control; we made it big and easy to use," says Goldsmith. "We don't believe in the unnecessary do-dads that people are marketing these days. Most customers, particularly those in the over-50 market, don't want that. They want it to be easy, attractive and useful."
Become an Asset
Changing markets have presented serious problems for both HME providers and manufacturers in recent years, and without creative thinking future profits will continue to suffer. "Driving down bed prices by virtue of less insurance coverage or less available reimbursement could end up as a lose-lose scenario," says Hettig. "Manufacturers may be squeezed to produce lower quality products. HME providers may lose profits. And, ultimately, the person who really needs a choice of quality products for their well-being may be left with fewer, and perhaps, inadequate products." As a result, both manufacturers and HME providers are looking for better solutions. Changing market needs and diminishing returns from Medicare reimbursements have made one-time cash sales more important, and HME providers have turned to high-end manufacturers—particularly those that offer highly customized products—to find more long-term solutions to their customers' needs. "We're having a lot of success with our Supernal bed system, because it's already built with a lot of customized details—they come with guardrails, they're already lower than a wheelchair and visually they're simple, clean and attractive," says Goldsmith. "We see the HME dealer realizing that the old model is dead. Now, they're embracing cash sales and we're here to help. Our products can be paired with high-quality, informative videos for providers to use in their stores. We are trying to make it simple for customers to walk into a dealer's store and make a sale right then and there." HME providers should take advantage of manufacturers such as Transfer Master, who offer professional, easy-to-understand media and other information on their products, as well as demonstrations about product features and benefits.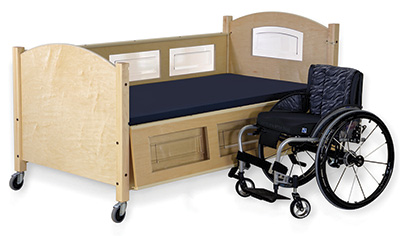 SleepSafe LLC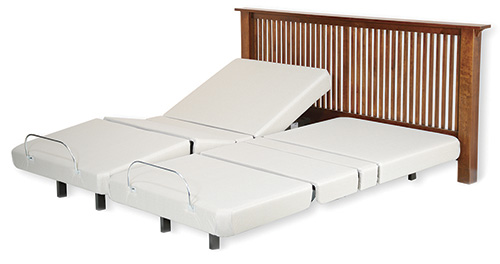 SleepSafe LLC
Providers should also be aware of the chronic medical conditions related to sleep and how to offer better long-term solutions to common bed-related issues by recommending the right bed or support service. Goldsmith maintains that looking beyond Medicare reimbursements and seeing the value of investment products makes sense for both the patient and the provider. "If a customer has issues with skin sores, for example, they may face very expensive treatments later on if their needs aren't being met currently. Our Supernal line of beds is something that makes economic sense to both HMEs and hospital providers, because spending the money up front on high-quality products that can address these types of issues saves them money down the line. The model in the past was to wait until a patient had problems to really invest in them—our beds actually help patients treat problems up front, rather than putting them through more expensive treatments down the line."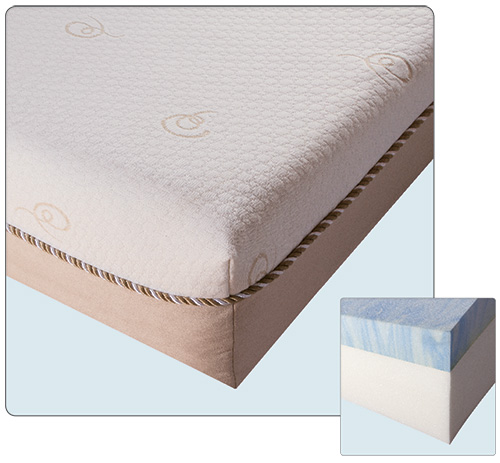 Flex-A-Bed
Groce agrees. "This market offers a valuable alternative to Medicare sales, and can yield financial and customer-retention benefits for HME providers. In our case, Flex-A-Bed offers a cash sale with attractive margins, so we can help HME providers fill in the cash-flow gaps exposed by competitive bidding and the convoluted nature of the Medicare reimbursement market." HME providers should target customers who have a pressing medical need, but also market to customers who might be looking for a little extra support, particularly in the way of preventive measures. "HME providers may want to recognize that some potential customers, while not quite needing a hospital bed, may find additional comfort by looking beyond a traditional flat mattress," says Groce. "That is a niche we fill, and we think that is an area that HME providers should be open to exploring."
Capitalize on Aesthetics
While customers of all ages are recognizing the additional comfort components that flexible beds provide, they are increasingly interested in acquiring those comforts in stylish beds that blend into their homes. As baby boomers continue to enter the HME market, they bring their desire for modern aesthetics with them—they want the products to be not only useful, but attractive, too. "We're in our twenty-second year of providing furniture-style hospital beds, designed with furniture values," says Goldsmith. "Baby boomers want these products to be really attractive, and ultimately they need the product. When they look at our beds, they look so nice—and they're low to the ground; they have the high-low component, and they help them by preventing bedsores." HME providers can capitalize on this interest by setting up sample products in showrooms and ensuring that informational videos, pamphlets and other forms of information are readily available. "Dealers have really underestimated the value of the touch, feel and see," says Goldsmith. "Customers want to experience the product that they're going to buy. We're trying to promote that HME dealers put our products directly in the showroom so that customers can have the full experience—they lay on it and feel how much better it is. They see the difference, and then they want to buy it." In many cases, he says, the children of the baby boomer generation are buying these products for their parents, and they want to see their parents in something that they would buy for themselves. "When our customers use our products, we want them to feel like they're going in to the Ritz."
Customers Come First
Ultimately, a changing reimbursement market means that HME providers have to rethink their sources of revenue, and potentially rethink the long held "reimbursement-first" model in the HME industry. "We have learned during the years that people come in with complex needs," says Goldsmith. "When customers walk in the door, HME dealers should be asking them what they can do to make this work for the needs of the customer, rather than immediately asking about the source of the reimbursement. The income will come with a customer-first, not reimbursement-first, attitude. They need to be focused on their customers."