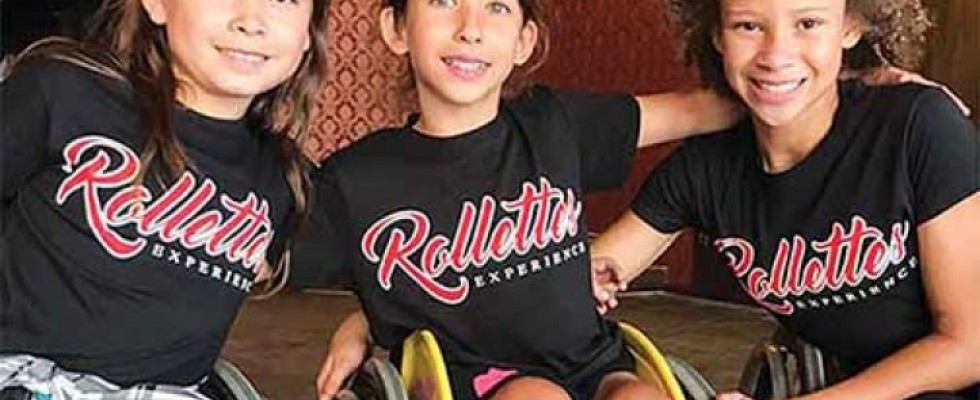 The Rollettes dance company gears up for national camp
Thursday, March 1st, 2018
"Women empowering women with disabilities to live boundlessly and shift perspectives through dance," reads the Rollettes' mission statement. The Los Angeles-based organization—a new kind of dance company—brings women and girls together to connect and express themselves through the shared love of dance.
The first Rollettes wheelchair dance camp began in 2012 in Northern California, when a few girls were invited to attend.
Nearly six years later, the Rollettes organization has grown and is generating interest from people around the world. The team is made up of seven women, Steph Aiello, Samantha Lopez, Morgan Ott, Edna Serrano, Maria Rabaino and Kaitlyn Staten, who are all friends with different injuries and abilities. "The Rollettes Experience is more than just dance," said founder and artistic director Chelsie Hill. "It's about creating lasting friendships and building a community where every woman with a different ability has a place to feel normal, learn about themselves and share vital tools to live boundless."
As a high school student, Hill survived a wreck, with life-changing spinal cord injuries. However, this determined and lifelong dancer would not be stopped from pursuing dance for herself. Her passion, energy and talent grew to develop a dedicated program for other women and girls in similar circumstances.
Today, the Rollettes community redefines what it means to be strong, female and resilient, according to Hill. The organization inspires tens of thousands of young women daily via social media and YouTube with a can-do attitude and "actions speak louder than words" mentality, while documenting their lives of challenges, obstacles and goals to be boundless.
Catheter manufacturer Cure Medical recently partnered with the Rollettes to help their goal. This financial commitment includes sponsoring the Rollettes Experience National Camp August 16–19, at the Airport Marriott in Los Angeles, Calif.
"The Rollettes consistently embody our shared values of support, strength and grace within the community we serve. Cure Medical is honored to financially support their educational and outreach programs that connect women in creative, collaborative and empowering ways," said the company's vice president of marketing Lisa Wells. "We're thrilled to partner in the Rollettes' overall mission to help develop the next generation of strong women who roll."
For more information about the Rollettes Experience National Camp and the Be Boundless Summit, visit rollettesexperience.com.