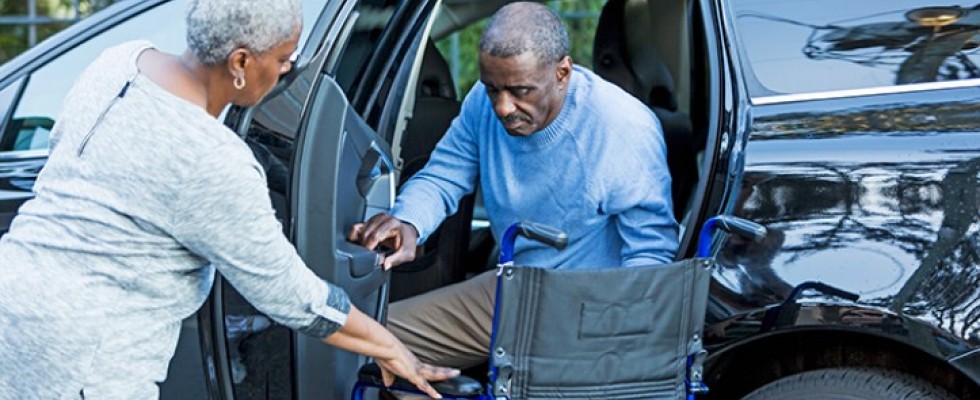 Getting in and out of the vehicle can be challenging as part of the transportation process.
For direct-care workers and primary caregivers, the easiest clients to transport are those who are strong and well enough to get from home to car and destination, and vice versa, with the lowest risk of injury to themselves and their companion, caregiver or home health professional.
When it comes to transportation, it is important to remember that a person's condition and mobility status can change from before to beyond a treatment, increasing challenges during the transportation process. The National Institute for Occupational Safety and Health (NIOSH) offers a range of materials for guidance, training and program development related to safe patient handling and mobility (SPHM). Though much attention has been focused in hospitals and long-term care settings, some topics can be applicable to home health programs and good for caregivers in general to know. Materials can be accessed on the CDC's SPHM page.
Patient care ergonomics coordinator Yeu-Li Yeung in the Ergonomics Division at Duke University and Duke Health brings the issue front and center to encourage safe patient handling practices beyond the hospital setting. Yeung, a licensed occupational therapist, is a certified professional ergonomist and a certified safe patient handling professional.
Getting in and out of the vehicle can be challenging as part of the transportation process, says Yeung.
For patients who require total assistance to transfer in and out the vehicle, a lift is the ideal device for patient and caregiver safety.
For patients with mobility challenges who are unsteady on their feet or cannot walk long distances, assistive devices such as walkers or canes provide some support. Additionally, here are some basic tips for helping those patients to get in and out of the vehicle.
1. For extra support, completely roll down the car window, so that the person can place their hand for support. Small devices, such as a heavy-duty grip or soft handle, can be hooked to the car to provide support for the opposite hand.
2. To reduce the friction of turning in the car seat (in order for the person to get their feet firmly placed on the ground outside the car), place a clean plastic bag under the client's bottom, or try a commercially available swivel seat or rotating cushion to make turning to the side easier.
3. To reduce steps between the car seat and wheelchair, closely park the wheelchair alongside the vehicle so the patient can stand and carefully sidestep to sit down. Glide boards may be helpful for seated transfers.
"Plan ahead," says Yeung. "When you make an appointment, call and ask questions. Ask about the environment and what assistive devices are available."
Extra Tip
To reduce trip and fall hazards, ensure a clear path before guiding the patient's steps. Look for slip and trip hazards such as throw rugs, slick spots and uneven pavement.