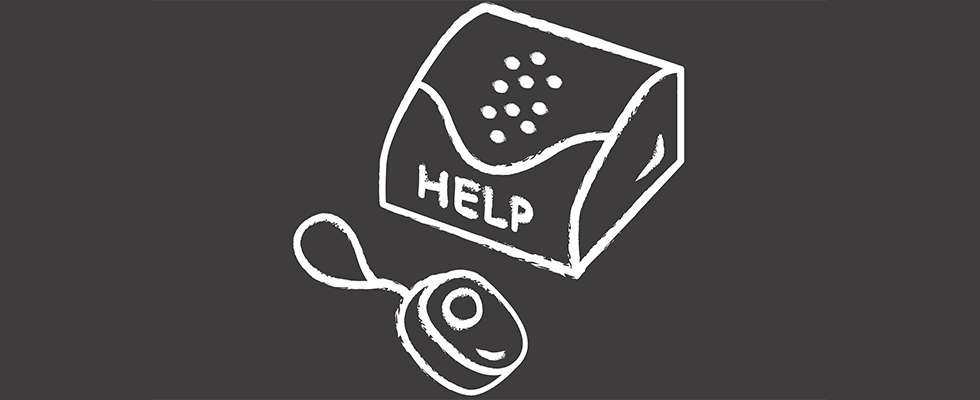 How mPERS can help support both your business & your patients
The vast majority of seniors prefer to age in place in their own homes—and in 2020, aging in place became central to their very survival.
However, many seniors are wary of having visitors in their homes due to the threat of COVID-19, meaning care can be limited and feelings of isolation can increase. Isolation can have dire health consequences: The Health Resources & Services Administration reported that "poor social relationships were associated with a 29% increase in risk of coronary heart disease and a 32% rise in the risk of stroke."
Telehealth technologies are becoming more prevalent across the care continuum, enabling home health personnel to monitor patients' vitals when nurses or caregivers cannot physically be present. Hospitals and homecare organizations are making great strides in implementing this technology to do regular video checkups with patients and make emergency diagnoses.
However, patients also need a way to get help quickly in the event of a medical emergency when they are alone.
The Need for Emergency Care
One way homecare organizations can offer patients fast access to help in an emergency is by offering mobile personal emergency response system (mPERS) devices, whether through a partnership with a personal emergency response systems (PERS) company or through referrals to home medical equipment providers.
PERS devices have long been the standard for seniors to receive help quickly. The original in-home medical alert systems offered access to help in and around the home. However, these devices forced many seniors to remain homebound out of fear they would not be able to receive help because they had to be near the base station to place a call.
Mobile medical alerts, on the other hand, offer protection anywhere cellular service is available, eliminating the need for a base station. These mPERS devices enable seniors and those with chronic conditions to have a more active lifestyle while still providing protection in the event of a medical emergency. They ensure that patients are never truly alone by offering access to assistance 24/7.
Enabling Confidence
With mPERS devices in place, seniors can feel confident going to the store, taking a walk or visiting friends and family, knowing they still have protection in the event of an emergency. Mobile medical alert devices also provide an option for social interaction: Patients can speak with a capable operator right through the device around the clock.
If a patient needs assistance, monitoring center operators can locate the patient and send home health aides, family members or emergency services to the patient, depending on what is needed.
Family members can also download an app connected to the device to receive notifications when the patient requires assistance or when the device battery needs to be charged, keeping families connected even when they're separated by distance.
Mobile PERS devices act as a seamless extension of home health organizations, as patient calls can be answered by the monitoring center using the agency's name. With mPERS, patients feel they have easy access to their homecare provider 24/7, increasing the value of your organization as their confidence in your service grows. The devices also help reduce hospital readmission rates because patients can receive help within the crucial "golden hour" after an emergency.
Offering mPERS to your patients can make your home health business a one-stop shop for health and safety products, and mPERS can become a profit center for your home health business by providing recurring monthly revenue. They also give home health organizations the ability to adapt to changes in the marketplace, such as those brought on by COVID-19.
Expect Growth
Throughout 2020, the mPERS market saw strong growth, and 2021 is poised to see that continue as seniors and their families continue to seek ways to stay safe while avoiding communal living settings.
Technology is also continuing to evolve and devices are becoming smaller and more water-resistant with longer-lasting rechargeable batteries. Fall detection, GPS and Wi-Fi location technologies are also improving.
Many home health organizations are now offering mPERS devices in addition to their usual in-home care to protect their patients when they are not there. After all, no hospital, rehab center or nursing home would allow a patient to be alone without an emergency button. With that in mind, no senior should be home or out and about alone without an mPERS.
---
Tips for Marketing mPERS
When starting to offer mobile medical alerts through your home health business, there are some steps you can take to leverage them as a competitive advantage.
Set up an mPERS division within your business with staff trained for sales and support questions.
Choose mobile medical alert products that are simple for you to set up and easy for your patients to use.
Ensure the monitoring center that answers your device calls has operators who are experts in PERS calls.
Choose an mPERS supplier who will help you with sales tips, marketing materials and support questions.
---
HomeCare recently surveyed our readers to find out more about how they market and refer PERS to their customers and patients. Find the results here.