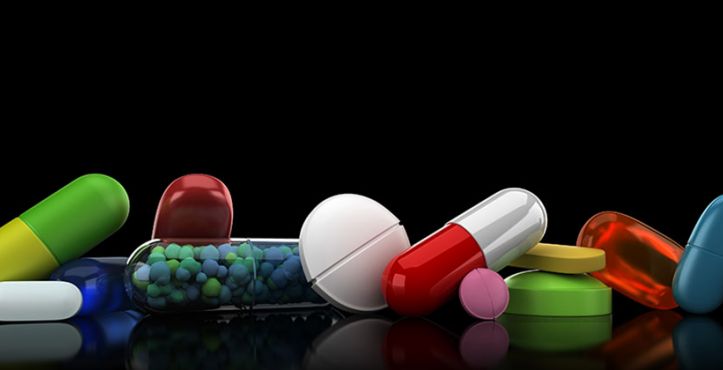 A therapist checklist for ensuring safe dosing & adherence
Tuesday, December 3, 2019
A research paper by Alpert and Gatlin in 2015 noted that people older than 65 use approximately 34% of all prescription medications, purchase 40% of over-the-counter medications and often take at least five medications.
When a patient has a medical decline or recent discharge from an institutional setting, they may have new, unfamiliar medications. Incorrect doses or times, medication omissions, polypharmacy—all of these challenges are seen daily in home health care. And they can lead to mistakes; medication errors cost the health care system more than $21 billion annually and can negatively impact a patient's quality of life and ability to care for themselves.
The inclusion of a drug regimen review as part of the Conditions of Participation (CoP) for home health agencies (HHAs) supports the importance of this aspect of care. The initial comprehensive assessment, as described in §484.55(a)(1), requires the agency to determine the immediate care needs of the patient. According to the interpretive guidelines for the CoPs, that includes medications. This review identifies any adverse effects and drug reactions, including ineffective therapy and noncompliance. All prescribed and over-the-counter medications are to be included.
This review may be second nature to registered nurses working in a homecare environment. But what about therapists? The Centers for Medicare & Medicaid Services (CMS) has noted that in therapy-only cases, the therapist can perform the drug regimen review for the comprehensive assessment. CMS states that "the patient's therapist must submit a list of patient medications, which the therapist must collect during the comprehensive assessment, to an HHA nurse for review."
An official statement published by the American Physical Therapy Association notes that it is well within the scope of practice of a physical therapist to perform a patient screen in which medication issues are addressed. It is important to note that state practice acts may differ in their allowances for therapist's role in medication management, so they must also be consulted.
Medications and the patient's ability to manage them also show up in the publicly reported Home Health Compare data. The question of how frequently patients improved at taking their drugs correctly by mouth is shared as a percentage of the agency's caseload as compiled from OASIS data. In the 2020 Home Health Final Rule published in October, CMS is adding medication list questions.
The Transfer of Health Information to Provider-Post Acute Care (PAC) Measure is a process-based measure that will assess whether a current reconciled medication list is given to the admitting provider when a patient is discharged or transferred from his or her current PAC setting. This conveyance of information may take place in many ways: over the phone, clinician-to-clinician in person, via faxed or printed documents or through a health information exchange or record. CMS also stated in the rule that health information that is missing or incomplete—such as medication information—increased the likelihood of a patient safety risk and is often life-threatening. Failed or ineffective patient transitions are estimated to play a role in 20% of serious preventable adverse events.
The patient's ability to comply with a medication list or regimen can be impacted by many factors, including:
Cognition
The homecare clinician should determine the patient's cognitive ability as it relates to their drug regimen. Can they navigate a complex medication routine? It may be difficult for a patient with a cognitive impairment to recognize when an as-needed, or pro re nata (PRN), medication is warranted or when to call a doctor due to troubling side effects. Be sure the patient can indicate that they have a plan for following their drug routine.
Functional Mobility
It is important to consider the patient's gross and fine motor movements for accessing, opening and dispensing medications. For example, the clinician must determine whether the patient has adequate dexterity and range of motion to self-administer eye drops. The patient must also be able to safely access medication storage. Often, simple changes to the patient's environment or to medication containers can increase success.
Medication Routine
The clinician should also review the routine. The patient needs to be able to recognize when medications expire or are running low and in need of a refill. Can the patient set up a pill box or sorter independently or is outside help necessary? If pills are in a sorter, be sure the patient can recognize medications by size and shape. This can be complicated if formulation changes alter the shape, color and size of a medication.
Vision
Vision troubles are a normal part of the aging process. This can cause challenges with reading medication labels and instructions as well as reviewing and understanding side effects. Simple changes in lighting and medication placement may help with this kind of concern.
Family Support
If the patient has trouble managing medications, is there a simpler drug regimen that is acceptable to the physician? If not, family or other support would need to be identified. Be sure the support system understands the patient's limitations and can act accordingly.
Medication management is a crucial component of home health, helping a patient avoid a hospitalization, preventing falls, managing their chronic diseases and allowing them to age successfully in place.
Find a list of questions clinicians can ask themselves when performing an assessment to ensure all areas are considered in the chart below.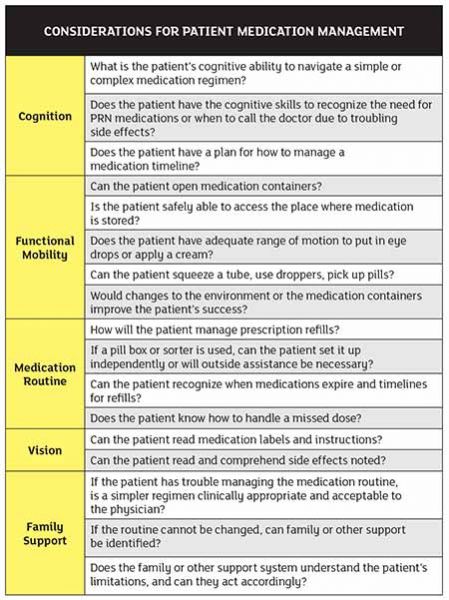 Click here for a full-size version of this chart.