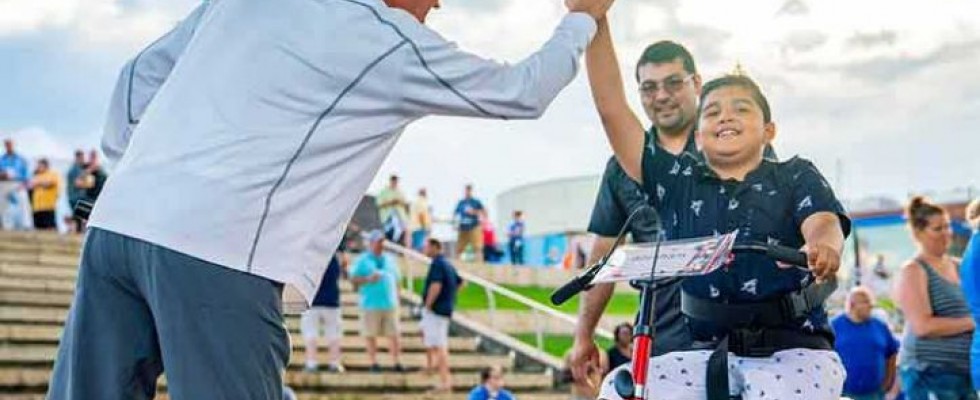 Working with nonprofits to get adaptive mobility devices to those who need them
Thursday, December 6, 2018
This is not your grandpa's wheelchair. Or maybe it is.
A wide base and 47-inch-long tracks. Twin, 900-lumen LED floodlights. Built-in USB ports. And a green-and-yellow paint scheme. Alec Gotto, 12, of Dyersville, Iowa, moves around the farm—and the competition ring—in a TrackMaster MK-1 all-terrain wheelchair, specially designed for him.
The custom-built TrackMaster chair, donated by VGM Group and Total Respiratory and Rehab, comes with a price tag of about $35,000. Money raised by Gotto's family, friends and supporters covered custom upgrades. He got the upgrade after using a more traditional wheelchair to show his steer JD—short for John Deere—during last year's National Junior Angus Show at the Iowa State Fair.
Once considered utilitarian pieces of equipment, mobility devices such as wheelchairs, ramps and adaptable tricycles are getting overhauls.
The goal is getting people with limited or no mobility out where they want to be—parks, farms, hills, trails and beaches. It's freedom for the user. But this freedom comes at a steep price, and it's one that insurance, Medicare and Medicaid don't usually cover.
"These are made for folks who really want to challenge things," said Travis Underwood of TrackMaster Mobility.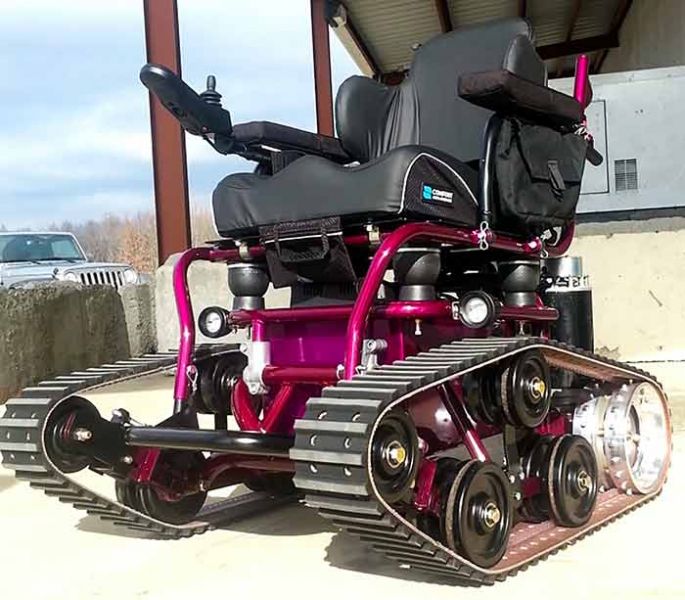 The TrackMaster MK-1 takes mobility into uneven terrains.
(Photo courtesy of TrackMaster)
"We see it as a quality-of-life issue," Underwood said. Basic wheelchairs are fine "if you want to keep people on sidewalks. We didn't see that as a viable option. Everyone wants to get out to the park and see some butterflies. Some want to get off-road, off the beaten path."
Ann Miller of Rising Sun, Indiana, spent 10 years in a traditional wheelchair. She suffered a stroke a couple of weeks after giving birth to her daughter. She wanted more independence in doing day-to-day activities as well as the ability to get back out on the beach and fishing pier she enjoyed while growing up. The community raised $17,000 to help Miller get a TrackMaster adapted just for her.
Companies work through various outlets to get products to the individuals. Crowdsourcing is one method. Another is going through nonprofits such as Shriners International, veterans groups and others.
At the VGM Heartland Conference held in June 2018, six kids received new equipment thanks to such donations.
U.S. Rehab, a division of VGM Group, worked with partners Rifton Adaptive, Golden Technologies, OBI and the Variety Children's Charity of Iowa to donate tricycles, a scooter and a feeding device.
This was a quality-of-life issue for those children, ages 5 to 12, who have varying special needs.
Nine-year-old Hannah Smith, one of the children who received specialized equipment during Heartland, was treated to an additional gift of a new vertical platform lift.
The lift, donated by Algona, Washington-based EZ-ACCESS, a supplier partner of VGM and a Heartland attendee, provides Smith with safe access to her home.
For Smith, who has spinal muscular atrophy, it means being able to enter her home independently. Her mother said that previously an adult had to push her wheelchair up a very steep makeshift ramp.
VGM helped coordinate the EZ-ACCESS donation. Installation was completed by Americans for Independent Living out of Waterloo, assisted by VGM member Nucara, which delivered the lift to the Smiths' home. The price tag? About $6,500 installed.
It was the third year that VGM, U.S. Rehab and partnering companies donated mobility equipment as part of the Heartland Conference.
The at-home person in need is the true customer in the post-acute setting, said Scott Owen, senior vice president of contracting for VGM & Associates.
VGM strives not only to satisfy its members and vendor partners, but also to network with philanthropic organizations to focus efforts on the needs of those customers.
"Our Government Relations team works at an exhausting pace to fight for the rights of individual patients who do not always have their voices heard," Owen said. "Often we come across someone who may not be fortunate enough to know about our valued vendor partners and their offerings."
VGM carries the tradition that founder Van Miller instilled: to constantly create awareness and opportunities that benefit others in need.
"It is part of our culture, and we're especially proud to work with our vendors and membership community to help put smiles on the faces of some very special kids during Heartland Conference," Owen said.
Those in the industry are seeing an increasing need for this kind of charitable activity as reimbursement allowables continue to shrink, said the general manager of a U.S.-based manufacturer of adaptive equipment.
A base TrackMaster unit costs $14,000 to $18,000. Extra costs come depending on the modification.
Even with that, the ADA-compliant, all-terrain chair can be competitive in price with a basic wheelchair that insurance, Medicare or Medicaid will cover, Underwood said.
"It's a competitive-type product. We're neck-to-neck on price, and sometimes we're cheaper," he said. "I wish we could open up funding from some of these products that are lesser products and are covered. It's been a real battle."
Rifton has a list on its website of organizations that provide funding for a piece of adaptive equipment for children with disabilities. They range from local nonprofits and civic groups to national organizations such as the Juvenile Arthritis Foundation, Make-A-Wish, March of Dimes, Shriners Hospital for Children and others.
Rifton also lists another way to raise funds, through the Tadpole Adaptive Registry, where users create a fund drive and get friends and family on board to raise money.
At TrackMaster, Underwood works with dealers across the country to get their products in the hands of those who need them. It's often the dealers who work with the family or local nonprofits on fundraising.
Custom Mobility in Florida, for example, modified a TrackMaster for a man in St. Petersburg who was then able to get out on the beach for the first time in 30 to 35 years.
"We send a machine to the dealer. They modify it for the individual, get them comfortable," Underwood said. "If they have any problems, they have a local dealer to go to."
The dealers become the front line of defense for customers. Underwood said he enjoys working with dealers who know what it takes to meet the needs of individuals. "I love for dealers to get that kind of excitement in what we do," he said.
Amazing things are happening in an industry that got left behind for about 30 years, he said. Now, companies are manufacturing machines that allow people to get back to the life they want to live, whether that's on the farm, in the garden, on the beach or on hiking trails. Underwood said he enjoys seeing social media posts from happy customers with reviews like, "I can't believe this is here. That's what we want to be a part of," he said.