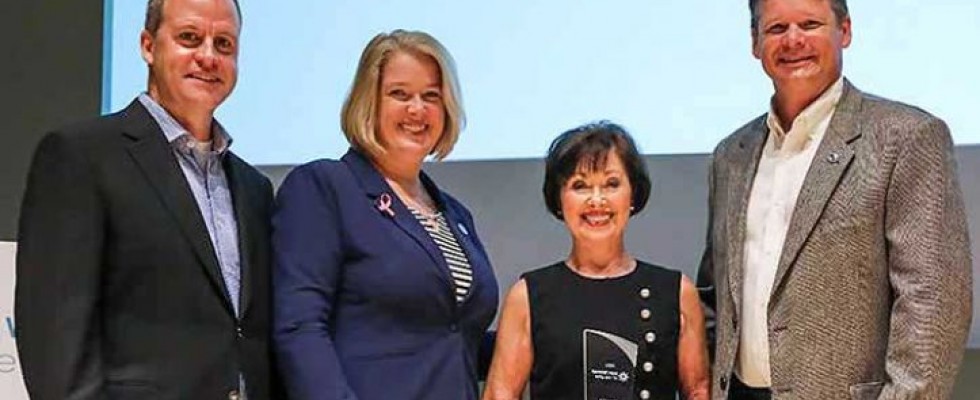 Georgie Blackburn wins 2018 award
Thursday, December 6th, 2018
It's been said, "A good cheerleader is not measured by the height of her jumps but by the span of her spirit."
For Georgie Blackburn, a former cheerleading coach and this year's HME Woman of the Year, her relentless drive to advocate for good policy and patients' rights has always carried with it a positive, passionate voice with an incredible amount of integrity. Her spirit has inspired and empowered co-workers, peers and other stakeholders to become fierce advocates for the DMEPOS and complex rehab industry at home and on Capitol Hill.
"There's nothing like having a task that you want to go after," said Blackburn, who is vice president of Government Relations and Legislative Affairs at BLACKBURN'S. "I love advocating for what this industry needs with elected officials because I believe there's always a way to improve health care policy. We cannot help our clients that need our services, and we certainly can't help our businesses to thrive unless we work on federal and state policies that make sense and that are beneficial for their budget as well as our patients and business."
What started out as a temporary fill-in position in 1978 at Tarentum, Pennsylvania-based BLACKBURN's, evolved into a fulfilling career that has spanned 40 years. During that time, Blackburn built a robust compliance program and was instrumental in the growth and development of the company's complex rehab department. Most recently, Blackburn has been a determined advocate on state and national levels.
Today, Blackburn serves on AAHomecare's Complex Rehab and Mobility Council, the National Coalition for Assistive and Rehab Technology's board, her local Chamber of Commerce board of directors, and is a deacon in her church.
Volunteerism and patient advocacy were key factors in determining the 2018 HME Woman of the Year—an award Blackburn received at Medtrade 2018 in Atlanta, Georgia.
The annual award, created by VGM Group, was presented to Blackburn in front of her peers during a special ceremony, and is "well-deserved recognition for all that she's accomplished over four decades of service," said Mike Mallaro, CEO of VGM Group.
"Everyone is better off when smart, passionate leaders champion optimal solutions and therapy for frail elderly and people with disabilities—educating and advocating. Georgie has done that relentlessly. She epitomizes what we, as an industry, look like on our best day."
Along with Blackburn, the 2018 finalists included: Karen Atkins, chief executive officer and president, Mobility First; Colleen Hunter, CEO and president, Browning's Pharmacy and Health Care; and Deanne Sandvold, vice president and owner, EZ-ACCESS, a division of Homecare Products, Inc.
"There are so many women, so many individuals in this industry that I take my cues from, that I've learned from, so to be honored in this way is just wonderful," Blackburn said. "As I look back on my career, this particular award will be one of the most grateful moments that will forever shine bright. It was awarded by a group of peers I deeply respect within an industry I love."