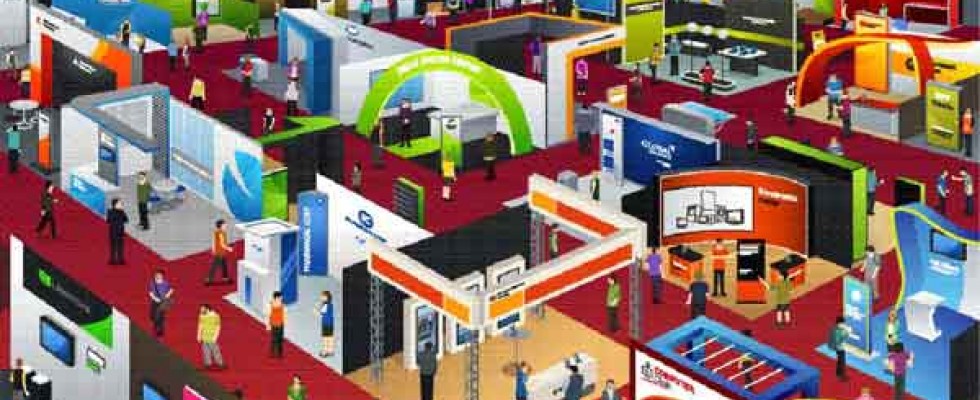 High temps & high spirits
After more than a year on hiatus, the home medical equipment (HME) industry's largest trade show returned in person in July, with Medtrade West meeting in Phoenix.
"We made it! We're back in person," Associate Show Director York Schwab said on the first day of the show, which ran July 12-14. "It's so great to see people after being gone for 16 months. … It's great to see the familiar faces and get together with people because you never know what's going to happen in an in-person setting. I think we've just discovered what we missed being at home for a year."
New Location, New Format
Medtrade West last took place in Las Vegas, Nevada, in March 2020, just before the pandemic forced many businesses to move remote. Even during the show, there were signs of what was to come, with some booths from Asia standing empty due to travel restrictions, and attendees attempting unfamiliar elbow bumps.
Before COVID-19, organizers moved the show to Phoenix for April 2021 in an attempt to reach a new audience; however, lingering restrictions this spring lead to it being postponed until July. Temperatures outside soared to 110 degrees, but attendees praised the new location nonetheless, and seemed to like the a revised show format that gave a full day to the expo hall with no overlap of educational sessions.
"I think Phoenix is great. I like the smallness compared to Vegas. I'd had enough of the casino atmosphere," said Kim Cook, director of Medicaid affairs for Numotion in Boise, Idaho. "Education is the main reason I come here. I come to network and have in-person meetings."
"I was ready for this move to Phoenix. Vegas gets crazy. You can focus on continuity instead of clubbing. There were lots of red eyes in Las Vegas…," said Joshua Thompson, vice president of operations for Ascent Respiratory Care in Denver. "The educational sessions have been good, and I like that there is no conflict with the show floor. It's better for the vendors to give them their dedicated time."
Also new was a preview night in the exhibition hall Tuesday night with a cocktail reception and prize drawing. Exhibitors and attendees were given a two-hour look at what the show would be on Wednesday. Exhibitors were pleased with the new format.
"Preview Night was awesome. It was the perfect combination of having a drink and mingling. It had a casual, less-rushed feel and was really nice. Phoenix is a great
town," said Jackson Buchanon, director of business development for Sleep 8, Inc. and PainGone
"Preview Night was fantastic. Attendance was fabulous, upbeat and positive," said Nyika Wright of SleepGlad. "To actually shake hands with customers has been the best part."
Many of the educational sessions focused on ways HME providers can approach post-pandemic life. Providers were cautioned that a number of legal and government entities will be hunting for fraud around COVID-19 relief programs, with audits expected for small- and mid-sized providers next year.
"I think most of these are going to start hitting at the back end of 2022 and will roll into 2023 or 2024," said Stephen Bittinger, a partner with the law firm K&L Gates LLP and a member of the practice's health care practice group.
But there were many positive moves out of Washington in response to COVID-19—including some measures that could be made permanent, such as expanding home oxygen to acute patients and broadening eligibility for telehealth, said Cara Bachenheimer, head of government affairs for Brown & Fortunato.
"A number of positive things happened to us during the pandemic, but my catch phrase is 'it took a pandemic,'" said Bachenheimer.
Meanwhile, the outlook for mergers and acquisitions in the HME space is strong, with a number of deals occurring in the past 12 months and more expected soon, especially as owners race to beat expected capital gains tax changes.
"I fully expect this year to be crazy in the deal market," said Tom Knapp, who specializies in mergers and acquisitions for Brown & Fortunato. "And there's going to be a lot of boomer business owners who are ready to retire and have a transaction to get done in 2021."
Medtrade East returns to the Georgia World Congress Center in Atlanta, Oct. 18-20, 2021. Medtrade West will return to Phoenix,  April 4–6, 2022.
---
New Product Pavilion Winners
On Wednesday, 15 manufacturers of new products duked it out for the coveted Providers' Choice Awards. Attendees used the show's app to vote for their favorite new products featured in the New Product Pavilion, sponsored by HomeCare.
GOLD AWARD: The BiliTouch Phototherapy Blanket from Motif Medical
The phototherapy blanket is intended for use in the treatment of infants diagnosed with hyperbilirubinemia, commonly known as neonatal jaundice. Unlike conventional phototherapy systems that are stationary, the BiliTouch is designed to be mobile, allowing parents to continue to hold, feed and care for their baby while reducing high bilirubin levels at home.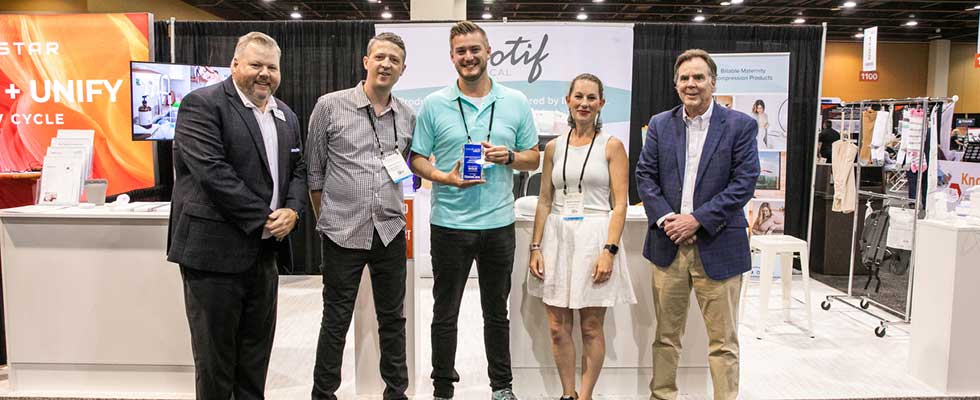 Pictured: Associate Show Director York Schwab; Motif Medical's Brandon Fonville, Jason Ivey and Meigan Alexander; HomeCare's Associate Publisher Jim Harmon.
SILVER AWARD: The myCAIRE telehealth solution from CAIRE
Designed to increase the efficiency of delivery and improve patient care, the application connects to CAIRE's oxygen concentrators via the patient's smart device and simplifies remote data collection through secure, cloud-based technology in real-time—easily accessible via the equipment provider's desktop. It is available on iOS, Android and Surface.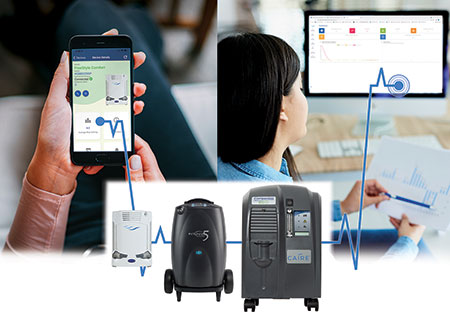 Pictured: The myCAIRE Telehealth Solution
BRONZE AWARD: The Ruby Slipper Swivel Car Seat Cover by Ruby Slipper LLC
The Ruby Slipper Car Seat Cover is a heavy-duty seat cover with a unique sliding action that allows passengers to swivel in and out of the car with ease. This simply designed seat cover allows passengers to quickly and easily enter or exit virtually any vehicle.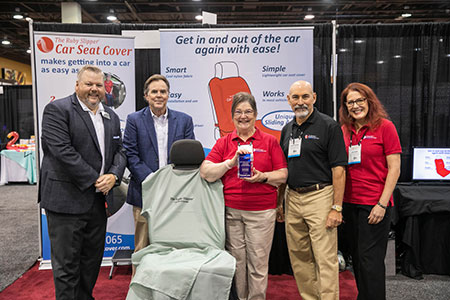 Pictured: Schwab, Harmon, and Ruby Slipper's Katherine Miles, Steve Porcaro and Bari Rubin.