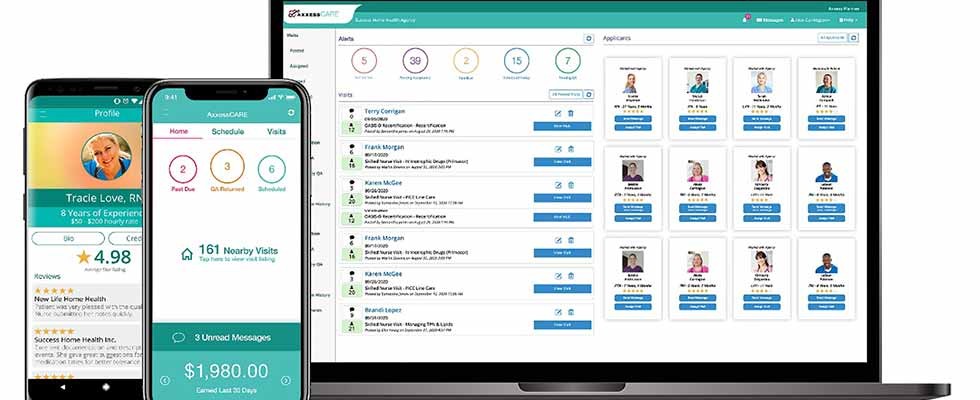 New tech platform seeks to solve staffing challenges
Picture this: It's a Friday afternoon, and as administrators are packing up to go home for the weekend, a fax or phone call comes in with a referral. The next few minutes are critical for both the home health agency and the patient. A prescribed chain of events must take place for the agency to accept the referral and schedule the patient's first visit.   
To start things off, a nurse must be available within the next 48 hours to see the patient. But which nurse? On a Friday afternoon, there's a 50/50 chance of being able to reach a nurse who isn't planning for or already enjoying the weekend. Agency leaders are left scrambling to find someone to take this last-minute visit.
Caregiving organizations in home health have dealt with the same problem for years. We've heard our clients describe this scenario many times. The details change slightly; instead of a referral, they might need to suddenly cover a missed visit. No matter the details, having a visit to fill leaves leadership scrambling and stressed. With their business on the line and a patient in need, failure is not an option.
Hearing these stories repeatedly led us to realize there had to be a better way. The industry needed an effective solution for the staffing challenges that have long plagued agency operations and hurt staff morale.
The impact of staffing challenges can be seen in the numbers. The Bureau of Labor Statistics found that the average home health nurse only stays on the job for 19 months. When a nurse leaves, it can cost agencies an average of  $52,000 to find a replacement—and that process can take as long as 86 days. That means that for nearly three months, an agency is left to juggle schedules and rely on contract nurses to fill every patient visit.
While we were looking to address staffing challenges in home health, the world was changing. Mobile technology had gained a foothold in the world. Smartphones went from a novelty to a necessity—and that's where we saw an opening. The time had finally come.
Mobile devices offered a new way to think about the economy and the world around us. Millennials are the first generation to fully embrace the 'gig economy,' in which people don't have just one job, they have several. Companies such as Uber and Lyft made it possible to turn a car into a money-making machine. The idea was odd at first. Who would get into a car and let a stranger drive them around? The answer is obvious: a lot of people. Today, ridesharing companies are a staple of everyday life. Creating personal experiences suited to our own needs and lifestyle is now the norm, whether that means streaming TV shows, ordering fast food or buying a blender.
Axxess started to realize early on that an on-demand experience like this could also work in home health. The result is Axxess CARE, which enables home health agencies to connect with qualified clinicians to provide timely care.
From the start, it was clear Axxess CARE must have a mobile element to it. Fortunately, we have a lot of experience in mobile technology. We developed a native mobile app for iOS and Android devices, as well as an OASIS assessment that can be completed entirely on a mobile device. Without getting into the technical elements of what that means, nurses who use our apps have a simpler user experience and can spend more time focused on patient care.
Axxess CARE allows organizations to effectively address all visits that need to be covered. The process is streamlined into one simple system. When an agency has a visit to fill, they post it to the app, and it will be broadcast to a network of clinicians who are interested in covering visits. Clinicians are notified immediately about the new visit and can decide whether they want to take it or not. It should be noted that all HIPAA-protected information is withheld at this point. At most, the clinician can see the general geographic area of the visit, what it involves (an initial assessment, catheter replacement, physical therapy, etc.) and how much the agency is willing to pay.
The Axxess CARE app isn't open to everyone. The clinicians who use the app already know Axxess's home health software and have gone through registration, so training isn't an issue. This registration process is rigorous and includes background checks, license verifications and other important security and personnel information. When a clinician is cleared to use the app, they can apply for visits for which they are qualified. The agency decides which of the clinicians who have applied will ultimately be assigned the visit. A star rating system, just like those on ridesharing apps or restaurant reviews, makes it easier to select the best clinician.
An initial pilot that began in Dallas has now grown to 16 states; it will eventually be available nationwide. Hundreds of agencies have used it to help complete more than 15,000 visits. We've seen agencies grow their business and retain their staff. Nurses want to stay with an agency because they can earn extra money on their own schedule.
The health care at home industry has spent decades challenged to fill available visits and retain staff. Now, the "Friday afternoon scramble" has become a Friday afternoon lineup of those anxious to take on extra visits. Technology has advanced to the point where agencies are no longer constrained by old habits and should embrace change so that the focus can be on delivering outstanding patient care.