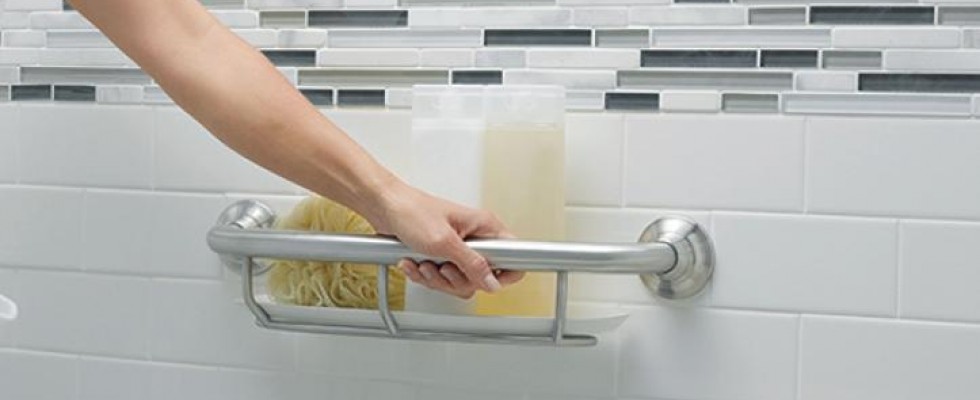 Don't forget this important aspect of the home
This article is part of a
12-month home accessibility series
. Each segment will focus on a particular aging-in-place need to provide the insight and resources necessary to be successful in this growing market.
In the accessible design field, one major misconception relates to bathroom safety and modification. In a recent survey of HME dealers, they felt the number one demographic for bathroom safety products was the older baby boomer population—which is a valid market segment, but not the only viable market. Details of bathroom related injuries show that this is not the only demographic that is affected. According to the CDC, of the 235,000 injuries that occur in the bathroom—and end up in the emergency room—there is no single location in the bathroom that is the greatest cause of the injuries. Analytics show that although there is a direct correlation between age and the potential of a fall injury, the age group of 15-24 suffers more injuries in the shower or bathtub than any other age group. People over 65 suffer the majority of their injuries while getting on and off the toilet. Of the injuries that occur in the bathroom 81 percent relate directly to a fall while 19 percent relate to other causes. The myth that these injuries are often caused by fainting or a loss of consciousness was disproven and it was found that the majority of these injuries occur during full consciousness. The results of these falls broke down into a diagnosis of 29.3 percent with contusions or abrasions, 19.6 percent with a strain or sprain, and 17.4 percent with a fracture. Regardless of the diagnosis, each one ended in unwanted medical expenses and pain and suffering that potentially could have been prevented. Estimates are given that these falls relate to over $67.3 billion in lifetime medical expenses. The potential for these injuries are often overlooked in the design and construction of most homes. Individuals and interior designers develop the aesthetic bathroom and often forget the safety aspect until a fall or injury occurs. This is gradually changing as the concept of accessible design construction is gaining notoriety. The fact still remains that most homes are not equipped with the safety features needed to prevent these untimely injuries and the costs and pain associated. Discussing this potential issue with many end-users finds that most people believe that they will not fall; consequently, they do not want to install products in their home that look institutional. It has been found that of the same group of people that do not see the need for these products themselves, may however make the association with a family member or friend that have a need for these products. An important factor in the process is assessing the need. Using the tools that are available from your partner manufacturers and those provided through the training are necessary to ensure a complete solution. As the assessment is being done, determine the nature of the modifications that need to be made. This can range from a complete bathroom modification to minor modifications as well as the addition of some safety accessories. Having a quality manufacturer partner with the tools to fulfill those needs is crucial. As the change has occurred in the HME market over the past 10 years, several companies have developed products that are not only safe, but also meet the aesthetic desires of the market, to keep a modified bathroom from looking institutional. Nate Jensen from Best Bath Systems, one of the leading providers of accessible showers and tubs (best-bath.com) says, "Offering a sanitary looking shower for the aging demographic we serve is no longer a viable option. Customers want and demand more in everything that they buy. We can create products that are both beautiful and low maintenance." This very much appeals to the desire of what is needed and required in bathroom modifications. When looking at full bathroom modification that includes replacement or update of the shower or tub, manufacturers such as Best Bath Systems provide a full range of solutions. The evolving HME market continues to grow more educated and selective in their choices for bath renovation. With the addition of inlay tile and decorative safety bars, the consumer can visualize an accessible remodel without sacrificing design aesthetics. As the HME dealers participate more and more in bathroom modifications, several key factors play into the equation that determines success:
Invest in a marketing campaign specific to home modification—If you are already selling chairs, stair lifts or VPLs, this should be an easy transition for any HME provider to handle.
Network—Find partners that can help increase your notoriety as an accessibility expert. OTs, PTs, and pharmacies should all know that your business offers these solutions. This networking has countless returns.
Know your market—Working with a qualified subcontractor or having a contractor on staff can make a big difference in not only how you bid projects, but also how you win projects. If your goal is to increase more private pay, it will be vital to have a skilled estimator on your team who can ensure profitability and success with the bidding process.
Have a sales expert—A skilled sales person goes a long way. As more and more HME providers transition away from funding sources, the sales approach is even more critical. The advantage is that the customer base is already familiar with the business and has built in trust.
The next level of modification involves minor changes to the existing fixtures that are in the bathroom with some add-on features. Safeway Safety Step (safewaystep.com) provides a product that allows a safety step to be added to most bathtubs or bath/showers. This product creates a pass through that is approximately 24" wide x 8" deep and reduces the potential of a fall when entering or exiting the bathtub. "For caregivers of aging parents and people with mobility challenges, it can be difficult to provide help with life's daily activities that many people were so accustomed to doing themselves," said Chris Stafford, president of Safeway Safety Step. "We also understand that it can be difficult for seniors and individuals with mobility issues to ask for help with a traditionally private activity. Providing solutions that allows those needing care to take a shower or bath by themselves helps to preserve their dignity, while caregivers find comfort in knowing that their parents are less likely to get hurt in an area of the home notorious for falls." Another area of bathroom modification involves small safety add-ons that are typically the most commonly recognized in bathroom safety; grab bars and hand rails. Some customers do not favor the institutional look of a handicap stall that reminds them of a public restroom or the bathroom in a hospital or assisted living facility. The standard off-the-shelf grab bars are available from many sources, but are often resisted because of aesthetic appeal. Recently companies such as Moen, Grabcessories and Invisia have recognized the need for an aesthetic functional solution for these products. "The decorative fall prevention category is far less price sensitive than other DME categories," says Scott Blakely, President of Grabcessories. "Once consumers make the decorative decision, they have decided to pay more for it. From there, it's about safety, functionality and meeting the end user's mobility needs." New innovative designs such as the LiveSafe Mounting System, that is included with the Grabcessories products, makes the installation of the product simple to complete without the challenges of using an off the shelf wall anchor system or attempting to line up the grab bars with wall studs (grabcessories.com). Don't let the myths and misconceptions of bathroom accessibility keep you out of this market— safety starts at home. As you approach this market, remember that safety in the bathroom is not just for the aging population. Manufacturer partners have the tools that you need to fulfill both the functional and aesthetic needs, and the tools required to evaluate and install these products are readily available and easy to use. This article is part of a 12-month home accessibility series. Each segment will focus on a particular aging-in-place need to provide the insight and resources necessary to be successful in this growing market.