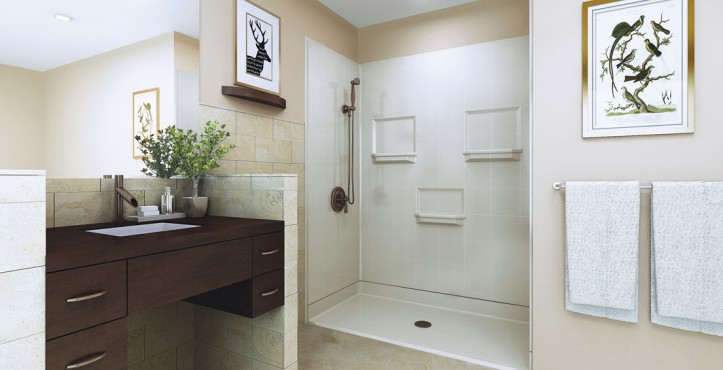 Embracing accessible design is not just for seniors, but it also benefits millennials, Gen-Xers and baby boomers in making their home more efficient, easier to use and safer
Universal design is, by definition, for everyone. When successful, it works equally well for people of every age, stature and ability. This thoughtful design method has applications that can benefit practically every inch of the home, with dozens of smart ways to make each room work better for all. Perhaps nowhere can have more impact than in a highly functional space such as the bathroom, with its intensely hands-on features and inherent safety concerns.
Experts agree that the best time to think about integrating universal design principles and features into a bathroom is before a life change or emergency happens. The perfect opportunity to build in these features is when a client is planning a remodel, an addition or a brand new space.
Embracing accessible design makes sense to seniors who might be experiencing some diminished physical abilities. Chances are they have already been thinking toward the not-too-distant future or when they may face a choice between staying in their homes and moving to an assisted-living facility. But it can be a harder sell for millennial or Gen-X homeowners, or even those born at the tail end of the baby boom era. They are healthy and fit, and they plan to stay that way. They can't imagine even breaking a leg, much less developing a chronic, debilitating illness. And as many will say, they aren't planning to live in their homes forever.
The truth is, about one in four of today's 20-year-olds will become disabled before they retire. They—and, in fact, any and all of us—may need in-home personal care at any time, whether due to injury or illness, either temporarily or long-term, a scenario most people don't think will happen or don't include in their future planning. But design, building and homecare professionals owe it to their clients to start the conversation.
Employing universal design features can make a bathroom more efficient, easier to use and safer. Not only for its residents, who might span generations, but for any future caregivers, whether loved ones or professionals. It even has the potential to reduce health care costs in the long term. And implementing universal design in the bathroom is a smart choice for reasons that go beyond aging and disability. Below are a few.
It's great for kids. Many universal design features benefit little ones, as well as older adults and wheelchair users. Doors and faucets with lever handles are just as friendly for smaller hands as they are for weaker or arthritic ones. A lower countertop is great for seated users and kids alike. A handheld shower on a slidebar can accommodate users of all heights, whether they're standing or seated.
 
It welcomes visitors. Ask any homeowner who's had to put their elderly or disabled relative up in a hotel instead of hosting them in their home because of mobility barriers. It's disappointing for everyone. Building in accessibility allows your clients to accommodate their loved ones for a weekend, a week or for longer, if necessary.
 
It promotes long-term wellness. Besides helping users avoid injury, a bathroom that's easier to use for everyone reduces the stress level, whether a mom bathing the kids or a senior with mobility issues. Bathing rituals can be nurturing and calming, as they are meant to be.
 
It's invisible. Universal design features can make a bathroom as attractive as it is practical. That's because the best universal design is virtually invisible, with its functionality hidden. Savvy manufacturers are creating products that can make a bathroom both highly efficient and beautiful, which is the polar opposite of the hospital with its cold, institutional spaces that many of us picture when we think of accessibility.
 
It's a smart investment.Universal design is a savvy method of planning for the future in more ways than one. Even if a homeowner doesn't plan to live in their home for the long term, the accessible features they have included are a guaranteed selling point for a large portion of the home-buying population—aging baby boomers.
 
Once a homeowner is receptive to the idea of incorporating universal design in the bathroom, the next step is deciding how completely to embrace it. This will depend on the amount of space they have, their budget and how different features stack up by priority. Following are ideas for creating a bathroom that's perfect for everyone, from planning the space down to considering the smallest details.
Space Planning
Put the bathroom on the first level. Ranch-style homes have a built-in advantage because there are no stairs to hamper access. For seniors planning their forever home, a single level is, by far, the preferred layout. If the layout of your client's home includes a second story and/or basement, encourage them to consider creating a main bathroom on the main floor to ensure that it's accessible for the long haul.
 
Make it seamless. Consider foregoing carpet in the bedroom or hallway and keeping flooring consistent between that room and the bathroom. That way, homeowners can avoid trip hazards such as metal thresholds. A shower with a low or no threshold makes entering the space easy for those who use wheelchairs or walkers. Barrier-free shower modules are available in dozens of styles, sizes and configurations. Other accessible shower types include a semi-permanent threshold that lets homeowners easily mount a shower door. Additionally, shower companies—such as Bestbath—design their showers with wood-backed walls so that grab bars can be added up front or later on.
 
Widen the doorway. Most doorways are between 30- and 32-inches-wide. Adding even a few inches—for a 36-inch-wide doorway—will make it easier for people who use wheelchairs and other mobility devices to access the bathroom. For maximum floor space and easier navigating, consider pocket doors, as they don't take up any valuable square footage. If a homeowner does decide on a traditional door, make sure it swings out of the room.
 
Build in enough clearance. Wheelchair-accessible bathrooms require at least five feet in diameter to allow a 180-degree turn. If space is limited, consider fixtures that save square footage to preserve more floor area.
 
Make it easy to add features later. Grab bars are a must for anyone needing extra support in the bath and shower. But younger homeowners might decide they are not ready to install them just yet. Integrating hidden structural supports during construction or a remodel allows for them to be added later. Experts suggest adding half-inch pressure-treated plywood over the framing on all bathroom walls, so that grab bars can be added wherever needed.
 
Features and Products
Float the vanity. A wall-mounted vanity can be placed at whatever height the homeowner chooses, making it a perfect choice to accommodate shorter or seated users.
 
Put a towel/robe hook right next to the shower. This ensures that these essential items will be handy and easy to grab at all times.
 
Take the grip test. When it comes to door handles, faucets and drawer hardware, choose simpler lever-style models over knobs that are harder to grip and twist with smaller or weaker hands. Designers recommend testing handles with a closed fist to make sure they are easy to use for all.
 
Wall-mount toilet. A toilet that mounts on the wall, with the tank behind it, saves space and lets you install the fixture at whatever height you choose. An added advantage of these models is that they are easy to clean.
 
Lower electrical switches and outlets. This makes a bathroom much more convenient in homes with kids and for homeowners with limited mobility.
 
Make storage accessible. Place shelves and drawers at heights that seated or shorter users can easily reach, both in the shower and in cabinetry around the sink.
 
Tips for the Shower
Include multiple water sources. To make a shower flexible enough for users of different abilities, consider including a traditional showerhead at one end, a rain-style showerhead in the middle and a handheld shower on a slidebar at the other end to accommodate shorter or seated users. Make sure the controls are placed low enough for everyone to operate them easily.
 
Choose products that do double duty. Some slidebar models also function as grab bars, which is not only convenient but also aesthetically pleasing. Many of today's grab bars are designed to look more like traditional towel bars and soap dishes than the institutional-looking products most of us are used to seeing.
 
Light it up. Good lighting is important throughout the bathroom, but it's crucial in the shower. Make sure to have adequate overhead lighting in the shower, and make the most of any natural light in the room.
 
Regulate the water temperature. Consider installing a pressure-balancing valve in the shower to keep the water from getting too hot.
 
Give slipping the slip. Designers agree that matte-finish tile and textured or honed stone such as travertine are better choices for bathroom floors than polished surfaces. Besides better traction, they offer easy maintenance and good looks.
 
Shower seats. More streamlined and design-friendly than a shower chair, shower seats can be installed in the shower, offering a more comfortable experience for users who have trouble standing. Bestbath offers a seat that can be attached to the wall with screws, thanks to wood-backed walls. Some models offer seats that are molded into composite showers.
 
Integrating universal design in the bathroom is a key first step to preserving a homeowner's independence for the future. Once they understand the benefits, chances are they will start thinking about how much sense it makes in the rest of their home. It's a promising start to creating a truly holistic environment, one where the living is easier for all.
Universal design is beneficial to people of all ages and can come in handy at any stage of life. While it is always ideal to plan ahead, sometimes it is impossible to plan for the unexpected. Universal design provides homeowners with peace of mind no matter what life may throw their way. The truth is, universal design hides its practicality behind its beauty.