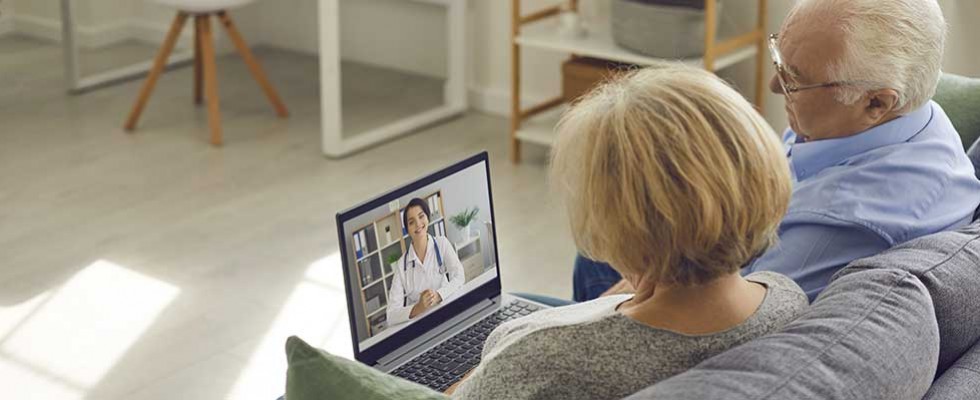 It's time for HME to seize the opportunity in remote care
The ongoing COVID-19 pandemic has drastically shifted how providers interact with and care for their patients. Key to this shift was the acceleration of emerging technology trends that have digitized provider workflows and patient touchpoints and, as a result, contributed to health care that is more accessible, convenient and transparent.   
Telehealth is a prime example. The Department of Health and Human Services (HHS) reported that nearly half of Medicare primary care visits in April 2020 were conducted via telemedicine, compared with fewer than 1% in February 2020. One year later, in April 2021, United Health Group subsidiary Optum Health reported in its annual earnings call that the demand
for telehealth remains at least 10 times higher than pre-pandemic levels. Looking ahead, consultancy Frost & Sullivan anticipates the total health care market could go over $2.6 trillion by 2025, largely driven by demand for digital health applications including telehealth.
Adopting telehealth amid the pandemic was a medical and business imperative, as Ernst & Young put it. Mass adoption was made possible in part by eased regulations, as HHS announced in March 2020 it would not impose penalties on provider organizations using telehealth methods that did not comply with the Health Insurance Portability and Accountability Act of 1996 (HIPAA).
This move was critical to ensuring that patients could access care during the pandemic, but it also led many providers to cobble together technology solutions that may not be viable or efficient in the long term.
With patients newly accustomed to digital provider interactions and consumerism undoubtedly on the rise, telehealth will remain a valuable method of care delivery for years to come. The opportunity for providers today is to reevaluate and be more thoughtful about their telehealth strategy to hedge upcoming regulatory changes and solidify telehealth as a permanent offering once the pandemic is behind us.
Telehealth in HME
Many in the home medical equipment (HME) industry turned to telehealth during the pandemic, and specifically to video interactions with patients to offer remote troubleshooting, patient setups and even fittings that wouldn't otherwise have been possible. In the sleep market, stakeholders launched step-by-step guides to assist HME providers with remote setups; in one case, that meant a tool to help with mask selection, after a recent survey revealed that 55% of HME respondents felt mask selection was the most difficult task to navigate in remote setups for CPAP therapies for
sleep apnea.
Responding swiftly to the changing environment led many HME providers to adopt readily accessible and low-priced video technologies like Zoom, Skype or FaceTime to keep business and patient care moving. While these technologies have been easy to implement and use, they are largely stopgaps, as the workflows are not integrated out of the box to capture discrete data and document interactions or to work seamlessly with other applications.
Not only that, but many of these technologies are not HIPAA compliant, putting providers at risk when HHS eventually tightens regulations around telehealth interactions.
Playing a Bigger Role
Changing regulations brought on by COVID-19 are accelerating other out-of-hospital care trends as well. In November 2020, the Centers for Medicare & Medicaid Services (CMS) expanded its Hospital Without Walls initiative, creating additional flexibility for health care services to be provided outside of the hospital setting and in a patient's home to increase capacity amid the pandemic. As of earlier this month, 53 health systems and 116 hospitals across 29 states are participating in the program.
Along with this evolving hospital-at-home model is a general desire among seniors and patients to age in place and receive care at home. This has led many organizations to look into delivering more complex care at home, including skilled nursing and palliative care.
With this rise in care-at-home models, HME providers will become even more involved in their patients' care journeys. And the patient interactions they're having and data they're collecting will become even more sophisticated, creating the need for solutions that can scale and sustain the changes ahead.
Additionally, the pandemic has accelerated the expectations of patients for better consumer experiences. Through the pandemic-accelerated rise in ordering groceries for delivery, shopping with next-day expectations from Amazon and other retailers, and scheduling and completing telehealth visits with their physicians—to name a few examples—populations that include HME patients now increasingly expect seamless workflows and visibility into the care process for themselves and their loved ones. This includes expectations around visibility into orders, coordination of scheduling telehealth and other impacts. A smart telehealth strategy increasingly needs to be integrated to other workflows to meet this rising demand.
Seizing the Opportunity Ahead
Providers today therefore have a new opportunity to create a thoughtful telehealth strategy that optimizes workflows and allows them to be agile even in the face of tightening regulations.
To begin this process, providers should consider where in their business it makes sense to permanently engage in telehealth and in which scenarios face-to-face interactions will be preferred. Once providers have a sense of the optimal workflow for their business, they can source HIPAA-compliant, workflow-enabled, thoughtful solutions to achieve their vision. These solutions will increasingly need to interact with their other information technology systems as well.
As holds true in the rest of the health care space, we recommend that providers speak to their technology vendors and referral sources alike to align expectations and to understand optimal community workflows. Being proactive and making telehealth a long-term, sustainable fixture in business will help HME providers meet rising demand from patients and out-of-hospital care partners, while putting them above the competition as forward-thinking, patient-centric organizations that are poised to thrive amid the changes ahead.