Providers are relying less on traditional sources of insurance reimbursement
Friday, October 10th, 2014
There was a time when a standard power wheelchair carrying the HCPCS Code K0823 reigned in the mobility market. It was king of an industry driven largely by Medicare reimbursement. But competitive bidding, prior authorization rules, audits and other restrictive policies have taken toll on what was once a powerful dynasty. The king is wounded, if not dying, and marketing strategies are shifting, with providers now relying less on traditional sources of insurance reimbursement. Instead, many now depend on cash sales, and they are attracting customers with a wider variety of mobility products and accessories. Expect the trend to continue, experts say. "Just like in the scooter market, DME retailers are looking for ways to sell power chairs for cash," says Pat O'Brien, director of marketing and merchandise for Golden Technologies. "Cash is becoming king in the consumer power chair marketplace." For example, according to O'Brien, Golden offers noncoded cash power chairs such as the LiteRider PTC. This line of compact chairs features a tubular steel frame design and a basket under the seat. The LiteRider Model GP162 features a base that disassembles from the transaxle, making it very easy to transport. And it has a price that many consumers can afford. Chris Smolinski, associate business manager for consumer power and scooters at Invacare, agrees that the focus is shifting to cash.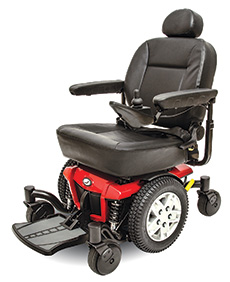 The Jazzy 600 from Pride features side-mounted freewheel levers.
"The HME retail market is receiving an extra push with new cash sales opportunities," he says. "The best advice that I could give to a provider is that there is life outside of Medicare. The retail business is the light at the end of the tunnel." Smolinski noted that 11,500 baby boomers become eligible for Medicare every day, and that will continue for the next 15 to 20 years. So expect to see a steady increase in the number of Americans who need power mobility. But meetingthat strong demand will require some extra effort," he says. "To attain exceptional levels of success in retail business, one has to be willing to go the extra mile," says Smolinski. "In addition to maintaining an attractive storefront where people will want to spend time and filling the store with the best selection of products for you and the consumer, you have to be on top of your game in terms of an effective sales strategy…one must embrace change and be proactive. The business is not going to automatically appear. Providers must actively target and pursue customers and give them a reason to come to their stores and buy their products." Brandon Sykes, director of manual and power mobility at Drive Medical, also sees the movement toward cash sales of power mobility products, including wheelchair accessories. "That's been a good shift for a lot of providers," he says. "The reimbursements are cut. The utilization of the Medicare codes is down. And to help keep their lights on, they are showing consumers what benefits they can get from their chairs by adding on accessories."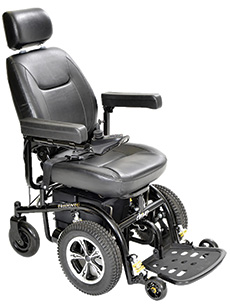 Drive Medical's Trident power wheelchair offers a semi-reclining seat with adjustable headrest.
Drive, like many manufacturers, still offers many wheelchairs that are coded for Medicare, but also has products for the cash market. However, when it comes to wheelchairs, cash-paying customers often prefer scooters, says Sykes. "They may look at power chairs and see the connotation of disability," he says. "So when people are spending their own money, they will buy scooters for cash instead." There even has been some movement away from the standard K0823 power wheelchair by providers who are still reimbursed through Medicare, says Sykes. "The K0823 has been the highest utilized code for years. Providers are moving more toward diversifying the billing codes and looking at other chairs in Group 1 and Group 2 that may be a better fit for that patient." Jay Brislin, vice president of Quantum Rehab division of Pride Mobility, says that the market for Type 3 complex rehab wheelchairs remains strong because those products were excluded from competitive bidding. "That market continues to grow," he says. No matter what type of wheelchair is being marketed, the basics of solid design and practicality remain important, according to Brislin. "We need to advance our products. The world doesn't need another power chair; they just need a really good one that people can rely on and they feel really comfortable with, that can help them with their daily living and independence." J.T. Johnson, director of marketing for Heartway USA, says his company is putting a lot of effort into scooters, but also has a new line of wheelchairs coming out next year. "We're coining the phrase 'active wheelchair,' " he says. "It's going to be very customizable, and easily utilized on a lot of different fronts—headrest, footrest, seat form, armrest." It will be more than a standard power wheelchair, but less than a complex rehab wheelchair, says Johnson. "We're trying to make it uncomplicated. It will allow people to customize chairs for themselves."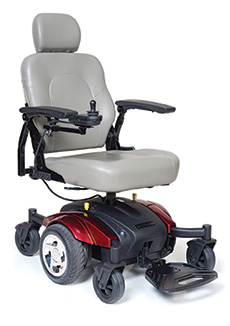 Golden Technologies' Golden Compass Sport is newly updated for an even smoother ride.
John Wright of Shoprider Mobility Products says the power wheelchair industry is moving away from Medicare. He knows providers who have turned Medicare's exhaustive red tape into a retail opportunity. If somebody comes into their stores looking at wheelchairs, they tell customers that Medicare is supposed to pay. But they also provide customers with a list of medical documentation that is required by Medicare before they actually will pay. "By the time they are done with that story, the beneficiary or the family members are saying, 'To heck with it. What are our options? Can I just buy it outright? Can I pay for it over time, or whatever?'" In fact, consumer loans are offered through his company for its products. "I can take a sale anywhere from about $300 to about $12,000. I can finance that over time, up to 60 months if need be." Give customers options, he says. "Don't just sell the wheelchair. Sell them the package. Sell them everything they need in their homes. You have to do an assessment of their individual situation. Understand everything that a person is going to need to remain functional and fully independent." Providers are starting to think that way, he says, but some aren't. "You see a lot of them go out of business because they just wanted to deal with Medicare."