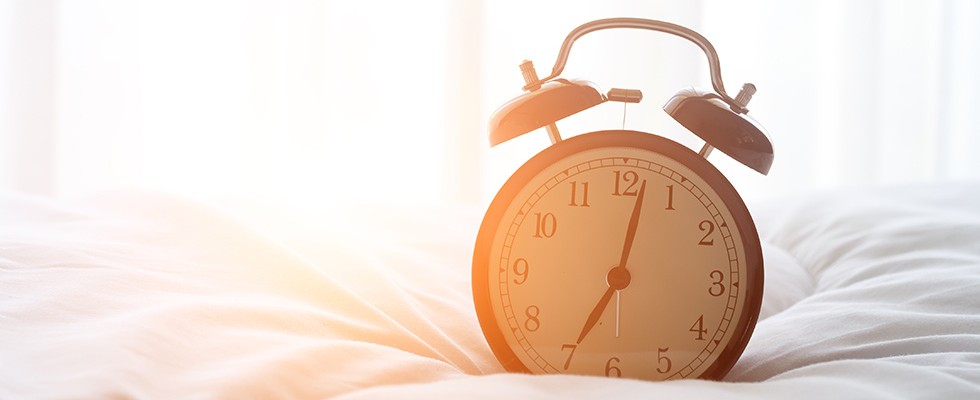 Getting a good night's sleep
The average adult does not receive the proper amount of nightly sleep needed to sustain a healthy, active lifestyle, according to the Centers for Disease Control (CDC). Sleep is important at every stage of life, but especially so for those with medical conditions or in their senior years who wish to age in place.
It is crucial to take proactive steps toward a safer home and healthy aging plan as early as possible. With interest in health and wellness reaching an all-time high among consumers in recent years, many new products are entering the market to help people achieve their best sleep based on their individual preferences, accessibility or home safety needs.
Tech-Savvy Sleep
A surge of innovative sleep products is integrating with technology to enhance sleep quality for older adults and make aging in place more feasible. For instance, the Manta Sleep Mask blocks out disturbing light and noise while providing a built-in noise machine for the most soothing sounds to help you drift off to sleep. Light therapy glasses are another emerging innovation. These glasses emit a specific wavelength of light that is believed to help regulate the body's natural sleep-wake cycle. Exposure to this light can help individuals who struggle with sleep disorders such as insomnia. The AYO light therapy glasses help keep your circadian rhythms in synchrony for a night of more restorative sleep.
Smart home systems such as Amazon Alexa and Google Assistant can be game-changers for people who want to age in place, and IFTTT (If This Then That) offers easy automation for various apps and devices. These systems allow individuals to control aspects of their homes, such as lighting, heating and security, from a single device. For example, they can turn off the lights or adjust the temperature without having to get out of bed, which can be a significant benefit for people with mobility issues. Smart home systems also offer a range of safety features, such as fall detection, emergency response and home automation. Emergency response features can automatically contact caregivers or family members if an emergency occurs.
Smart beds with sleep and health monitoring devices like the Dawn House Bed System include passive built-in sensors that measure sleep quality, heart rate, movement and more. Each morning, the results are available in the Dawn House app for personal use or for sharing with a family member or medical care provider for further health insight.
To help achieve better sleep, the Dawn House Bed System also features motion-activated, under-bed lighting, bed height adjustment, an optional support rail, a rise-to-wake setting and three options to control bed adjustments: app, voice commands or an ergonomic wireless remote. The bed was designed to cater to individual needs while also allowing couples to sleep together.
For people who have impaired hearing or are looking for an alarm clock alternative, pairing your bed system with the Pod 3 mattress cover can be a winning combination. It silently wakes each sleeper with chest-level vibrations and gradual thermal changes for a gentler wake-up call.
Health monitoring wearables have become a common function for many daytime devices, such as watches and phones. Wearable devices have become increasingly popular, and they can be especially beneficial for older adults. For example, they can be used to monitor blood pressure, heart rate and day-to-day activities.
Sleep's Ripple Effect
Sleep is particularly crucial when the body is vulnerable because of an injury or chronic health condition or as a result of aging. A lack of quality sleep can exacerbate conditions such as anxiety, depression and cognitive decline.
How you sleep is important, and the ability to adjust head and foot articulation specifically benefits conditions ranging from diabetes to bodily swelling and even cardiovascular health. A flat mattress is also not as conducive to comfortable sleep for those with back pain or spine injuries.
Quality sleep is especially vital for:
Women: Women suffer from sleep disturbances at a higher rate than men with conditions such as sleep insomnia and restless leg syndrome. Insomnia is specifically common in women who are premenopausal. Yet fewer than two-thirds of adult women get the needed seven to nine hours of sleep a night, according to the CDC.
Diabetics: People with diabetes should sleep at least seven hours a night, or their diabetes can become difficult to manage with an increased risk of insulin resistance or increased hunger the following day. Dexcom allows individuals to view their glucose data, even from sleeping, through both Apple and Android phones and watches.
Older adults: While adults 65 and older need about the same amount of sleep as a 30-year-old, a lack of sleep can create health and safety issues for seniors, with increased risks of falls or, if the lack of sleep is ongoing, memory issues.
Improving your sleep improves your quality of life—and can help create a longer life.   
What's Next in Sleep Innovation
A new trend that is gaining more momentum, including being used by a dentist who participated in this year's Boston Marathon, is mouth taping. While there's still little research into its effects, the method uses a porous tape to cover both lips and encourage nose breathing, which is also said to reduce snoring during sleep. Additional benefits claim to be a reduction in fatigue, concentration issues, bad breath and excessive thirst at night.
Personalized medicine is becoming the norm, with customized patient treatment based on testing, genes and your specific disease. Our goal for the future would be to support this type of personalized care by monitoring, reporting and sharing health data such as sleep apnea incidents or weight changes that can provide medical professionals with additional information to plan treatments.
It's about more than a good night's sleep. It's about having the opportunity to live a good next day—living as independently as possible, spending time with family and doing the things you love. It's about a life well lived