Broader approach and emphasis on resupply drives a move to total sleep solutions
Wednesday, September 3rd, 2014
The predominant trend in the sleep-disordered breathing market is away from emphasis on specific products and toward sales of a "total solution." Kristie Burns, vice president of solution marketing, ResMed, notes that, in the past, payment was sometimes based on "episodic activity," such as setting up a CPAP machine, whereas today payment is more often based on a demonstrated outcome. Enabling the broader approach are new technologies in the area of patient monitoring and engagement (including ResMed's U-Sleep product). Use of such tools enables providers to serve patients efficiently with fewer direct touch points, while achieving clinically proven greater compliance. Burns says providers should depend more on their equipment suppliers to help them deal with the climate of lower reimbursements. Suppliers stand ready to guide providers toward a seamless sleep practice to treat more patients without adding staff. Providers should embrace patient-engagement systems, not be wary of technology complexity or to ask manufacturers for help, she says. "Some of the dealers are paralyzed to take the time to figure it out; they are just trying to survive," Burns says. In fact, there are cost-effective solutions that are much more cost-effective versus manual processes. "The relationship with the patient isn't just a setup, it's a lifelong relationship," Burns says. For example, many providers lose business by ineffectively managing the "handoff" from compliance to resupply. "HMEs who will succeed are embracing the changes and looking throughout their organization and how they do things," says Burns. "How you operate is more an indicator of future success than asking 'can I have that product $3 cheaper?' How providers evolve their organization to take care of a chronic-disease patient is the way they will thrive in the future." It's a mistake for providers to think they don't have time to spend with patients in the era of lower reimbursements, says Burns. "HMEs who are thriving are the ones who do spend time with patients, or maybe I should say spend time differently." Today's data solutions provide more information to enable providers to focus their efforts on non-compliant patients who need it, i.e., to manage by exception, says Burns. Among a wealth of new products helping to drive compliance is ResMed's new AirFit series of masks, now including pillow, nasal and full-face varieties. Clinical evidence supports the contention that patients are wearing the masks longer and better outcomes, says Burns. ResMed also has focused on gender-specific differences, including the "For Her" line in the AirFit series, which addresses female gender issues such as hair management and mask size.
Needed: Behavioral Change
A CPAP device alone cannot result in dramatic improvements in patient adherence and outcomes, agrees Mark Aloia, senior director, global clinical research, Philips Healthcare. Rather, a broader behavioral-change approach is needed to motivate patients to stick with CPAP therapy. "New technology is enabling patients to have a greater hand in their care," says Aloia. "We are working to employ behavioral-change models to guide us to help patients better adapt to and use their therapy. As we employ these techniques with CPAP, we learn which methods work so that, in time, more and more of the patients we serve can benefit from these programs and services." For more than three decades, Philips Respironics has supplied technologies and solutions across the sleep-care cycle, focusing on sleep-disordered breathing diagnosis, therapy and compliance. As a total solution provider, Philips offers a range of sleep diagnostics, sleep therapy devices (PAPs), a comprehensive portfolio of masks, services and support tools. With diagnostic options for basic to advanced studies, Philips offers in-lab and portable sleep testing systems that can be used in the home. The company also has a full line of quality sensors and validated auto sleep study scoring software. Philips' sleep devices range from entry-level CPAPs to more advanced solutions. Philips' mask portfolio includes full-face, nasal, pillow, gel and hybrid options, providing solutions that streamline inventory for providers and promote quick acceptance and long-term use by patients. To complement these product offerings, Philips provides services such as compliance management, a patient self-management system called SleepMapper, and resupply tools designed to help homecare providers thrive.
Technology Evolution Boosts Efficiency
With the advent of competitive bidding and additional reimbursement pressures from third-party payers, HMEs have three pressing needs: ensure patient compliance to qualify for reimbursement; find new, more efficient ways to handle patient volume; and hasten the reimbursement process. U-Sleep, a CPAP monitoring and compliance management software solution, addresses all three by coaching patients in therapy compliance, helping HMEs manage their patient base by exception and providing the appropriate reporting to facilitate claim filing. Umbian, a wholly-owned subsidiary of ResMed, is creator of U-Sleep, which is used by home medical equipment providers across North America.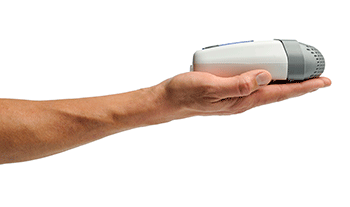 Human Design Medical's Z1 portable CPAP machine weighs less than 10 ounces.
HMEs are looking for new ways to make their workflow more efficient to scale up and manage growing patient volume, says Rob Levings, vice president heathcare informatics, ResMed. U-Sleep and similar systems can both automate the messaging that might otherwise require human intervention and improve CPAP therapy compliance. A recent American Thoracic Society study showed that using U-Sleep reduced labor associated with intervening and coaching patients by 59 percent, while also showing an observed 10 percent increase in compliance. Healthcare technology to address the needs of providers, patients and physicians is evolving very quickly, says Levings. Providers shouldn't think technology is expensive or complicated to integrate. For example, patient engagement technology, which can deliver contextual coaching content to patients based on sleep outcomes—potentially to their mobile device of choice—can be a useful tool to aid in increasing compliance. Integrations to third-party software applications, such as billing or EMR/EHR systems, are valuable to providers, allowing them to manage their sleep business within an application they operate every day, thus streamlining their workflow. U-Sleep supports both these technologies. The cost-effective and seamless solution can generate new operational efficiencies. In the future, the application of data analytics will make applications "smarter," driving further value to stakeholders in the sleep industry, says Levings. Getting the initial set-up right the first time is critical to giving patients a positive experience. Providers should then keep their therapy a positive experience by engaging them with proactive monitoring and coaching. Technology, such as U-Sleep, can drive efficiencies and patient outcomes. While each provider's needs are different, the effective adoption of technology can have a significant impact on business success, says Levings.
A Cash Sale Opportunity
"DMEs are looking at more retail sales, and the sleep market is sliding into that area," says Steve Moore, senior vice president of sales and marketing, Human Design Medical (HDM). HDM supplies the Z1 compact, portable, fixed-pressure CPAP machine with an integrated battery solution for travel or even use outdoors, which was introduced in November 2013. "Retail business is growing, and DMEs are looking to get into the game. There are folks who don't want to get involved in competitive bidding, some didn't get a bid, and others got a bid and wish they hadn't. [The Z1] is an opportunity to grow their business in a more profitable way." The Z1 weighs less than 10 ounces. Although the Z1 is coded for reimbursement by Medicare and could be used as a primary CPAP machine, most business will likely come from cash sales of a second CPAP machine for customers to use for travel, says Moore. A version of the Z1 with auto-titrating functionality will be introduced this fall. HDM's Z1 meets the needs of people who want to travel in an RV, go hunting or camping, or otherwise need a portable device with a battery option. HDM's philosophy is to create "lifestyle medical devices," says Moore. In fact, Moore sees an opportunity for "hyper growth" in the sleep sector, driven largely by retail sales. "Once we get over the mindset of what's happening with third-party payers and competitive bidding, here's a great opportunity to embrace," says Moore. He sees emergence of more "sleep-only" HME stores, greater Internet sales, and more HME/DMEs devoting whole sections of their business to sleep.
Affordable Equipment, Expanding Market
A trend among manufacturers is to make equipment more affordable, given the lower reimbursements, says P.J. Ruflin, director of national accounts, Sunset Healthcare Solutions. Lower reimbursement also is requiring that HME providers look at their business in smarter ways, seeking out cost-effective solutions. Slim margins don't leave providers room to play around. "Anyone in the industry has to expect changes will continue to occur," he says. "Our industry will not hide from these reforms. We have to keep a positive outlook. There are ways to succeed in the larger healthcare market." "You have to run your business in a smart way, making sure you reach each patient individually in the best way for them," says Ruflin. Adding new cash sales can provide additional revenue outside reimbursement schedules. Some providers leave revenue on the table by not pursuing resupply business, he notes. "Resupply is key," he says. "It's the basis of Sunset Healthcare's business."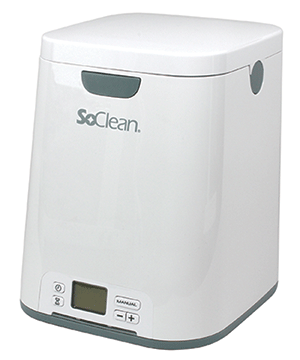 Sunset distributes a cash-sale machine that cleans and sanitizes CPAP equipment
Sunset Healthcare Solutions is a supplier of respiratory disposable goods and specializing in CPAP masks, tubing, filters, chin straps and other supplies as well as cash sale items such as lotions and aroma therapy. Sunset is distributing a new cash sale item called SoClean2 by Better Rest solutions, a machine that cleans and sanitizes CPAP equipment. Keeping supplies clean can help drive compliance, Ruflin notes. Ruflin says the demographic for sleep- disordered breathing customers is not limited to the elderly. There are also many younger patients, some of whom do not go through the process of being diagnosed. The negative impact of untreated OSA on general health may not be well understood, especially among younger people. The opportunity presented by the vast number of people who remain undiagnosed and untreated is huge—fewer than 15 percent of the population who suffer from sleep-disordered breathing have been diagnosed and treated. New research and medical community efforts are actively increasing that number. Therefore, HMEs will need to think now about how to scale their businesses to meet the likely increase in demand for CPAP-related services, says Levings. Also, the expectations of patients and referral partners are changing with respect to technology. "We now live in an interconnected world where people are much more comfortable with technology as a means of communicating and running their lives and businesses," says Levings. "There is a growing expectation that health care providers will be current in terms of the services they can deliver via these emerging technologies."
Boost Resupply Revenue Now
Considering that competitive bidding looms for the rest of the country in 2016—including rural areas—now is the time for all HMEs to maximize their resupply revenue, says Russell Parker, COO of Revsuppliance. "Those in non-competitive-bid areas should understand the need to invest now to make hay while they can," he says. "They don't have the people and time to go get this revenue now, but they should sit down and do the math. Don't wait until 2016 to make the smart decisions. " Revsuppliance partners with HME companies to provide a complete resupply solution, including patient follow-up, inventory management and shipping services. The company seeks to help providers maximize their resupply revenue while achieving higher quality of service. Revsuppliance serves clients in five states—Arkansas, Oklahoma, Colorado, New Mexico and Texas—and is in the process of going national. Revsuppliance takes over each supplier's sleep database as the first step to manage resupply, handling everything except the billing. The company uses no electronic communication systems (robo-calls), but instead operates a call center to contact each patient. Patients must answer seven questions in the affirmative to qualify for resupply. Using live callers is especially important among older populations who are likely to hang up on automated calls and/or may struggle to respond appropriately to prompts. Outgoing calls from Revsuppliance include the name of the local HME; each Revsuppliance client is assigned its own telephone line. Customers assume the calls are coming from the local HME. "About 95 percent of the money we generate (from resupply) is new revenue," says Parker. Although some providers get some "accidental" revenue from patients who proactively ask for resupplies, too often most of the potential revenue is lost. Medicare guidelines permit replacement of masks and tubes every 90 days (as do most other insurers). Parker says he has never found a provider (among his customers) who has not lost at least half of its patient base related to resupply revenue. In more than one case, recouping the lost revenue has made the difference in enabling a provider to keep its doors open, despite the impact of competitive bidding. Revsuppliance's business model is based on retaining about 20 percent of the revenue it generates. Some providers who do their own resupply may not be compliant with audit requirements, says Parker. CMS requires providers to keep shipping information for seven years. However, many suppliers depend on the United States Postal Service (USPS) to ship product, and the USPS only maintains shipping information for 60 days. To be compliant, a provider should print out the USPS tracking data and staple it to the ticket to prove delivery. Revsuppliance's system captures shipping data from the USPS website and stores it electronically on a server.