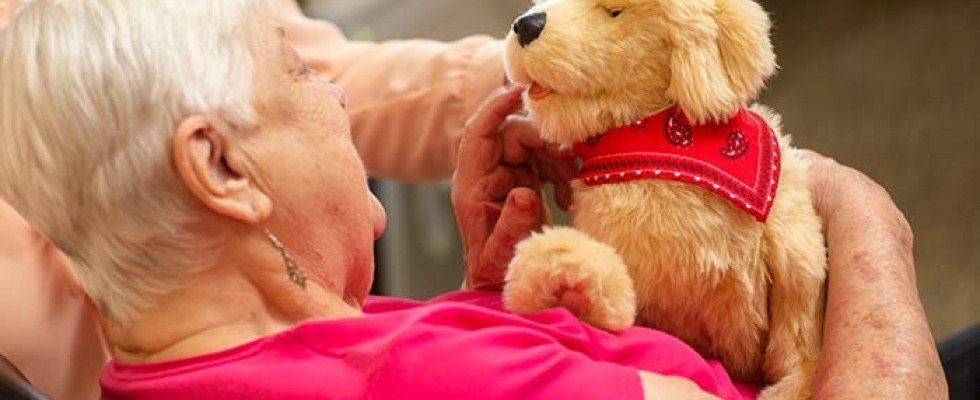 Using robotic pets to relieve isolation in dementia patients
Monday, September 9, 2019
As health care costs for a growing population of older adults continue to skyrocket, the opportunity to address patient needs has become saturated with expensive solutions, from pharmaceuticals to products to services. What if something simpler could actually help aging loved ones? What if it were as easy as a prescription for play?
As health care providers grapple with social isolation and loneliness or cognitive decline like Alzheimer's and other forms of dementia, could the power of play become a new model of care that not only addresses emerging health care challenges, but also stimulates older adults' well-being and leads them to live a fulfilling, fun and joyful life?
These questions ultimately led to the development of the line of Joy for All Companion Pets in 2015 (then part of Hasbro, and acquired independently as Ageless Innovation in 2018). The company conducted immersive market research, tapped into personal experiences with aging loved ones, and dug deep to create a product that would have a big impact while also reducing the cost of care for families and caregivers.
An Epidemic of Loneliness
The Pew Research Center recently conducted studies that prove that, on average, older adults spend more than half of their waking hours alone. Loneliness and social isolation have become an epidemic impacting so many: Up to 40% of Americans over age 45 suffer from chronic loneliness. People who are experiencing social isolation and loneliness are more likely to report having poor physical and/or mental health; they show links to serious health problems such as chronic lung disease, arthritis, impaired mobility, high blood pressure and depression; and their chance of premature death increases by 14%. With such jarring statistics, it's clear seniors are in need of companionship. Because friends and family are often far away, Ageless Innovation looked to animatronics, robotics and design to help on the mission to enhance the quality of life of older adults and their families.
To meet the unique needs of seniors, it was important to explore the products and features that would excite and engage them. Older adults wanted interactive, two-way companionship—meaning pets that could give love and receive it—and that influenced the design of the Joy for All Companion Pets. Built-in sensors allow the Companion Pets to respond to human presence and touch and to react to their environment.
Products like the companion pets work in tandem with caregivers to provide comfort through an experience that replicates real pet ownership, since many seniors are unable to responsibly care for a living animal. And the animatronic animals allow caregivers to focus more on patients' needs.
"We often considered pet therapy with volunteers using real pets, but not only was there concern for how our patients would interact with a live pet—the visit would be temporary and periodic," said John G. Beard, president of Alacare Home Health and Hospice, who used Joy for All Companion Pets within his community and published a study of their affect on hospice dementia patients. "When I found the robotic pets, I knew this could be a way of offering a soothing companion for some of our patients experiencing loneliness, depression or anxiety."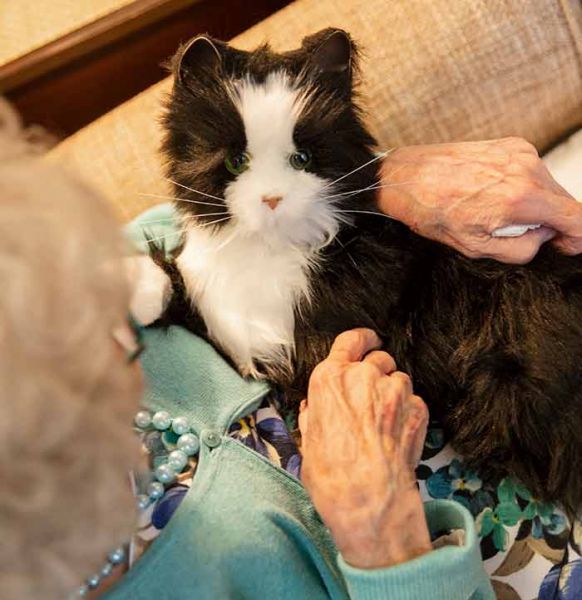 Combating Loneliness
An estimated 17% of Americans over 65 are isolated because they live alone and face one or more barriers related to geographic location, language or disability, and half of those older adults are considered economically unstable. Innovative approaches and new care models like the introduction of robotic pets help bridge a gap and address not only the care required, but the limited health care workforce and community resources available to patients.
Last fall, the New York State Office for the Aging launched a multi-county pilot program to combat social isolation. The program assesses community-dwelling older adults using a six question social and emotional isolation scale and brings Joy for All Companion Pets to clients whom the screening tool deemed isolated.
"Social isolation is a public health epidemic that costs Medicare millions. If we can impact a person's life for $99, we're going to," said Greg Olsen, the office's acting director. The pilot will wrap up at the end of this year.
A bonus benefit? Play isn't just for the seniors in the program—it's extended to caregivers, too.
"In my 27 years, this is the most fun project I've worked on," Olsen said. "To see the immediate impact has been tremendous."
Truly, it's so much more than fun and games—programs like Olsen's restore a sense of independence and dignity. Ageless Innovation wants to foster meaningful connections through play, joy and happiness, and several additional clinical studies and community programs using Joy for All pets have proven that it's working.
It's been a remarkable experience to see firsthand how the companionship and comfort of a furry, robotic friend can enrich the lives of seniors, whether in a homecare environment or community setting. Research results that prove the effects of companion pets note they enhance the well-being and quality of life of individuals with dementia, and patients who use them show a significant reduction in agitation, social isolation and expression of sadness.
It is my firm belief that play has no age limit, and that people of all ages and stages of life deserve to have fun and be happy. Play is a basic human need and the power of interactive play can absolutely improve the emotional health and well-being of those in health care settings.
Ageless Innovation was founded on a commitment to reimagine how people positively live and age together through the power of play, and companion pets are just the beginning, especially as technology and robotics become a significant factor in modernizing health care. According to Forbes, more artificial intelligence trends are emerging with the aim of improving patient outcomes and reducing the costs of medical services for patients and facilities.
People are never too old to play! As a company and as individuals, we've been touched by the impact we've seen thus far. We're inspired to continue to enrich the lives of older adults and uncover new avenues to bring joy, comfort, companionship and play into their lives.