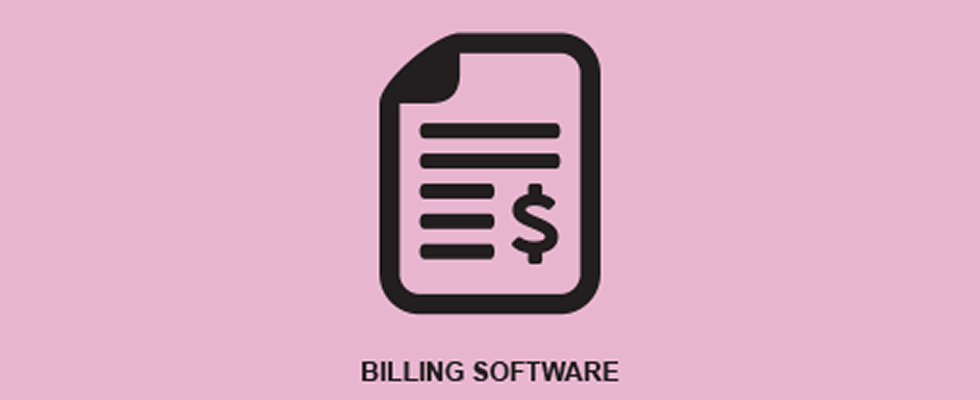 Wednesday, September 25, 2019
Billing Platform
QIRT
Under the Patient-Driven Groupings Model (PDGM), cycle times will be faster and it will be essential to get documentation right on the front end. QIRT's billing platform provides real-time views of cases as they progress through the system, providing transparency via easy-to-read dashboards. On the platform, QIRT billers check daily for rejections and/or denials, post payments and make proper revenue adjustments—visible in real time. Reports are run daily, weekly and monthly to help agencies improve workflow processes and operations on the journey to PDGM. Visit qirt.com.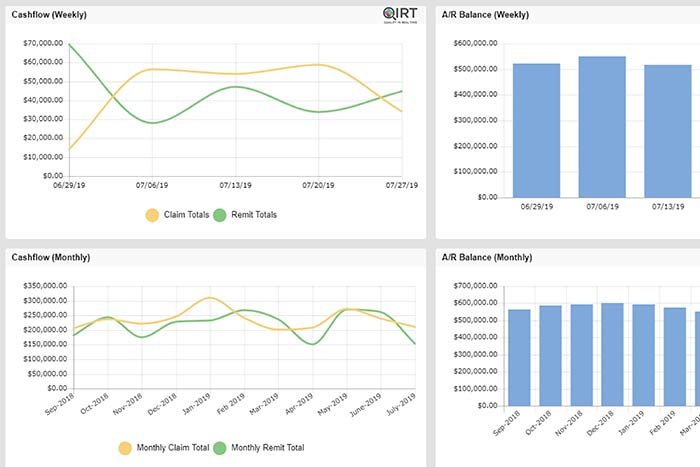 MyUnity Enterprise EHR
NETSMART
The Netsmart myUnity Enterprise electronic health record (EHR) leverages components of existing Netsmart solutions into a single, unified enterprise platform. The easy-to-use and easy-to-train solution offers a single patient EHR, a single care plan and a single patient bill. Powerful back-office functionality helps manage the complexity of scheduling, billing and reimbursement. By combining the unique requirements of each care setting into a single enterprise platform, organizations gain integrated transitions of care, streamlined intake and scheduling, simplified billing and the ability to manage patient care across multiple care settings. Visit ntst.com.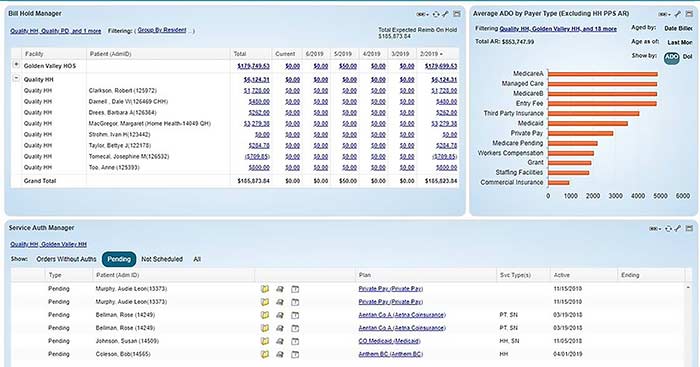 Cloud Solutions
AXXESS
Axxess has cloud-based solutions for total revenue cycle management. The company's expertise and intuitive technology empower providers with insights to submit clean claims while delivering patient-centered care. Axxess is a network service vendor with Medicare and has robust electronic data interchange connections so that clients can quickly submit claims and get paid 33% faster. A team of certified billing experts can manage all billing operations and deliver custom insights to boost payer compliance. Axxess offers no-risk recovery services to help providers recoup older claims to increase revenue and grow business. Visit axxess.com.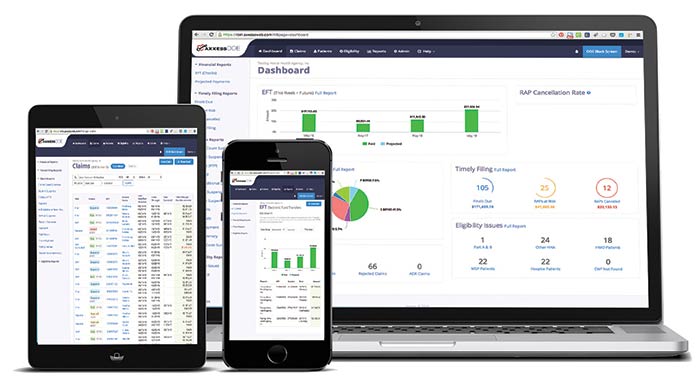 DataSAVVY
HOMASOFT
HomaSoft's suite of products creates a unified view of all your data from isolated silos, such as multiple electronic medical records from different vendors, billing and payroll systems. HomaSoft's flagship product, dataSAVVY, automatically pulls data from all sources using patent-pending Connect technology and presents real-time predictive CAP analysis, patient mix control, predictive operational risks and much more. HomaSoft combines business intelligence, mobile workforce tracking and automated payroll mileage reimbursement to help you control your operations while saving money and averting financial risks. Visit homasoft.tech.


Episodic Billing Console
POINTCLICKCARE
PointClickCare's Episodic Billing Console shows all claims for an agency's active Medicare census. For each request for anticipated payment (RAP) and final claim, the console displays the patient name, case manager, payer, days elapsed since the start of care and reimbursement amount. Expand a RAP or final claim, and the console shows all clinical requirements, along with claims still outstanding. When all requirements are met, the system automatically submits the RAP or final claim to the payer. Under PDGM, with its two 30-day billing periods, the Episodic Console will be a critical tool in agencies' ability to bill as fast as possible. Visit pointclickcare.com.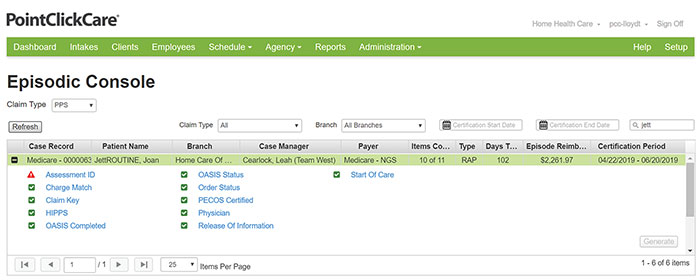 Electronic Medical Record (EMR)
& iPad Solution
MATRIXCARE/BRIGHTREE
When it comes to the post-acute market, MatrixCare/Brightree has a cloud-based platform that improves business performance and delivers better health outcomes. Home health, hospice and private duty organizations rely on MatrixCare/Brightree for a clinician-approved EMR and iPad solution, referral management and enterprise financial tools. Through a partnership with HEALTHCAREfirst, the company provides CAHPS surveys, billing, coding and OASIS review and advanced analytics. Visit brightree.com.
KanTime Healthcare Software
KANRAD TECHNOLOGIES INC.
KanTime Healthcare Software provides cloud-based enterprise software to home health, hospice, pediatric, private duty/homecare and consumer-directed services agencies. KanTime helps agencies improve clinical compliance, increase operational efficiency and achieve financial success. KanTime works seamlessly on any point-of-care device, be it iOS-, Android- or Windows-based, both online and offline. KanTime also offers robust business intelligence tools that allow upper level management to drill down into various clinical, financial and operational key performance indicators and take action. Visit kantime.com.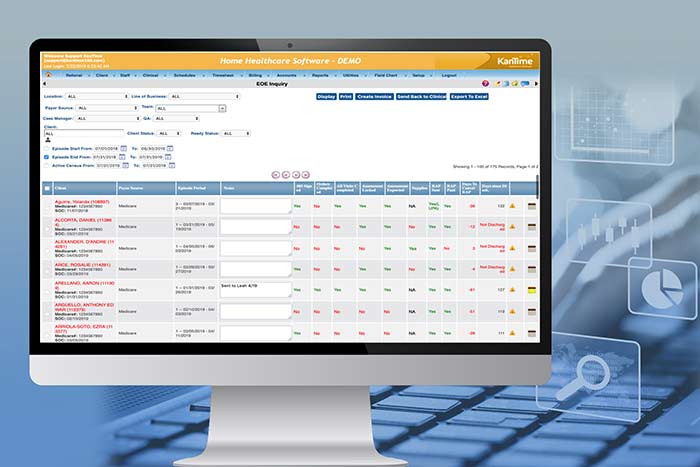 Home & Hospice Financial Software
CASAMBA
Casamba Home & Hospice Financial Software offers an all-inclusive platform to optimize financial operations. It offers clinical and financial workflows to ensure compliance and accuracy for required regulatory claim formatting and reporting that reduce claim denials and increase cash flow. The dashboard and standard reporting offer customizable parameters to further identify trends and address them to maximize efficiencies and ensure that operational goals are on track. Visit casamba.net.