Answers from Industry Experts
Monday, September 10, 2018
AXISCARE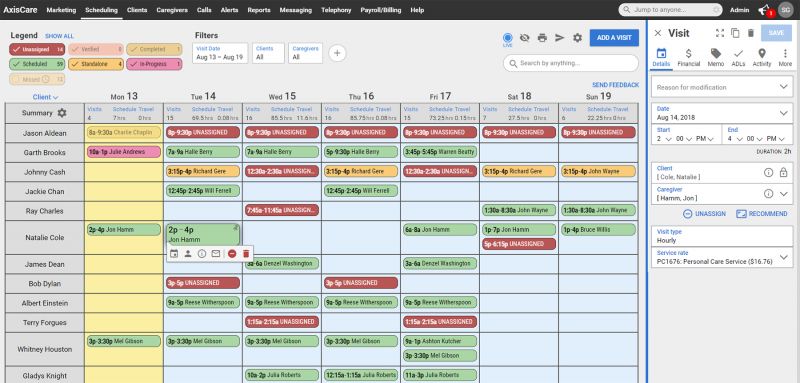 AxisCare Platform
Todd Allen, President and Co-owner
axiscaresales.com
What sets your company apart?
ALLEN: Flexibility—our platform provides customizations to help agencies get what they need out of the software.
Why does interoperability matter?
ALLEN: There's no one solution that handles everything the agency needs, so owners are choosing a platform that integrates with other platforms. Agency personnel are in their management software eight to 10 hours a day so it's easier if we wrap other services in to the AxisCare user experience. For example, we integrate with On Course learning for CEUs so administrators can access training results without leaving our system. Another example is our connection with Home Care Pulse for client and caregiver satisfaction tracking.
What trends are you watching?
ALLEN: Customization is an industry trend we're watching. More and more agencies are wanting a solution that grows with them. Owners want solutions that are tailored to them and their business model, but there is no solution off the shelf that fits every single nuance. Having a flexible platform that allows for each agency's business model is key.
How can software enhance the operations of a homecare provider?
ALLEN: Having a platform that manages all client and caregiver data and automates many of the scheduling elements is a huge time saver. A good software solution will reduce the number of clicks it takes to accomplish a task. The fewer the clicks, the better the experience. We want to keep this a people business but automate as many things as we can before and after the caregiver-to-client experience, because you can't automate that.
How does software help a company maintain compliance and reduce errors?
ALLEN: We can never eliminate every error entered by our users, but we can provide handrails to guide them in the right direction and allow for multiple data checks to catch mistakes. We know what the payers need, so we want to make sure accurate data is passed on to the entities. Also providing a robust live support desk to answer questions is helpful.
CASAMBA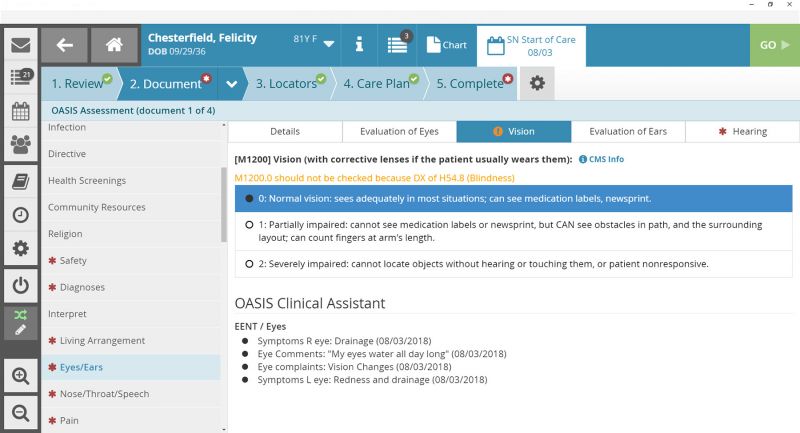 Casamba Home & Hospice
Brian Dwyer, Chief Revenue Officer
casamba.net
What sets your company apart?
DWYER: We have combined software companies that provide services across the post-acute continuum, enabling clinical and administrative data to flow as patients move across the places of service. This will enable Casamba customers, which are more often participating in multiple post-acute settings, to hold onto patients and more effectively administer care. The post-acute segment is experiencing consolidation both within and across the segments that make up post-acute care.
How does software help a company maintain compliance and reduce errors?
DWYER: Casamba enables clinicians to see the entire patient record, whether or not they have an internet connection in the home—an important feature to assure continuity of patient care. We also provide visibility into what administrative processes must be completed by clinicians in order to maintain compliance. Finally, we always guide the clinician to document against the care plan so every patient visit is conducted in a compliant fashion.
Why does interoperability matter?
DWYER: Health care is a system. Every provider has a role in making sure care is delivered with the goal of minimizing the chance of decline in patient status. With value-based reimbursement and hospital readmission penalties, it is key that each provider has visibility into patient data to meet that quality aim. For patient care to be seamless across the continuum, data must flow across the continuum.
NETSMART

Care Fabric
Dawn Iddings, SVP/GM of Post-Acute
ntst.com
What sets your company apart?
IDDINGS: We created a single platform that spans all post-acute care settings. We are active on many association boards. We are frequently called upon to provide input on proposed legislation. We know our clients need to go beyond a basic electronic health record (EHR) so they can prove outcomes and become a strong referral partner.
Why does interoperability matter?
IDDINGS: Interoperability is the fabric that bonds disparate systems together. It ensures that the right information is available to the right person at the right time. Integrated care practices, accountable care organizations, managed care organizations and initiatives such as health homes, all focus on integration and data sharing to close gaps in care, improve access to care, improve outcomes and reduce costs.
How can software enhance the operations of a homecare provider?
IDDINGS: Billing is more than just getting claims out the door; it starts at intake, ends at submitting payroll and is everything in between. Technology should enhance operations by providing a health checkup along the way with dashboards, forecasting tools and reports, as well as a complete document solution to assist with pre-claim review, additional documentation request (ADR) and recovery audit contractor (RAC) audits.
How does software help a company maintain compliance and reduce errors?
IDDINGS: An organization's IT partner should not only have the knowledge and expertise to understand compliance, but should also have robust analytics to help them benchmark and meet requirements and measures within the industry. Health care IT partners should have expertise in regulatory compliance that is specific to each community and state to ensure that the software is updated to meet guidelines and regulations in a timely manner.
CLEARCARE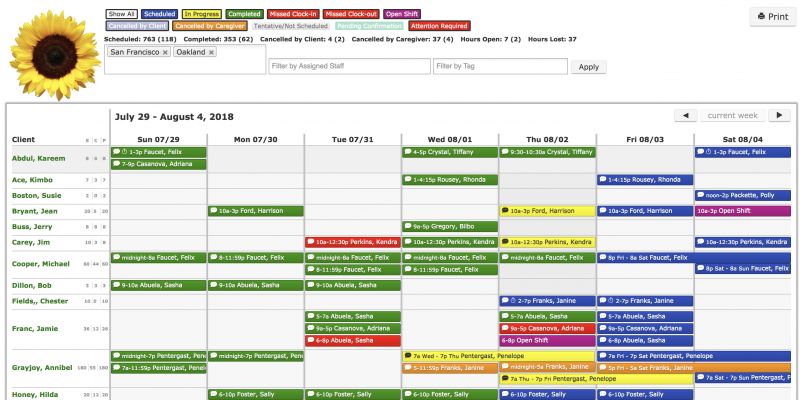 ClearCare Platform
Geoffrey Nudd, CEO
clearcareonline.com
What sets your company apart?
NUDD: ClearCare's SaaS and mobile platform supports all of the functions necessary to run a homecare agency, including billing, payroll, client-caregiver matching, messaging, reporting, CRM, applicant tracking, employment screening, business intelligence, payments and more.
Why does interoperability matter?
NUDD: Payers recognize that the top 5 percent of patients drive 50 percent of costs. For this population, it's not just clinical conditions that drive cost, it's things that must be managed outside of the clinical environment: functional limitations, social determinants and behavioral factors. These factors impede the patients' ability to care for themselves. Interoperability is just one of the things we need to help accelerate the evolving landscape in homecare and in health care.
What are the current challenges in the market, and what trends are you watching?
NUDD: Scale is increasing in the homecare industry with the changing reimbursement landscape. As such, we're seeing increasing sophistication and demand for enterprise-class capabilities that enable agencies to standardize and optimize their workflows at scale. The caregiver shortage remains front and center. We're seeing leaders in the industry optimize their processes around recruiting and retention to achieve a material competitive advantage in their markets.
BRIGHTREE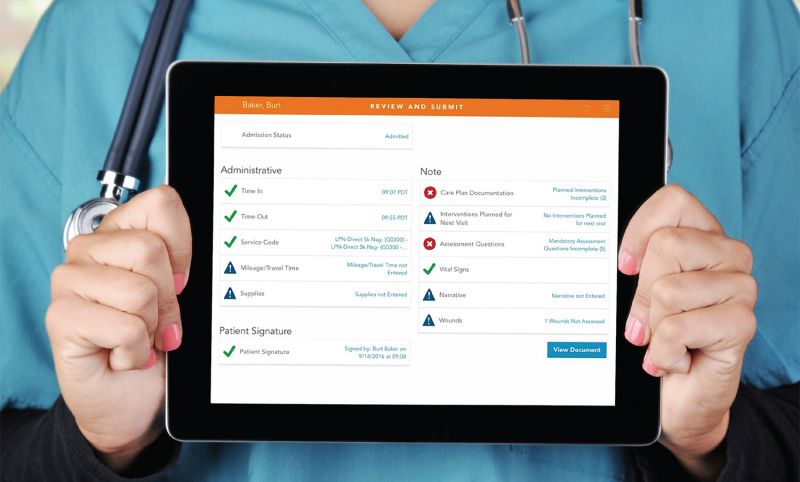 Brightree Home Health Software
Bob Dean, VP and GM
Home Health, Hospice and Private Duty
brightree.com
What sets your company apart?
DEAN: Brightree's integrated platform increases efficiency and streamlines nearly every element of the administrative, financial and clinical functions of home health and hospice organizations. Owners can continually evaluate the overall performance of their organization and make informed, insightful decisions about their business with our dashboards and reporting functionalities.
Why does interoperability matter?
DEAN: With interoperability, you can reduce the intake processing time, better track data, produce vital information on patients, help reduce readmissions and streamline operations. Clinicians can show up to a patient's house with all the information they need, eliminating the time-consuming task of asking multiple questions in order to determine the correct course of action. Interoperability results in an increase in clinician satisfaction and, most importantly, patient satisfaction.
What challenges and trends are you watching?
DEAN: A huge challenge I continue to see across the entire industry is the need for better tools and technologies to help manage the complex requirements of payer documentation and authorization requirements. The need to share information securely and effectively is becoming imperative; billing software must be focused on offering safe, secure solutions.
How can software enhance the operations of a homecare provider?
DEAN: With billing software, home health agencies can be confident they are operating at peak efficiency. Software helps agencies improve collections, grow revenue faster and make operations run more smoothly. Additionally, with billing software, there are more accurate claims and guards against denials with thorough clinical documentation, ensuring that all patient information is accurate.
How does software help a company maintain compliance and reduce errors?
DEAN: Brightree's software reviews all relevant documentation for compliance and regulatory guidelines to help maximize reimbursement. Certified staff will audit for document discrepancies and inaccuracies, and make recommendations to improve the quality of assessment documentation. Built-in checks alert clinicians to all mandatory and missing information, and best practices are enforced by requiring completion before submission.
POINTCLICKCARE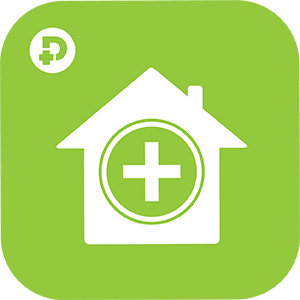 Care at Home
Mary Henschel, Director of Client Success, Home Care
pointclickcare.com
What sets your company apart?
HENSCHEL: PointClickCare's cloud-based software platform takes a person-centered approach to managing post-acute and senior care, connecting health care providers across the care continuum with easy-to-use, regulatory compliant solutions for improved patient outcomes, enhanced financial performance and staff optimization.
Why does interoperability matter?
HENSCHEL: Health care partners need access to patient information to coordinate services. Patient data such as medications, diagnoses and allergies should follow the patient as they move across care settings to provide the most seamless transition, ensure the best patient outcomes and prevent rehospitalization. To meet these challenges, having a technology platform that is interoperable is a must.
What current challenges and trends are you watching?
HENSCHEL: Designing a flexible system that adapts to each payer's rules is extremely important. We are constantly researching different state Medicaid rules, commercial payer rules and VNA rules. We work those rules back into our configurable and flexible billing engine.
We are watching the Patient Driven Groupings Model and how that will change the current Medicare billing rules and workflows. This is a major overhaul to an already complicated billing process—so it is impossible to overstate the importance of understanding the nuts and bolts of the two 30-day payment periods.
Starting next year, Medicare Advantage plans can offer non-skilled in-home care as a benefit (policy finalized in April 2018). In the past, patients usually paid out of pocket for non-medical homecare such as help with bathing and dressing. Now, Medicare Advantage insurers such as UnitedHealthcare and Humana are considering how to cover these types of services. We want to understand the mechanics of how they plan to bill these services.
We are also watching how CMS is defining remote patient monitoring in the Medicare home health benefit, as well as if they plan to include remote patient monitoring as an allowable cost on the HHA cost report. Our homecare product line offers a remote monitoring solution, and who should pay for it has always been a conundrum. Remote monitoring has proven results in reducing rehospitalization, and if Medicare would pay for the benefit we would see a much higher adoption.
How can software enhance the operations of a homecare provider?
HENSCHEL: The faster an agency can bill clean claims, the faster payers reimburse them for services provided. With PPS payers, there is no reason not to bill every day. Using tools such as our Episodic Payer Console, our clients can track which RAPs and final claims meet all clinical requirements and are ready for submittal. Getting orders created and sent to the physician, submitting OASIS assessments and completing routine documentation in a timely fashion all directly affect how quickly an agency can bill.
What should providers look for in a software vendor?
HENSCHEL: When it comes to choosing software vendors, agencies should consider not only what a vendor has, but also where they are going. Ensuring that the software's vision aligns with solving industry needs should be a top concern. Having a system that maintains compliance is a must, but agencies gain a competitive advantage with a flexible system that can support their initiatives as they grow and develop.
CAREVOYANT

CareVoyant
Kandasamy Pasupathy, President
carevoyant.com
What sets your company apart?
PASUPATHY: CareVoyant provides integrated software solutions for home health, private duty nursing and private duty nonmedical (personal care) providers, without any interface. Agencies providing multiple lines of service can keep all clinical and financial records under one patient and employee record, making CareVoyant the single system of record.
What are the current challenges in the billing software market?
PASUPATHY: The growth of managed care providers for Medicare and state Medicaid programs. Keeping up with all the authorization and claim submission requirements has been a major challenge.
How can software enhance the operations of a homecare provider?
PASUPATHY: The operational efficiencies of providers can be improved by integrating authorization to scheduling and billing, eliminating services provided without authorization; validating data at the point of entry for intake, scheduling and clinical reducing the number of claims with incomplete information; providing a claim scrubber to validate the claims before they are sent; and providing exception reports to manage collections.
AXXESS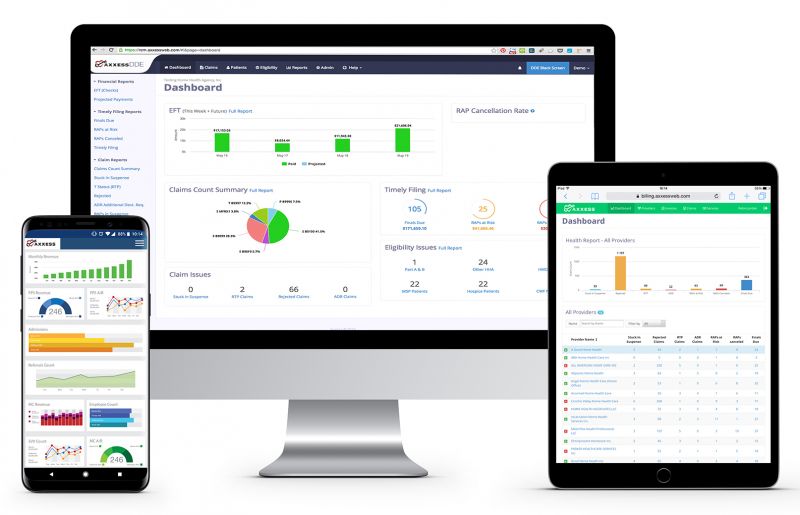 AgencyCore
John Wittenberg, Director, Revenue Cycle Management
axxess.com
What sets your company apart?
WITTENBERG: We have a team of engineers in-house to build innovative, cloud-based solutions for the industry. That helps us respond quickly to regulatory changes or requests from clients. Axxess is unique because our software is fully functional on any mobile device. Our engineers work side-by-side with experienced home health clinicians, certified accountants and other industry leaders to create features that make it easy for organizations to grow business, stay compliant and provide quality patient care.
Why does interoperability matter?
WITTENBERG: Interoperability gives clinicians a more complete picture of the patient profile across multiple providers. This enhances the continuum of care when a patient moves from a doctor's care to acute care and then to post-acute care. Clinicians must have the best information available at the point of care when making diagnoses and treatment decisions. When clinicians have all the information they need, they can better communicate with patients.
How can software enhance the operations of a homecare provider?
WITTENBERG: The best billing software helps agencies operate more efficiently, allows for scalability as the provider grows and helps contain costs through a smaller billing team. In addition to the software and billing services we provide, Axxess also has an agreement that enables our clients to benefit from using Simione's Financial Monitor and cost reporting services to ensure that they are managing their finances as efficiently as possible.
How does software help a company maintain compliance and reduce errors?
WITTENBERG: The right billing software will stay ahead of ever-changing regulations to ensure that agencies have the latest information to maximize cash flow. Otherwise, agencies will need to invest in more staff or training to remain compliant with similar efficiency and expertise.