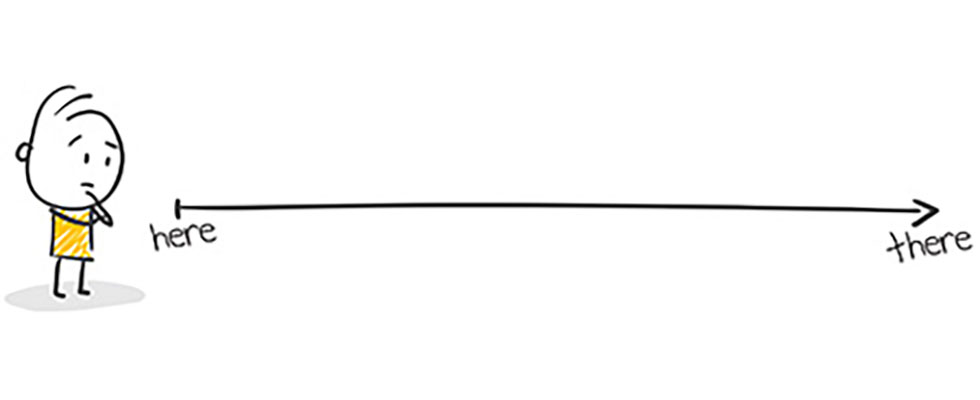 A 4-step strategic planning process to optimize your business
Every organization is on a path determined by a strategy developed and implemented over the years. They are here, headed toward a there. To get there, an organization must create and navigate a path.  
Home medical equipment and home health and hospice providers are up against some of the toughest challenges in their history. With the next round of competitive bidding and the Patient-Driven Groupings Model (PDGM) in place, business leaders must identify and adopt best practices and then design ways to achieve business optimization and develop the path to achieve the organization's there.
As we step into a new calendar year, it is a great time to quantify where you want to be for 2020 and beyond. The business optimization process provides a systematic approach to achieving this for your business. This process has four navigation points on the journey: the short-term "here," the long-term "there," the path and the execution. 
Step 1: Understanding the Here
There are a few things to take care of before jumping into long-term planning. 
Organizational Health
Before you embark on this transformation, you must first make sure you are a healthy business. Healthy businesses have minimal politics and confusion, boast highly productive teams with high morale and experience very low turnover. These businesses handle problems and recover quickly from mistakes.
As a leader, you must find ways to change the behaviors that weaken your business—or to surgically remove them. You cannot transform your business if it is not healthy.
Organizational & Competitive SWOT 
You must also understand the products and services you provide and your competition in the space. The SWOT analysis—SWOT stands for strengths, weaknesses, opportunities and threats—will help. To gather the most relevant information, include several team members in the SWOT analysis. Each person and department will provide their view from a unique position in your business. Their collective perspective will shed light on each product and service with the ultimate goal of knowing whether you should continue or discontinue a particular product or service. 
A SWOT analysis should also be used to understand the competition; this will provide a scouting report of sorts for your journey. It is always good to know what you are up against in the marketplace. With a competitive SWOT, you'll see what the competition is providing and decide whether to engage in a particular product or service or not. This will also provide data about competitors' weaknesses and whether there are opportunities to exploit or stand clear of.
Situational Analysis
The situational analysis is typically the easiest for most businesses to conduct because it draws on ongoing metrics used to run the business. Now is the time to review these metrics in greater depth than is typically done in monthly staff meetings; they will fuel the plan for 2020. Perform a deep dive into:
Peak level performance of 2019 
Business financial review of 2019
The customer and consumer
Changing factors
Challenges and new demands
Business market penetration
Industry analysis, overview and opportunities
The impact of competitive bidding on home medical equipment providers: How to market to referrals? 
The impact of PDGM on home health agencies: How to increase market share, sales and marketing? 
Step 2: Defining the There 
So, where do you want your business to go? If you were to create a clear yet compelling statement that could unify your entire team and provide a defined "finish line" that you can cross as a team, what would it say? Here are some examples: 
"This nation should commit itself to achieving the goal, before this decade is out, of landing a man on the moon and returning him safely to the earth." – John F. Kennedy 
"A computer on every desk and in every home."  – Bill Gates
"Organize the world's information and make it universally accessible and useful." – Google 
These compelling statements have been called mission or vision statements; in 1994, authors James Collins and Jerry Porras coined the term "Big Hairy Audacious Goal," or BHAG. The BHAG has been at the forefront of some of the most industrious organizations on the planet.
Your BHAG should be strategic and emotionally compelling and provide a visionary goal for an organization. Every organization is different, but this is truly a transformational statement that moves beyond a rallying cry. The BHAG becomes your team's finish line.
Defining your BHAG requires careful and compelling consideration and should not be done in a vacuum. It should
be embraced by leadership, front line managers and other
team members.
In recent years, some organizations have taken the BHAG to another level and added metrics that reveal an even clearer vision of the finish line. This enriched BHAG includes more tactical objectives regarding sales, finance, innovation, and products and services. To be truly "audacious," a business must be both daring and unconventional. The addition of these tactical components to the BHAG will provide the drive for your team to quantify how to get across the finish line.
Step 3: Finding the Path
Developing the path is a critical part of the business optimization process. Too often, when organizations develop a strategic plan for their next year, they get started with great passion, launch monthly meetings to discuss their progress—and by month five or six, they lose energy and all that time and effort fall by the wayside.
Leading the business optimization process needs a commitment from—well, leadership. This is not a gym membership. You don't sign up in January because you ate too much over the holidays and then quit going six weeks later—while continuing to pay your membership fee all year long. If this has been your experience with strategic planning in the past, you aren't alone. How can you push through this process the entire year? Focus on three elements of sustainability: simplify, quantify and ratify.
Start with the metrics for the business and simplify. What will you measure and how will it be reported?  Make it as simple as possible. Metrics should be easy to find for any given period (month, quarter, year). Your software should provide you with numbers widely adhered to by the industry.
After you simplify the metrics you use, quantify them in a dashboard. This way you can review your results more fluidly. You must have the capability to drill down on the numbers.  
Once the metrics and dashboard are in place, you need to set a cadence so you don't quit. This is where you should ratify or formalize the monthly review of the business optimization plan. 
Business leaders say they stop having strategic planning meetings because: 
They get busy with running the business.
Meetings take too much time.
People stop coming prepared for the meetings.
No one leads the meeting when they are not in attendance.
These are all valid points, but they aren't reasons to stop these meetings. When done correctly, the first three steps of the process should take five to six weeks. After all the time and resources invested in this process, don't let obstacles get in the way of executing it. 
Take the time to set the metrics and cadence for the business optimization meetings; that will produce well-attended meetings where relevant and time-sensitive information is shared and clarify your business position while contributing to the overall day-to-day operations.
Step 4: Getting There
The real meat of this entire process is knowing what this new year will hold. Understanding both strategically and tactically how you will arrive there this year should include:
SWOT analysis strategies for 2019
Prioritize critical strategies for 2019
Detailing the path
Strategy by product or service
2020 strategic objective
Three previous years' tactical objectives/achievements
When you evaluate the here of your business and navigate through the path of knowing and developing the there, the only thing left is execution. Execution is how your team works together to achieve the business optimization plan, measured by the established metrics and reported upon during the business optimization meeting. 
These components—the metrics and the cadence—should also be shared with all team members. How else will they know if they are achieving the goal and crossing the finish line? When the metrics and cadence become part of the everyday process of your business, every person on your team has an investment in the overall return in the company achieving the business optimization process.