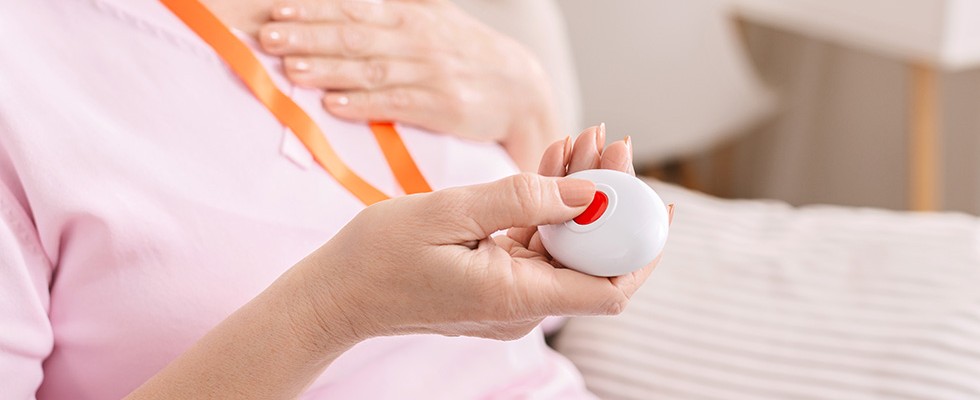 The benefits of PERS & RPM for people aging in place
As seniors face increasing costs for everything from health care to food, medication and personal care items, they are making daily decisions that impact their health and life. Personal emergency response systems (PERS) and remote patient monitoring (RPM) are two crucial technologies that offer this vulnerable population a way to save money so that they don't feel pressure to skip meals and medication.
PERS and RPM can come in many forms. At their highest use, these devices combine to create an artificial intelligence-enabled digital health and safety platform that provides secure, nonintrusive, continuous monitoring with emergency and nonemergency support to help aging and vulnerable populations live safely, independently and well at home.
Importantly, these platforms feature data and analytics that help caregivers understand critical changes in a patient's health, activity and mobility, enabling more informed clinical decision-making, smarter interventions and fewer adverse events. The result can be dramatically better outcomes, lower care costs and extended quality of life.
PERS and RPM may also represent a lifeline for the many homecare agencies struggling with staffing shortages that are projected to worsen, as the United States Bureau of Labor Statistics predicts the number of openings for home health and personal care aides will increase nearly 37% by 2028.
The New Crisis Facing Seniors
In 2022, American consumers have been left reeling by a toxic economic brew of growing inflation, rising interest rates and supply chain crunches that have many suffering financially. It was eye-opening to read the results of a recent consumer survey of American adults by West Health and Gallup that explored the various ways that health care costs are affecting older Americans.
The survey found that 37% of adults 65 and above are concerned they will not be able to pay for needed health care services in the next year. The situation is even worse for older Americans who are not yet eligible for Medicare, with that figure growing to 45% for those aged 50 to 64. As a result, nearly 50 million adults aged 50 and up are at risk for more severe illness and even death due to the cost of health care, according to Gallup.
It's hardly a surprise that rapidly rising health care costs are burdensome for older Americans. Consider that out-of-pocket health care expenses for adults 65 and older rose 41% from 2009 to 2019, according to the U.S. Department of Health and Human Services. For those affected, the consequences can be dire, as some older Americans report sacrificing basic needs simply to afford care. About one in four adults 65 and older and three in 10 aged 50 to 64 have cut back on food, utilities, clothing or medication due to health care costs. This problem is experienced to a greater degree by older women and Black Americans, according to Gallup.
Other seniors cope by avoiding needed care, which could further exacerbate the health problems they are experiencing. Twelve percent of those 65 and older say they or a member of their household had a health problem in the last year that they did not seek treatment for due to cost, and the number increases to 25% for Americans between 50 and 64.
Ways RPM & PERS Can Relieve the Burden
For years, the concept of aging in place has been appealing to many seniors as advances in technology made it more feasible, but the COVID-19 pandemic accelerated the process. For example, more than 75% of consumers said they are willing to get in-home care for anything ranging from a well visit to chronic disease management, according to PwC's Health Research Institute. Additionally, recently proposed federal legislation would provide tax incentives for home modifications to allow seniors and those with disabilities to live comfortably and safely in their own homes.
To accommodate this growing desire to age in place, the challenge for homecare providers lies in addressing the complex physical, emotional and social vulnerabilities that make it more difficult for aging seniors to remain independent and at home. Today, more agencies are looking to PERS and RPM to streamline their services and help seniors transition care to lower-cost at-home settings by providing detailed data and insights that inform smarter decision-making in at-home patient care. Among all PERS end users, the homecare segment accounted for a major share of around 31% in 2021 in the U.S., according to Research and Markets.
With these technologies, home health and hospice agencies can increase the efficiency of their staffs, leveraging data to determine which patients require in-home visits from nurses or aides and how immediately, for example.
At the same time, nurses can save time that was previously required for traveling between patients' homes for basic monitor checks, enabling more productivity and greater reimbursement. Similarly, by remaining in their homes, patients save on the substantial costs associated with assisted-living facilities, which can average as much as $9,000 per month, according to Genworth.
Spotting Social Determinants
Even more compelling is the fact that RPM and PERS facilitate the collection of data related to social determinants of health, which may include insecurity around housing, nutrition, employment or access to care. By obtaining a clearer picture of the nonmedical challenges patients are facing, homecare agencies gain the ability to connect seniors to community-based organizations that can help them address these issues.
As seniors grapple with the high costs of everything, including health care, and homecare agencies face staffing shortages, both groups are smart to look to technology to cut costs, while helping maintain high standards of care.
RPM and PERS are the right technologies to accommodate seniors' increasing demand to age in place and to help the homecare agencies that serve their up-to-the minute needs.