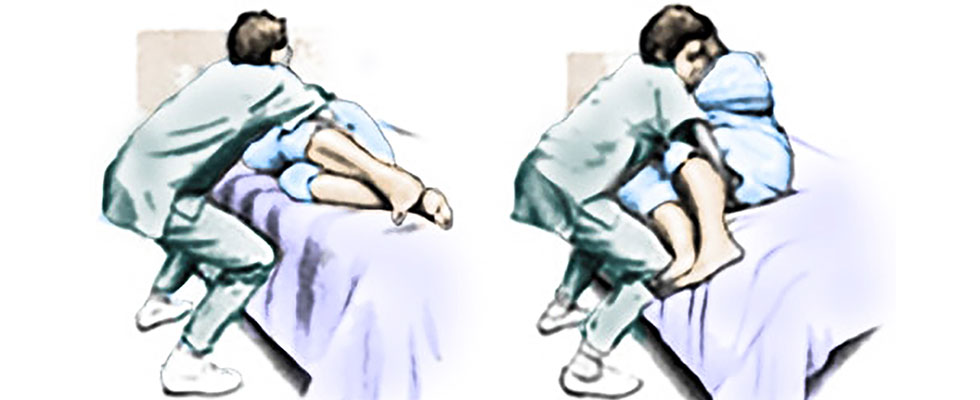 Thursday, October 7, 2021
While patient handling and mobility activities such as lifting, transferring and repositioning are fundamental components of health care at home, they are fraught with the risk of injury to both caregivers and patients. Providing care in the home can be physically demanding for both the caregiver and the client. And the home setting presents special challenges for home health care providers who are caring for clients with compromised mobility.
The Risks of Transferring Patients at Home
A care provider may need to perform many types of transfers depending on a patient's medical condition and mobility level. Examples include helping a patient move from a wheelchair to a bed, chair, toilet or car—and back. Other types of transfers involve assisting someone from a bed to a walker or lift, in and out of a chair, and getting in and out of a bathtub or shower. It may also be necessary to reposition a client in their bed or chair.
Home health care workers may not have access to the safe patient handling support available in hospitals and long-term care facilities. For example, many facilities have designated "safety champions" or "lift champions"—peer leaders who can address handling challenges and are available to assist with patient transfers. In the home setting, a care provider must often conduct transfers alone and may resort to using manual force by pulling or tugging the individual, which can be painful for the client and cause injury to the caregiver. Unsafe patient handling techniques can also lead to fall injuries and shear or friction injuries to a client's skin.
Reducing the Risk of Injury
Using appropriate patient handling equipment and techniques can prevent injuries in the home setting. There are many devices available to assist with patient transfers. Here are seven common transfer situations and the tools that can best help:
1. Edge of the Bed
Moving a patient to the edge of their bed so they can get up can be a difficult task. It is imperative to avoid tugging on the client's arms or allowing them to pull on yours. Using a slide sheet facilitates this process and avoids strain or discomfort. A slide sheet is a slippery tube-like device that reduces friction between the patient and the mattress. The caregiver places the sheet under the patient's hip and heel, and in one smooth movement, pivots the individual to the edge of the bed.
2. Bed to Walker—Higher Mobility
Patients with greater levels of mobility can benefit from a nonpowered sit-to-stand lift. This device allows clients to pull themselves up to a standing position from a bed, chair or toilet. A removable footplate enables the client to walk with the device. They can also hold onto it while lowering themselves into position, and it has a padded seat that can be used if the person becomes tired when walking and needs to sit down. A nonpowered sit-to-stand lift increases mobility and reduces fall risk.
3. Bed to Recliner & Back—Medium Mobility
A power sit-to-stand lift system is an option for those who are 30% weight bearing or more and can be very useful for those who need just a little extra help getting to a standing position. You can even use this device with a client who is a single amputee.
To begin the transfer, place the sling around the person's waist and connect the sling straps to the sling hook. Press a button, and with no effort you can help the patient stand. Then you can wheel the person to the chair or toilet and lower them into a seated position. Using a powered sit-to-stand lift alleviates the discomfort that normally occurs when pulling a person up by holding them underneath their arms and tugging them awkwardly.
4. Bed to Wheelchair & Back—Very Limited Mobility
A total mobile lift system safely moves clients with very limited mobility from one surface to another. Simply place a sling underneath the person and attach the sling to the mobile lift. The device lifts the patient up, and the caregiver can roll the device with the individual to the wheelchair, chair or bed and then lower them with a press of a button. This technique provides a comfortable and safe transfer for both the individual and caregiver. With heavier individuals or carpeted floors, the total mobile lift may be too difficult to roll. In this case, another—although much more expensive—option is to mount a lift in the ceiling, through wall mounts or on four posts to facilitate transfers.   
5. Toileting & Bathing
Getting on a toilet seat can be easier with a nonpowered lift. This device, which looks like a dolly, is used to wheel the patient into the bathroom. The patient can hold onto the lift to sit down and stand back up. For those with more mobility, grab bars or poles may be enough. For patients with less mobility, raising the seat height or using a powered lift seat can be helpful. Grab bars and poles can also be used for getting into a bath or shower. Alternatively, a shower chair can be used to wheel the client into an accessible shower or use a lift device to help them walk into the shower and sit on a shower seat.
6. Repositioning in a Bed or Chair
The best way to reduce repositioning transfers is to decrease how often a client slides down in their bed or chair. One-way slides, which have friction in one direction, are ideal for preventing patients from sliding down in chairs. For a bed, there are satin sheet systems that work similarly. There are also slide sheets that are slippery in all directions to help.    
7. Car Transfers
Getting in and out of a vehicle can be challenging. There are floor lifts that are designed for this purpose, but they are expensive. A pivot pad can also be placed on the seat to help the client spin while swinging their legs into and out of the car.
Meeting the Needs of Clients With Compromised Mobility
For patients who face daily challenges with movement from one place to another, there are a range of patient-handling products that are appropriate for each phase of the mobility curve. These devices increase the client's ability to manage these activities more independently and greatly diminish the risk of injury to both patients and their caregivers.
Since the level of mobility can range from simply needing a walker to requiring more assistance—up to and including total assistance—the products recommended should change accordingly.