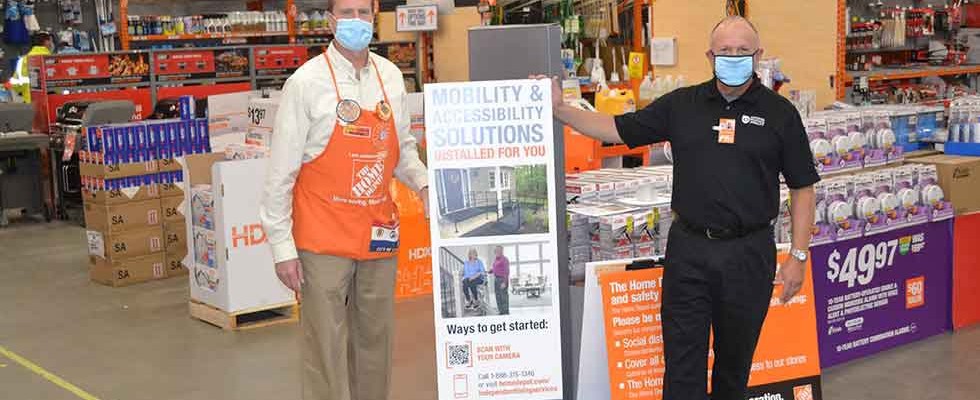 The Home Depot jumps into accessibility market in partnership with National Seating & Mobility
For decades, seniors looking to stay in their homes longer had to turn to local options to make their homes more accessible and comfortable, whether they needed a ramp to get in the door, a stair lift to help them upstairs or simple modifications like grab bars and walk-in showers. They'd either reach out to independent contractors or companies providing accessibility products or, in the best case, turn to their local home medical equipment (HME) provider to figure out their home modification needs.    
Now, they may head to The Home Depot.
The country's largest home improvement retailer recently launched its Independent Living program in partnership with National Seating & Mobility (NSM), offering in-home consultations and equipment installation. For now, the program is available in a few stores, but is expected to expand based on demand.
The effort was designed to reach a growing senior market; by 2030, one in five Americans will be retirement age, and 90% of Americans 65 and older want to remain in their homes as they age, said Scott Bomar, senior vice president of Home Services for The Home Depot.
"Clearly, there is a significant need in the growing independent living population—people like our parents, our friends or other family members who want the independence of staying in their homes but need modifications to stay safe," Bomar said.
What They Offer
The program started quietly this summer and is in about 10 stores in New Jersey and Missouri because demand is high in those areas, said Bomar; The Home Depot and NSM would like to expand nationwide based on interest.
For now, the retailer offers users a free in-home consultation—those can run from 45 to 90 minutes—and in-store information about accessibility equipment, which then can be installed by NSM's team after the home visit. Installation for modular, portable and full-size ramps indoors or outdoors is part of the program, as are ramp decking, stairlifts, and more. Other products and install options are likely to come down the road.
"Currently, we offer installation of stairlifts, vertical lifts, ramps, door openers, and grab bars, and we plan to offer other programs such as bath and kitchen modifications and electronic monitoring in the near future," Bomar said. "With the speed of innovation in technology and home improvement, there are so many possibilities to help our loved ones continue to live at home while also emphasizing safety, comfort and great design."
New Paths for NSM
The program offers a big visibility boost for NSM, which has been long known for its work in complex rehabilitation technology and has reached into the broader mobility market in recent years. The company was founded in 1992 and has grown from five locations to branches across the country. Its regional warehouses stock a full inventory of indoor/outdoor stairlifts, wheelchair lifts, ramps, vehicle lifts, door openers and bath products.
"Over the last several years we have expanded our mobility solutions portfolio to include a wide range of simple to complex mobility equipment, home and vehicle accessibility equipment, home modification capabilities and maintenance and repair services," said NSM CEO Bill Mixon. "This comprehensive approach allows NSM to assist clients in all aspects of their lives, and our service offerings and expertise can also readily support the population of individuals who simply have a need and desire to grow old at home."
The company currently has almost 1,000 employees in homes each day in all but four U.S. states, either conducting assessments or delivering equipment. The lesson they've learned, Mixon said, is that many homes aren't designed to allow residents with declining or limited mobility to live independently.
"We see many homes that are not adequately equipped to support the independence of an individual with declining or limited mobility," Mixon said. "Education and access to resources supporting independent living solutions in the home can prepare and equip these individuals to proactively make the changes needed to support their future needs."
Target Audience
The Home Depot, like other big box retailers, already offers a variety of HME at its e-commerce site, including bed rails and privacy screens and even non-home-related items like pill dispensers and oxygen carrying bags. It also sells a range of EZ-ACCESS ramps and mobility devices from Drive and Stander. But with in-store displays and in-home consultation, the home improvement giant is planting its flag firmly in the territory of local HME providers.
They're not the first. BestBuy launched its Assured Living program, a contracted monitoring system for seniors, and also sells a range of products online under the "Aging in Place" category. Amazon execs have met with AARP and toured assisted living facilities to suss out the market potential of aging in place technology and products.
When it comes to The Home Depot, don't be surprised if you hadn't yet heard about the program. The company hasn't been advertising Independent Living far and wide. In fact, it's running a targeted campaign online as well as promoting it only in stores offering the services.
"We're fortunate to have loyal customers who turn to The Home Depot first for their home-improvement needs—mobility and accessibility solutions included," Bomar said. "In areas where we offer these services, customers will find prominent in-store signage and knowledgeable associates who can speak to our offerings."
People who look for modification information online will also see paid search advertising pushing them to the program's website, homedepot.com/independentlivingservices, where they're then prompted to enter their zip code to see if the program and services are available in their area.
The project was already in development before the pandemic hit in March; Bomar said that the growing demand for aging in place driven by the novel coronavirus has been a benefit—and may lead to faster growth than initially planned.
"We have certainly seen a rise in interest, as aging homeowners are even more determined to remain in their homes. Given the heightened demand, we are working hard to accelerate our expansion in order to serve customers across the U.S."
Mixon said the partnership worked well for NSM in part because the two companies seemed a good fit, with similar approaches to customer service and to leadership. Ultimately, he said, the goal is to make independent living accessible to more people—not just by selling to them, but by showing them their options for aging in place.
"By leveraging the strength of collaboration, and our areas of expertise, we can enhance quality of life through independence for this growing portion of our population," Mixon said. "The success of this campaign is tied to our ability to educate, inspire and assist the aging consumers or those with limited mobility to take proactive action in measures that will support their independence, safety and overall quality of life."
Items available through the partnership:
stairlift installation
wheelchair ramp installation
grab bar installation
wheelchair lift installation
automatic door opener installation
deck ramp installation (in conjunction with ramp or platform lift installation)
professional measurement of the installation area for a custom fit
an on-the-spot quote, including all labor and materials, and financing
delivery and installation of equipment by a certified technician
removal and haul away of existing equipment if replacing
one-year labor warranty