The PPAL addresses functional independence in the home
Wednesday, October 10, 2018
The design of commonly used homecare equipment often fails to reflect the needs and goals of care recipients and their families.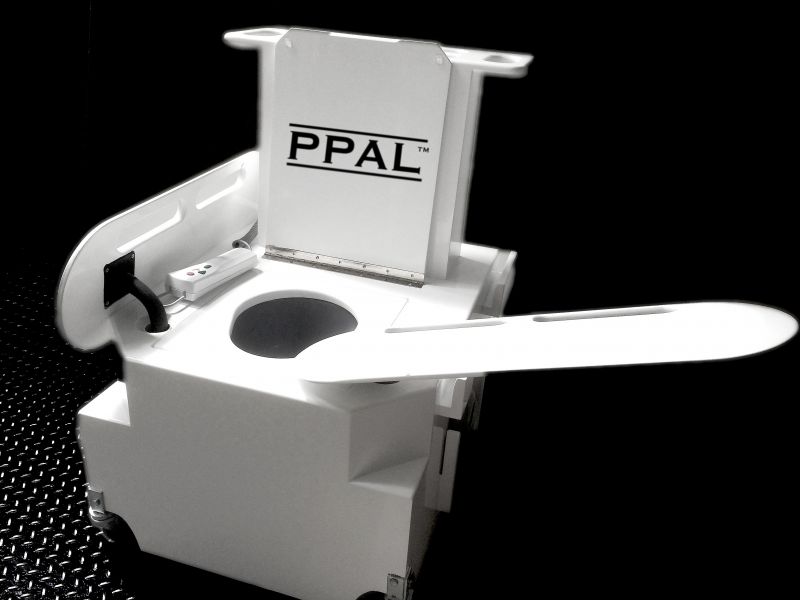 PPAL bedside Commode
Peg Graham is taking on the mobility challenge of toileting after she and her siblings had the painful experience of caring for their mother, whose mobility declined with the paralysis of post-polio syndrome.
Determined to remain as independent as possible and having rejected using a Hoyer lift, adult diapers and a bedpan, Graham's mother came to use a transfer board/bedside commode combination. How to use the equipment was taught by an occupational therapist at a skilled rehabilitation unit in one of the local
nursing homes.
"There are no good toileting options. If you are not bedbound, you don't want to have to use a bedpan. If you are cognitively aware, you don't want to use a diaper. For the really end-stage, catheters make sense but they have side effects. There really is nothing out there," Graham found in her survey work.
Healthy People 2020 targeted a reduction nationally in the proportion of older adults with moderate to severe limitations in daily functioning.
Graham, whose experience spans years in public health, advocates for a realignment of clinical protocols, insurer coverage policies and insurer plan design to move the issue of functional independence forward. Her "functional independence forum" is taking shape.
Now, well beyond the passing of Margaret O'Grady Graham, the PPAL bedside commode has been developed with the hope that changes in health care delivery and payment systems will create the business case for a medical equipment company to add such a product to their existing product line and that health systems and insurers will want the safer patient transfer features that innovative products like this can offer.
Engineers are still working to fine-tune the PPAL.
Editor's Note: This article was originally published in HomeCare magazine's Culture of Innovation Cover Series from October 2018. Other products in the series include: The Jamber mug and WHILL's Model Ci.