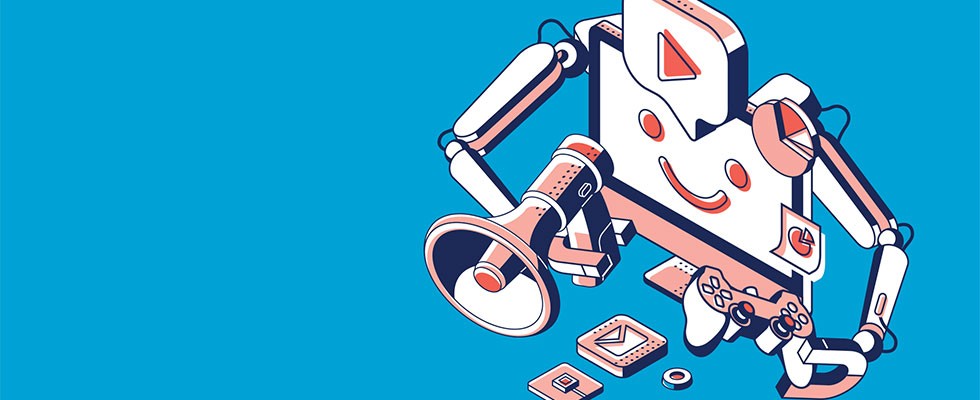 Rethink your marketing tactics to find & follow up on more leads
The digital revolution has been a boon to marketers in every industry. Traditional marketing strategies (postcards, telemarketing, etc.) have become relics of the past. Companies that leverage digital marketing tools are having stellar results—more so than would ever have been possible with manual marketing efforts.    
People are no longer looking in their mailboxes for the products and services they need, and they're not likely to pick up calls from unknown numbers. Instead, they're doing their research completely online. With the right digital strategies in place, you can grab homecare consumers' attention and grow your online presence fast.
Marketing automation is the key to increasing visibility for your home health or senior care agency. Online pay-per-click ads and social media ads are important parts of your marketing strategy to drive the right leads to your website and increase your conversion rate.
To reap the rewards of marketing automation, you must shift your thinking and reimagine marketing from the perspective of strategies that maximize the potential of paid online ads.
What Is PPC & How Does It Work?
Pay-per-click (PPC) advertising is a commonly used tactic. Paid online ad campaigns are cost effective because you only pay for them when an online user clicks on your link. Google is one of the largest PPC advertisers, and you can also set up effective paid ad campaigns on Bing and Yahoo, as well as through social media platforms.
This type of advertising relies on the ad auction, an automated ad bidding system that uses algorithms to determine the credibility and relevance of the ads displayed on the first page of search results. Online businesses bid on their target keywords or keyword groups with the goal of landing ad space for relevant terms for their business. Think about the words that a potential customer would type into the search engine if they were looking for a homecare agency. They might include:
Homecare agency near me
Best homecare agency
Homecare agency + ZIP code
Homecare agency + city
To save you time, keyword search tools track down the most relevant keywords that have the most attractive volume and lowest average cost per click.
You simply create an ad, plug it into the search engine platform and add the keywords that you want the ads to trigger for. You can set your bids based on where in the advertising section of the search results the ad will show. The ad auction algorithms will take your bid price into consideration along with the quality score and ad extensions before determining which ad gets the highest position in the search results.
The quality score is a combination of your ad's relevance, landing page experience and click-through rate (CTR). When it comes to PPC advertising, search engine algorithms are able to quickly and efficiently determine which ads get displayed in what order and by which advertiser.
How Does It Work?
Imagine identifying just the right leads, grabbing them and priming them to convert—and knowing that it all happens automatically. If you set up the right digital marketing strategies and test your results, automation does the rest of the work for you. Then you can take all of the time you save and re-allocate it to managing your homecare agency.
PPC ads automatically send qualified leads to your website. By optimizing your messages and pages, your conversion rate rises. Marketers should never overlook the benefit of continual testing; be sure to monitor your ads as they automate through the process to ensure you're getting a good return on investment.
The best way to track and automate your leads is by using a customer relationship management system (CRM). Set up the system to follow up with each lead and nurture them so they become loyal clients.
Here are a few effective ways to follow up with prospects:
Set up automated drip email campaigns
Set up text message campaigns
Transfer calls from leads to your client's sales team using automation
In my experience, I've found that a CRM system addresses the two biggest pain points for homecare agencies: first, efficiently acquiring new clients and second, hiring quality caregivers in a timely manner.
The right CRM system has all the right tools for effective follow-up and will streamline your marketing processes.
Following Your Leads
The primary benefit of marketing automation is to follow each lead through the funnel of sales. When a lead from your ad provides their information like their name, email and/or phone number, marketing automation starts running by sending emails and text messages or by calling about your service.
Automated marketing in conjunction with PPC ads works well because your homecare agency won't miss any opportunities to connect. Piggyback that with a solid follow-up plan that supports every stage of the customer's journey, and you'll be amazed at the results you can get without investing too much effort.
With every lead, you have opportunities to gather new data and record it to help you personalize interactions even further as time goes on.
A CRM system with automation tools also creates the ability to work with a call center so that you can be sure leads get prompt attention when they're hot. The tools also work in tandem to record calls and provide analytics and data to ensure quality control.
Digital marketing tools are continually evolving and changing at a record pace. You need the best tools to stay relevant and continue on a strong growth trajectory. Every marketer needs automation tools to track and adjust campaigns, follow and nurture leads, monitor sales team performance on the phone and more.