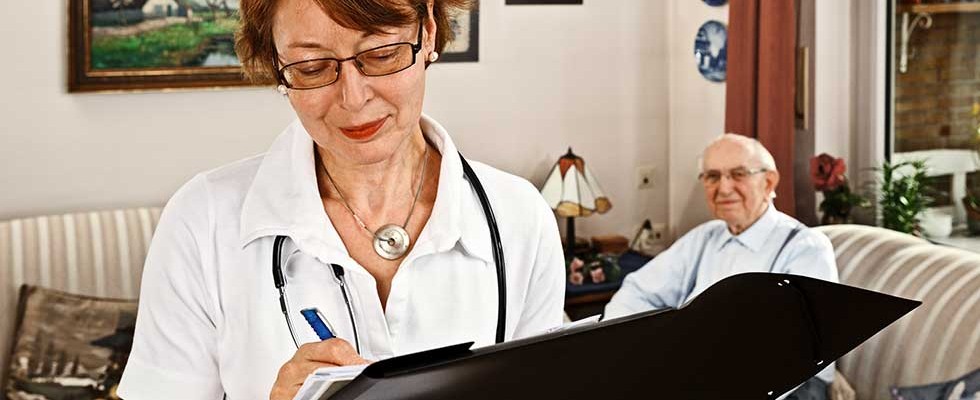 When in doubt, write it out
Tuesday, November 3, 2020
New treatment challenges have increased in response to the current public health emergency (PHE), impacting both patients and providers. As agencies and facilities extended lockdowns and limited movement among buildings, providers and clinicians encountered a new reality of care. In this new model, home health patients continue to need specialized wound care, with agencies shouldering the impact of caring for COVID-19 patients and experiencing staff shortages resulting from mandatory quarantines after exposure to patients.
For the 6.7 million Americans living with chronic wounds, COVID-19 has caused disruption to traditional models of care. With the implementation of social distancing measures and infection control procedures, this already vulnerable population is even more at risk.
To protect these individuals, providers must look beyond the conventional models of care and innovate to implement new techniques. By looking toward technology, providers have the unique opportunity to ensure that clinicians are able to deliver better wound care documentation, and, ultimately, better wound care both amid and beyond COVID-19.
The Biggest Issue Facing Wound Care
As an industry, there must be a departure from treating wounds in a vacuum, rather than treating the wounded patient as a whole. To achieve this ideological shift, care providers must ensure that the patient is cared for across the continuum by expanding on integrated care transitions. This expansion will yield increased connectivity across care settings, equipping clinicians with a comprehensive view of the individual's care record. This increased visibility allows clinicians to focus on delivering whole-person care rather than segmented care.
As clinicians work to deliver care, documentation can, at times, become a secondary priority. For the busy clinician, notes may be jotted on a piece of paper at bedside and pocketed, only to wind up whirlpooling in the spin cycle at the end of the day. Without complete and accurate documentation, providers are susceptible to miscommunication, transcription errors, inappropriate treatments, poor patient care, legal risk and deficiency in surveys. Individually, these issues are problematic; collectively, they can impede the delivery of person-centered care.
To combat these common documentation issues, there are three focal points clinicians can address. First, and arguably most importantly, it is vital to involve the entire team. Holding the whole team accountable is integral for wound care management and for maintaining an accurate patient record. Getting a patient's entire care team into alignment is a major part of ensuring  better cross-continuum care. Social services, doctors, nurses, physical therapists and family members or other caregivers are all important to the patient's journey to healing and can provide better care through interdisciplinary care practices.
Once the entire care team is actively involved, there are essential documentation guidelines to follow to ensure successful care delivery. These guidelines include:
the precise use of language
patient information
wound category changes
patient behaviors
refusal of treatment
end-of-life wounds
language in notes regarding any patient-focused communication.
Always record pertinent information in your wound care note, including any dressing changes made that visit. Lastly, when documenting wound changes, stage only pressure injuries and document when a wound changes category. Describing behaviors in the medical records of patients who complicate care can help lead to new treatment methods better suited for the specific patient. When a patient refuses treatment, be sure to record the who, what, where, why and when of the refusals. It is important to not overlook skin failure at the end of life, as it is a causative factor in skin breakdown. When it comes to end-of-life wounds, document the circumstances that make a pressure injury "unavoidable."
How Documentation Improves Care
As we actualize the standard of person-centered care, it is vital that the tenets of this ideology are applied in wound care just as they are in more generalized care. Rather than simply treating the physical wound, clinicians need to focus on treating the wounded patient. The holistic approach to care is enacted through standardized documentations, automation in measurements, guided technology, cross-collaborative communication and progressive wound management.
These five processes work collaboratively to create a patient record that is complete, accurate and evolving. This new record doesn't just document the wound itself, but also the patient, their diet and their strengths, attitude and limitations—all of which affect the treatment of a wound.
Great documentation leads to great wound care. Delivering great wound care is achieved by leveraging virtual care technology that allows for the real-time monitoring of wounds, among other invaluable functions.
By incorporating technology into the documentation process, clinicians are afforded unparalleled clinical visibility, alerting providers to improving or worsening outcomes, identifying most at-risk patients and providing a comprehensive view of your wound care population as a whole.
In addition to this clinical visibility, virtual care technology also provides invaluable business insights, allowing providers to identify their cost per wound care episode and how many visits per episode they have for wound care. This allows organizations to optimize staffing by maximizing care and lowering cost.
Today, virtual wound care is a boon for post-acute organizations, as it solves the myriad issues raised by COVID-19. In the future, virtual wound care will be the standard for post-acute organizations, as it solves the documentation issues that have long plagued clinicians, providers and patients and supports the delivery of truly person-centered care.