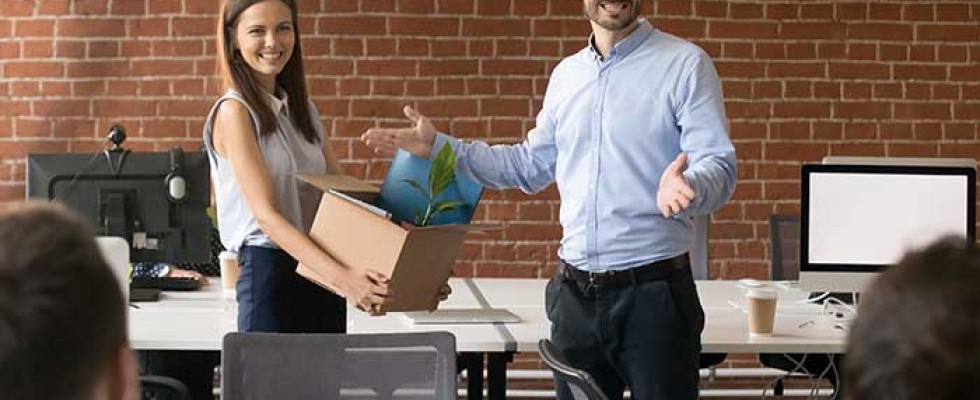 Tips for easing the process
Friday, November 15th, 2019
We often hear the expression "time is money," and in the workforce, it certainly rings true. It's estimated that the cost of onboarding a new employee costs an average of $4,129 per hire, according to a recent benchmark report from the Society for Human Resource Management.
In reality, the cost of onboarding a new employee can be even higher in an industry that struggles to retain employees while also experiencing a boom in growth. Health care positions require more preparation hours than most, as new hires often have to go through comprehensive background checks and additional training or certification, and the time that managers spend interviewing and training new hires costs an average of $1,296 per employee.
Because of the personal and financial investment that goes into bringing a new employee into a company, it is critical to find, hire and train the right candidate. Additionally, it is crucial to fully engage the new hire and monitor their satisfaction with their role and responsibilities to prevent turnover in an industry challenged by low employee retention rates (especially in entry-level health care positions). Putting the proper preparation in place and implementing strategies to fulfill and nurture employees over the long term can help save your organization a substantial amount of time and money.
Big Growth on the Horizon
The Bureau of Labor Statistics estimates that the home health and personal aide industry will grow by more than 40% in the next two years—faster than most other industries. (For context, a 7% growth rate is about average for all industries in the United States.) This significant growth highlights the need for organizational programs to support new employees through the onboarding process and to foster retention.
Turnover rates are also high. Some of this has to do with the demanding nature of these types of jobs and the burnout it can cause and the burden it can place on those working in them. According to a 2017 study by the National Health Care Retention & RN Staffing Report, the average hospital had turned over 85.2% of its workforce in the prior four years.
High demand means potential applicants have more options. As new generations enter the workforce, the tendency to job hop has increased. Forbes quotes figures from Legal Technology Solutions that say job hopping can land millennials, on average, an 8% to 10% pay increase in a healthy market through salary negotiations and competitive compensation.
To better evaluate and combat staff churn, owners need to take a closer look at the most common causes of employee turnover and put some thought into what can be done to minimize them. Keep in mind that the higher the turnover rate, the more time managers and supervisors spend mentoring and training new employees, which distracts them from other responsibilities. It also means increased stress on seasoned employees, who are called on to assist with training and who may already be operating on an expanded work schedule due to the open position. And, of course, it can also lead to dissatisfaction from clients or client families due to frequent changes in assigned staff.
Potential Responses & Best Practices
Possibilities for solving the problem include:
Onboarding—A thorough onboarding process can create content employees right from the start. Inc. magazine recommends answering essential employee questions during orientation, such as "How can I succeed here?" and "What is our company mission?" Think of the onboarding process as a two-way process. Give the new hire the opportunity to learn more about the organization they have decided to invest in. This is also when new hires may decide the company is not a fit and move on.
Salary—Starting salaries can be low in entry-level positions, but this can be balanced out with potential career opportunities and schedule flexibility. Can you utilize succession planning to help reward your strongest employees with career paths that lead upward? Ask the important questions now, because there's much more to job satisfaction than salary alone.
Benefits—You may not be able to provide benefits that compete with larger homecare organizations, but if you can give employees the freedom to customize their benefits and choose options that best fit their lives, it gives them a sense of control and satisfaction. An often-overlooked job benefit is the opportunity to gain knowledge and become better at the things that interest them most. Work to ensure that your organization prioritizes learning and career development.
Workplace engagement—Planning events that encourage coworker relationships and fun at work can go a long way to keeping employees happy. If you don't have time to plan events, don't panic. As it turns out, it's the little touches that mean the most to employees. Things like handwritten notes after a job well done or an employee bulletin board that celebrates accomplishments can rally morale.
Working conditions—Those working in the homecare field deal with a lot of pressure and can experience burnout. Without strong support from coworkers and managers, this can drain them quickly. Think about what mental and physical health support initiatives your organization can put into place and ask employees how they feel you can best support them.
A little bit of forethought can go a long way toward helping you keep your best employees—and employee retention can save your organization a lot of time and money. Consider your current new hire protocol and the employee retention systems you have in place. Would you be happily employed at your business? Is your environment fulfilling and encouraging? Does it build people up and empower them? Perhaps most importantly, are your professionals engaged? Not only is engagement critical for keeping your team happy, it's also a critical element for keeping satisfied customers as well.