As stair lift sales rise, are you prepared to cash in?
Tuesday, September 4, 2012
Even as they age, Baby Boomers maintain their influence. Above all, they are accustomed to independence, so remaining at home is essential despite aging and health challenges. Even younger Boomers deal with access needs as they add elderly parents to their households. Stair lifts meet a growing need for safe and easy home access with cash sales opportunities for the HME provider.
Beyond the Straight and Narrow
The stair lift category encompasses more than the traditional straight lift. Understanding the range of options helps you meet the customer's need and capture the sale. You may even add incremental solutions to another area of the home.
Consider the following:
Straight Stair Lifts—The most affordable for a simple interior staircase and the easiest to install. Different models offer a variety of features and upholstery.
Heavy-Duty Stair Lifts—Engineered with larger seats and weight capacities, some up to 600 pounds.
Outdoor Stair Lifts—Designed to handle weather and temperature extremes.
Curved Stair Lifts—Customized for stairs that turn at an angle or curve. Typically more costly than a straight stair lift due to custom measurements and manufacturing.
Incline Stair Lifts—A platform carries the wheelchair as well as the individual, eliminating the need for a wheelchair on both levels.
Platform Lifts—Strictly speaking, not a stair lift. The platform lift is a vertical option that lifts the user and mobility device, such as a power chair or scooter, from one level to another. Ideal for areas with a small footprint or where the customer needs to move to a deck, porch or first level on a raised home. (Some versions called Coastal Lifts access the raised level on waterfront homes.)
Cargo Lifts—Often used commercially, but residential versions come in handy for moving groceries, luggage and other goods in a residence.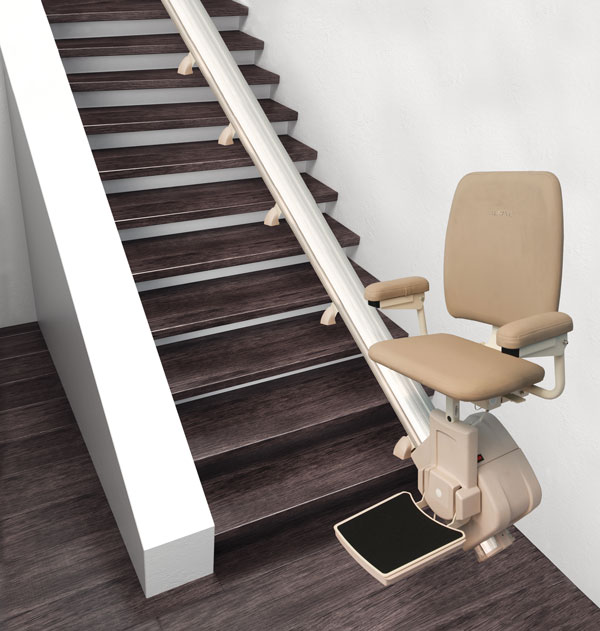 What's Up in Today's Stair Lifts
A few decades ago stair lifts were bulky, slow, noisy and unattractive. Now even standard stair lifts may incorporate improved gear systems, upholstery and an array of options. These advances include quiet drive systems that avoid noisy disruption in the household. Soft Start and Stop technology offers a smooth ride.
For safety, sensors automatically stop the lift at obstructions. An automatic folding rail at the stair bottom reduces the obstruction of a bottom rail. Rechargeable batteries and DC power ensure that the stair lift will function in case of a power outage.
Newly slim stair lifts permit foot traffic over the same stairway—the industry's narrowest folds to just 11 inches. On the other hand, as Americans grow larger, some higher capacity lifts are able to handle up to 600 pounds. And upgraded designs offer more choices in color of upholstery and matching rails to blend into the home's décor.
Raising Your Stair Lift Sales
When entering the market for stair lifts, a few tips increase your chance of success. For instance, a storefront counts. Having a brick and mortar location lets customers view the products and compare the benefits at different price points. Plus, it enhances your credibility and professionalism. Other pointers include:
Offer more solutions. Work with a manufacturer that offers all the different types of stair lift products noted previously. With more solutions available you'll be able to capture more—and incremental—sales. A customer who initially wants a traditional stair lift may later need an outdoor model or a vertical platform lift from yard to deck.
Ask questions, and listen. Find out about your customer's lifestyle, mobility limitations, mobility devices and budget. Make that customer happy with the best solution and they'll remember you when they need an additional product, and they will tell friends who also have accessibility needs.
Train your installers well. Professional installation ensures your products deliver what they promise. Provide installers with a neat shirt emblazoned with your logo. Have them provide customers with the appropriate owner's manual with your business card stapled to it. They should also place a small sticker on the stair lift, and point it out so that the homeowner can easily locate your name and contact information for service or additional access solutions.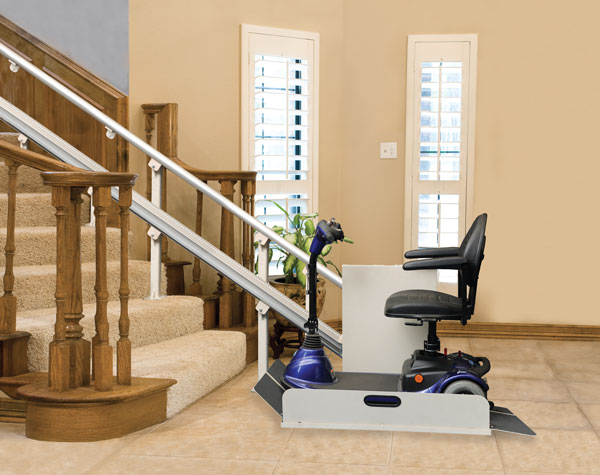 Build Your Customer Base
Create a simple customer database and make contact periodically to see if customers' needs have changed or if they need additional solutions. Ask them to recommend you to their friends. Building a customer base from current customers is easier than constantly seeking new prospects.
To be successful, remember that you're selling more than a stair lift. You're also selling your dealership, professional advice and a full range of accessibility solutions to a fast-growing market that is demanding to age gracefully at home.