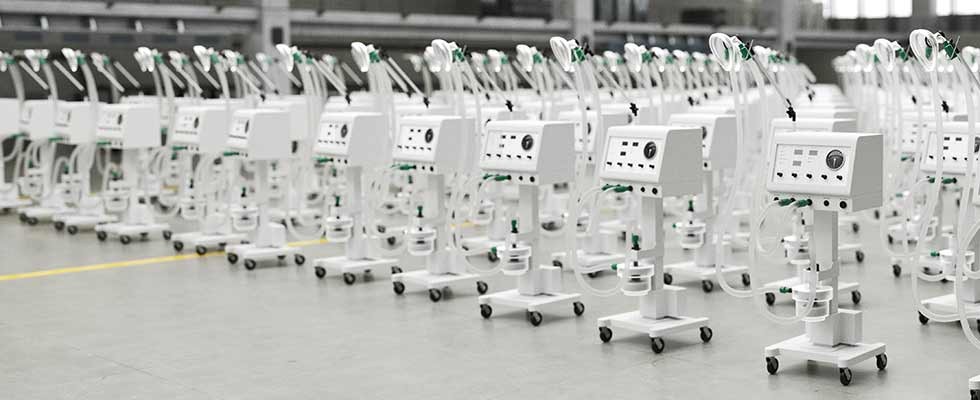 How manufacturers & others are stepping up
Since the coronavirus pandemic began, public health officials have been ringing the alarm: the United States does not have enough ventilators to support the predicted crush of patients.
In truth, the bells have been ringing for a long time. All told, there are an estimated 200,000 ventilators available nationwide—about 62,000 full-featured vents in hospitals, according to a 2009 American hospital survey; an additional 99,000 older models, including the Strategic National Stockpile; and others held separately by states.
But even a moderate non-COVID-19 pandemic could result in as many as 865,000 U.S. residents being hospitalized, according to a 2005 report from the Department of Health and Human Services (HHS). The same figures estimated as many as 9.9 million could require hospitalization during a severe outbreak.
The American Hospital Association projected in a March 13 webinar that as many as 960,000 people hospitalized with COVID-19 would need ventilator support in a worst-case scenario. As of press time, the country appeared to have flattened the curve on the virus, but ventilators are still in short supply.
As a remedy, President Trump invoked the Defense Production Act (see sidebar) to order General Motors to produce additional ventilators for the national stockpile. Since then, the president has signed additional orders for personal protective equipment, including respirators and gloves.
The Industry Responds
General Motors partnered with Ventec Life Solutions to ramp up production of the Bothell, Washington-based company's VOCSN multi-function ventilator.
On March 27, the two companies announced their partnership to manufacture at GM's plant in Kokomo, Indiana and at Ventec's existing facility.
The fast ramp-up wasn't easy. In an April 2 interview with National Public Radio, Ventec CEO Chris Kiple said that the VOCSN includes about 700 components sourced from about 80 suppliers around the world.
In the same interview, the CEO of a casting company in GM's supply chain said it would normally take 12 weeks to increase production on the piston the company was producing for the VOSCN ventilator, but GM demanded the part as quickly as possible.
"They literally woke up their entire supply chain team on Saturday morning at 6 a.m. to source 700 parts," Kiple said–adding that  the response has been as unprecedented as the virus itself.
"Health care professionals on the front lines deserve the best tools to treat patients and precision critical care ventilators like VOCSN are what is necessary to save lives," he said in a news release.
Others in the respiratory game have also upped manufacturing in response to the pandemic. Many respiratory suppliers are global companies with factories around the world, which means grappling with varied stay-in-place orders and government shutdowns that may look very different from those in the U.S.
CAIRE, a provider of liquid and portable oxygen, has eight facilities around the globe. Following a mandatory shutdown in early January, CAIRE implemented safety procedures at its China plant that it could then roll out around the world as the pandemic spread.
"Our initial and ongoing focus is on protecting employees while keeping production going. Any employee who can is working from home," said CAIRE CEO Earl Lawson. He said that the company is taking workers' temperatures as they enter the building and employees are sanitizing their hands frequently throughout the day and wearing gloves. CAIRE has spaced people out on production lines, staggered shift times and breaks and taken half of the tables out of the cafeteria to ensure social distancing. The company is also quarantining parts entering the facilities, Lawson said, adding to supply chain challenges.
Beyond ventilators, CAIRE is also seeing increased demand for its high-flow devices, portable oxygen concentrators and liquid storage systems, Lawson said.
"We are seeing the majority of demand for oxygen concentrators coming from patients in some respiratory distress, and hospitals are using the concentrators to be able to get patients back home," Lawson said. "This frees up beds for patients that require ventilators."
Ventilator Giants Step Forward
Philips and ResMed are two of the largest ventilator manufacturers in the country. Each has committed to increased production during the coronavirus crisis.
Philips has increased production of hospital ventilators and plans to double production by May and quadruple it by the third quarter of 2020. To do this, Philips is hiring additional manufacturing employees, adding shifts and relocating some current employees.
"In just a few short weeks, we have ramped up hospital ventilator production, collaborated with the U.S. government, supported clinical webinars, further enabled remote monitoring capabilities and made significant strides to care for the health and wellbeing of our employees worldwide," said Eli Diacopoulos, business leader for respiratory care at Philips.
ResMed is aiming to double or triple production on ventilators, bilevel devices and ventilator masks for hospitals, said ResMed Chief Medical Officer Carlos M. Nunez. This will result in tens of thousands more ventilators from the company than usual in 2020, he said.
Why We Need Vents
COVID-19 patients have stunningly low blood oxygen levels, reports STAT, but may lack other signs that they should be sedated, intubated and placed on invasive mechanical ventilation.
The conventional wisdom is that as blood oxygen drops below 93%, a patient should be placed on a noninvasive device such a bilevel ventilator or a continuous positive airway pressure (CPAP) device. If these fail to raise oxygen saturation, the patient is placed on a mechanical ventilator. COVID-19 patients often have blood oxygen levels in the 70s and 80s, and reports from China suggest that early intervention with mechanical ventilators could prevent organ failure.
Yet survival rates for those intubated are low. Researchers in Wuhan, China reported that 30 of 37 critically ill COVID-19 patients placed on mechanical ventilators died within a month. In another report from hard-hit Italy, 90% of 1,300 patients were intubated; one-quarter died in intensive care, reported STAT.
Researchers also reported that in COVID-19 patients with acute respiratory distress syndrome, the air sacs of the lungs filled with a gummy yellow fluid.
"That limits oxygen transfer from the lungs to the blood even when a machine pumps in oxygen," geriatric and palliative care physician Muriel Gillick of Harvard Medical School said in an interview with STAT.
"The patients in front of me are unlike any I've ever seen," critical care physician Cameron Kyle-Sidell told Medscape in an interview about patients he saw in a hard-hit Brooklyn hospital. "They looked a lot more like they had altitude sickness than pneumonia."
There have been efforts to use CPAP and other noninvasive devices to mediate the a shortage of ventilators, but those pose a risk to health care workers by pushing aerosolized virus particles into the air—meaning that even though a patient may benefit from treatment, anyone who enters the room is at risk.
To be sure, ventilators are needed to fight the current crisis. But this virus defies conventional wisdom and doctors and researchers are struggling to support the sickest patients while ensuring more people are sent home safely.
"We are grateful to the patriotic Americans at companies working around the clock and retooling factories to increase ventilator production," HHS head Alex Azar said in a news release. "The thousands of ventilators delivered to the Strategic National Stockpile starting this month, continuing through the spring and summer, will mean we have more capacity to respond to the pandemic as it evolves."
---
Competitive Bidding
When CMS announced Round 2021 of the competitive bidding program, a new category was added that caused controversy in the home medical equipment community—noninvasive ventilators (NIV). These machines provide ventilation with a mask rather than a tracheostomy tube and are crucial to keeping many patients at home.
On April 9, CMS announced that no contracts for NIVs would be awarded and the devices were being removed from the program due to the novel coronavirus outbreak.
The move was hailed by industry advocates. Support came from a broad range of groups, including the American Association for Homecare (AAHomecare), the National Association for Homecare & Hospice, the American Lung Association and the U.S. COPD Coalition. A House sign-on letter on the topic garnered at least 180 signatures, and its Senate counterpart had at least 38. Late in 2019, Congress passed the Safeguarding Medicare Access to Respiratory Therapy Act (SMART Act) to delay inclusions of ventilators in competitive bidding for five years, and creating an expert panel to help develop Medicare coverage policies for at-home ventilators.
---
Alternatives for Treatment
There are other options to relieve the demand for more ventilators. Auburn University in Alabama is working to repurpose CPAP machines into functional ventilators. The project, called RE-INVENT, was developed in just two days with $700 worth of components by engineering professors Tom Burch and Michael Zabala and sophomore Hayden Burch.
The emergency ventilator system is composed of a common CPAP machine, the RE-INVENT valve assembly and the standard tubing and tracheal tube used in current ventilators to deliver air to the patient. RE-INVENT can provide a range of inspiration-to-expiration ratios between 1:3 and 3:1 on increments of 0.1. It can also provide a range of 10 to 30 breaths per minute.
While Auburn University is scaling CPAP machines up, the devices can also be used on their own for respiratory support, along with bilevel noninvasive ventilation (NIV).
"CPAP can serve as an alternative for lower-severity respiratory patients whose primary need is for oxygenation, particularly in a time of great need when ventilators are in such high demand," said Philips' Diacopoulos. "For COVID patients with oxygenation problems, CPAP is generally provided with supplemental oxygen."
"Bilevels can deliver noninvasive ventilation to treat the respiratory insufficiency many COVID-19 patients have," said ResMed's Nunez.
When using bilevels to deliver NIV, good mask fit, isolation, and PPE for care providers can help keep aerosolization risk low, Nunez added.
---
What the government ordered
The Department of Health and Human Services has ordered at least 137,431 new ventilators for delivery by the end of 2020 under the Defense Production Act.
As of mid-April, here's what they have ordered:
General Electric's $64.1 million contract is for 2,410 ventilators produced by June 29, with 112 by May 4 and 736 by June 1.
Hamilton's $552 million contract is for 14,115 ventilators produced by July 3, with 850 by May 8 and 4,404 by May 22.
Hill-Rom's $20.1 million contract is for 3,400 ventilators produced by July 13, with 400 by June 1.
Medtronic's $9.1 million contract is for 1,056 ventilators to be produced by June 22, with 200 by May 4 and 678 by June 1.
ResMed's $31.98 million contract is for 2,550 ventilators produced by July 13, with 400 by May 4 and 1,150 by June 1.
Vyaire's contract $407.9 million contract is for 22,000 ventilators produced by June 29, with 1,200 ventilators by May 4 and 9,100 by June 1.
Zoll's $350.1 million contract is for 18,900 ventilators produced by July 3, with 1,010 by May 4 and 4,410 by June 1.
Want more? Click here to read how one company is keeping ventilators patient-ready.